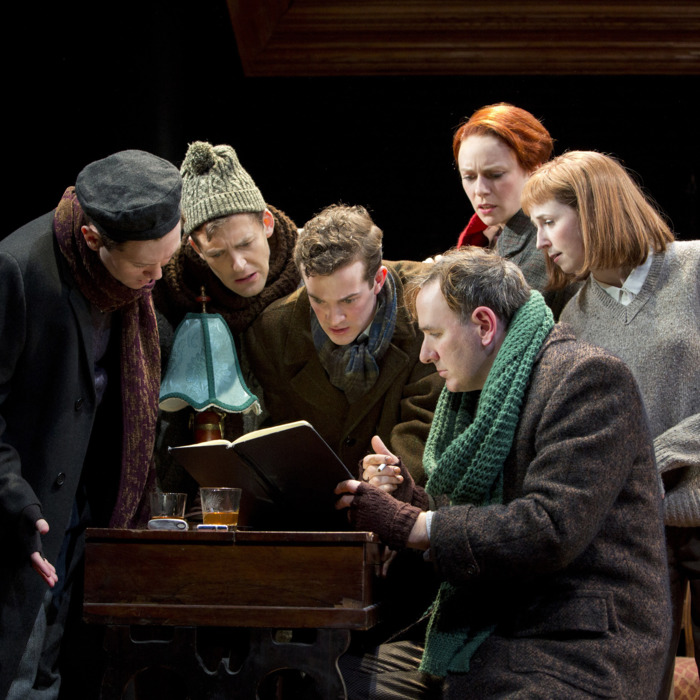 FEBRUARY HOUSE (Playing at the Public Theater through June 10)

February House is an ambitious artistic experiment about an ambitious artistic experiment: An attempt by Harpers fiction editor George Davis (Julian Fleisher) to found an art commune in Brooklyn Heights in 1940. Davis's incandescent brood of tinderbox souls included wunderkind novelist Carson McCullers (the adorable Kristen Sieh), composer Benjamin Britten (Stanley Bahorek) and his lover-muse, the tenor Peter Pears (Ken Barnett), anti-fascist firebrand Erika Mann (Stephanie Hayes), "thinking-man's stripper" Gypsy Rose Lee (Kacie Sheik), and, as elder statesman (at 33), the revered poet W.H. Auden (Erik Lochtefeld, subtly and sustainedly wrong for a disagreeable and miswritten role).
To capture the brilliant din, composer-lyricist Gabriel Kahane, a narrative songwriter of great skill and ample wit, has attempted a simultaneous dialogue with the yearning poetry of Auden, the modern musical decouplings of Britten, McCullers's Southern longings, and Gypsy's brass. It's a pre-war Avengers Initiative of aesthetes, except these superbeings never get themselves organized — and, unfortunately, neither does the show. Kahane and bookwriter Seth Bockley have created a sprawling flea market of a production, with intriguing, often ingenious curios spread from here to eternity, but nothing we feel particularly compelled to buy. February House is so exquisitely, exhaustively researched, it often shows its avid little undergraduate footnotes. ("I feel great, now that I'm here, at 7 Middagh Street, with W.H. Auden! I'm a big fan of your poems!")
Oddly for a show about writers, there is little lyrical urgency or metaphoric energy: The house's squabbling residents sing irritably about paying the rent, battling bedbugs, cleaning the kitchen — we drown in quotidian details, showy rhymes, piled-up banalities, and art-song irrelevance. For all the passionate intellectual and romantic activity on offer, the House party never really gets going: It feels more like an endless tenants' meeting. Kahane's best numbers ("Wanderlust," "Goodnight to the Boarding House," "California") seem to exist outside of the show, in hermetically sealed singer-songwriter escape-pods. (It doesn't help that the acoustic balance between the singers and the small-combo orchestra is wildly off, and the performers are sometimes barely hanging on to Kahane's shouldering, impacted lines.) Ultimately, there is no emotional or ideatic center to the show, which is the whole point. And the whole problem. February House is about avoidance and evasion, a retreat from the world and, finally, a retreat from itself. But Kahane clearly has potential, a Guettel-ian instinct for the chamber-symphonic, and a Sufjanian ear for folk-rock vernacular. I'd recommend some new digs: quieter, less crowded, maybe something with a view.
THE COMMON PURSUIT (Playing at the Laura Pels Theater through July 29)

The late Simon Gray was about as British as British writers come; The Common Pursuit, his 1984 play about the twenty-year decline of ideals among a klatch of Cambridge-weaned literary friends, couldn't be more Merry Aulde if the Queen herself had a cameo. Watching American actors, even good ones, wrap their mouths around bleak, Blighty witticisms can sometimes feel like eating a Crunchie with the wrapper still on; still tasty (if you're persistent), but some of the subtler palating is inevitably lost. Moises Kaufman has chosen a very odd play to revive with an ensemble of young Yanks, and he hasn't brought much of his signature directorial style to Gray's straightforward, elegiac, and occasionally melodramatic tale of betrayal among ambitious men of letters. Stewart (Josh Cooke) launches a literary magazine, and his coevals — brilliant, closeted Humphry (Tim McGeever), flamboyant fabulist Nick (Lucas Near-Verbrugghe), and cocksman-academic Peter (Kieran Campion) — all contribute, jaggedly, between various personal misadventures. But the uneven venture is really kept afloat by the ministrations (and money) of sweet, toadyish Martin (Jacob Fishel), a man who happily admits his lack of talent and humbly submits his surfeit of enthusiasm (and capital) in lieu.
The years roll by, and the culture slides away from the high-modernist priesthood the boys were acculturated in and towards a new populism. This is the sad, sometimes soapy story of the death of dreams, and Kaufman keeps his crew merrily rolling along, one small tragedy to the next, but we're more engaged (and distracted) by the play's daytime-drama plot machinations than by Gray's deeper ruminations on the retreat of the intellectual from the marketplace and, finally, from public life. The actors are uniformly competent if exaggerated in their portrayals, and the evening is diverting enough, but I suspect the The Common Pursuit can be fully appreciated only in its original language.
OLD JEWS TELLING JOKES (Playing at the Westside Theatre)
The title says it all, and the show delivers. Pickled in the briny, mostly blue humor of yesteryear, Old Jews — curating by Daniel Okrent and Peter Gethers — features the redoubtable wisecracking skills of Lenny Wolpe, Todd Susman, and Marilyn Sokol. (Bill Army and Audrey Lynn Weston are on hand to lend some youth to the evening, and they're plenty charming, but … what schmuck ordered the side of youth? If I buy a ticket to a show called Old Jews Telling Jokes, I want more old Jews telling jokes!) From Sokol's sketch-character goofs to Wolpe's Newhartish punch-line-swallowings to Susman's avuncular backslappers, OJ is best when it showcases these OGs of vintage Borscht Belt japery doing what they do best: serving up subversive pretzel-logic, pinches of sexual realism, and guffaws in the face of death. And such small portions: Old Jews is exactly as long as it should be, which is to say, brief. And funny. Like life. Or sex. Or lunch. Which, in the worldview of these classic set-em-up-knock-em-downs, are all basically the same thing.
TITLE AND DEED (Playing at The Signature Center's Alice Griffin Jewel Box Theatre through June 17)
A Man walks into a theater: That's both the setup and the punch line to Title and Deed, the latest stage koan from post-Beckettist Will Eno (Thom Pain, Middletown). The Man is from another place, another country, possibly another planet, and he is played with steely serenity by Irish actor Conor Lovett, who deserves a special award for enduring the restive, susurrating audience he faced at the matinee I attended. One individual, apparently in a dreamstate where the conventions of theater begin to erode, took it upon herself to answer aloud many of the Man's elliptical rhetorical questions, and would not be dissuaded even by repeated shushings.

Did I mention these rude, cross-synaptic intrusions were my favorite part of the show? Eno builds in pauses that seem to invite audience response, while making it clear that only the most compromised mind would attempt a dialogue. He hit the jackpot that afternoon. I found myself hoping the audience expostulations, deafening rustlings, and shrill chair squeakings were somehow wired into the script: It was as if, on a subconscious level, the crowd was pushing back in protest. I have horribly mixed feelings about Eno. He's immensely clever, a phrase-maker of skill who cares passionately about language and its limits, subjects often ignored by contemporary American playwrights. ("They almost make you want to cry, or make you want to do something else, almost," rambles the Man. "Words. Ah, but they do the job.") Great wit and formal innovation seldom cohabit in the theater these days. But I can't shake the ungenerous suspicion that Eno is just a crafter of artisanal fortune cookies. Here are some of Title's greatest hits: "Life was essentially a parade and it would only stop to let the ambulance through." "I imagine myself striking out into the world, one foot in the grave, the other in my mouth, and how's anyone supposed to walk like that?" "That was a eulogy. Everything is, if you have a good sense of humor, a positive mindset. I mean that. If you have the right attitude, the right kind of bright and cheerful approach, the whole fucking swill-hole is just a long line of informative and beautiful funerals."

As was true in Thom Pain and Middletown, these gems bob out of the darkness and disappear just as quickly. Where are we going? Where have we been? Were those Groucho Marx's collected pre-show vocal exercises? The dislocation, the disappointment, the po-faced bemusement, they're all part of Eno's spell, but it's a spell that dazes me more than it dazzles. There's a mopey resistance to situation, to urgency, to propulsion that verges on the saturnine. Alienation never felt so arid. Maybe we all hail from half-imagined, idealized Nowheres, and we're swiftly progressing/regressing ahead/back to same. Maybe we're all stuck in a cosmic Customs line that's been art-directed by Wes Anderson. Maybe. We're never in the moment with Eno, because with Eno, there is no moment. He is frictionless, as smooth as Lovett's slightly dented pate. I can say I attended, but I wasn't there, because honestly, how could I be? But that crazy person, she was there, dammit. She insisted. Bless her crazy bones.
MY CHILDREN! MY AFRICA! (Playing at the Signature Center's Romulus Linney Courtyard Theatre through June 10)
In the late eighties, as Athol Fugard's South Africa inched painfully, incrementally towards the full endowment of its human population with unalienable rights, the playwright wrote My Children! My Africa!, a public intellectual's none-too-subtle attack on both the apartheid regime and its chief opposition at the time, the African National Congress. The latter had stepped up boycotts of the mandated (and, naturally, inferior) Bantu Education for black African children: Students were pulled from school to protest crackdowns against unrest in the black townships. Fugard saw the kids as victims caught in the middle of a political struggle, but the "children" in this creakily high-minded play are also victims … of an adult writer's tendentiousness, essayistic monologues, and stultifying dramaturgy.
Isabel (Allie Gallerani), a precocious white high-schooler, finds a new debate partner in Thami (Stephen Tyrone Williams), an equally precocious but significantly more political young man from "the Location," the town ghetto. Their mentor is Mr. M (James A. Williams), a still-idealistic black educator who eschews the movement-of-the-moment for more durable gains: an education, even one imperfectly administered by a cynical, evil regime, is, for him, the best form of resistance. He and Thami clash on this, naturally, and tragedy looms … but not before Fugard can disgorge immense, immobile monologues that are heavy on instructive thinking and light on spontaneous, natural humanity. The children in My Children! don't sound like children: They sound like talking points.
The play is really a slender one-act, only it's rendered in two, both of them grotesquely overwritten; there's only so much director Ruben Santiago-Hudson can do with it. The actors work furiously to disguise the play's total lack of dramatic propulsion, and the wonder is, they often succeed. Stephen Tyrone Williams (Burning, The Hallway Trilogy) has gotten in the habit of being the best thing about a highly imperfect production; here, he does it again. He's a young performer who combines great power and great subtlety, and — uniquely for an actor with leading-man looks — he's entirely protean: I've never seen the same Williams onstage twice. He feels around for the air-gaps in Fugard's relentless position-paper and fills them with immediacy, fierceness, freshness, youth. Bravo.