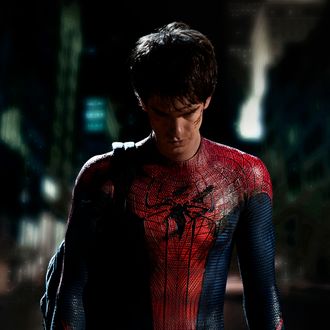 Andrew Garfield as Spider-Man.
Photo: 2011 Columbia Pictures Industries, Inc. All Rights Reserved.
Tobey Maguire interviews Andrew Garfield in the new issue of VMan, and it is super cute. Says Peter Parker the Elder of Garfield's franchise debut in The Amazing Spider-Man: "Actually, when it was coming together, I was particularly excited at two moments: One was when [director] Marc Webb got involved. I think he's an interesting and cool choice. And then I was certainly curious as to who was going to play Peter Parker. When I heard it was you, I was literally like, Fucking perfect!" You will not be surprised to learn that the eternally self-effacing Garfield collapses into a black hole of bashfulness at that endorsement. In fact, he tells Maguire that he was so obsessed with the first Spider-Man movie when he watched it as a teenager (subtle neg, Garfield, we're on to you) that he used to practice lines from it with a friend who told him, "'You could never be fucking Spider-Man.' I was so humiliated and upset. But, um … fuck you, Terry!" Boys will be boys!