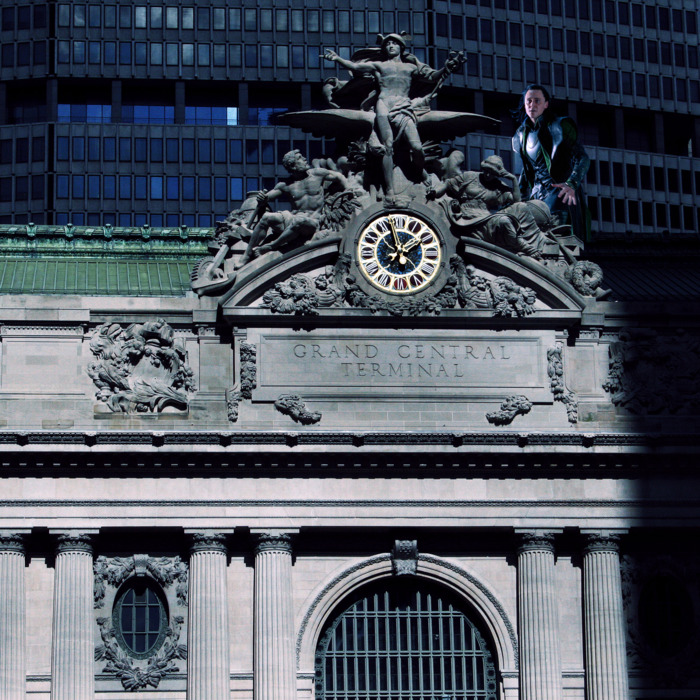 Photo: Photos: Shanna Ravindra, Marvel
In the second half of The Avengers, after Nick Fury has rounded everyone up and convinced them to save the world, a race of revolting aliens called Chitauri arrive on Earth for a ruthless slaughtering. They come through a space portal that drops them off on top of Tony Stark's famed Stark Towers, which are on top of Grand Central's stately Terminal. Pale-faced villain Loki put the portal there for reasons that have nothing to do with location (it's about energy and a tesseract and other things that don't really matter right now). Still, it's hard to imagine a better spot. The top of Stark Towers allows a stream of Chitauri to land unimpeded while providing all the benefits of Grand Central. So if a Chitauri needs to off someone in White Plains, it can hop a train. If it needs cheesecake, there's a Junior's on the lower level of Grand Central's dining concourse.
In fact, Loki's portal might just be cinema's most conveniently placed space portal. To test that hypothesis we evaluated the pros and cons of a dozen other movie portal locations. As you'll see, it's hard to beat 42nd Street. 
1. The Chronicles of Narnia: The Lion, the Witch and the Wardrobe
Portal: A wardrobe made from a magic tree that transports people to the netherworld of Narnia.
Location: An otherwise empty room in Professor Digory Kirke's house.
Pros: Easy to find; easy to move; not surrounded by distractions.
Cons: Must either befriend the Professor or break into his house to use it.
2. Being John Malkovich
Portal: A door behind a filing cabinet that transports people to the inside of John Malkovich's head.
Location: On the 7.5 floor of a New York City office building.
Pros: Easy to crawl through; easy to conceal; next to hallway where paying customers can line up.
Cons: Difficult for the obese to enter; can only be accessed when the building is open; spits you out on the New Jersey Turnpike.
3. Monsters Inc.
Portal: Closets that transport people and monsters between the monster-ruled city of Monstropolis and children's bedrooms.
Location: Closets in the bedrooms of suburban kids.
Pros: High probability of finding candy; soft carpet is easy on the feet.
Cons: Could be filled with dirty clothes, broken toys, or a meth lab.
4. Kate & Leopold
Portal: A hole in the fabric of time that transports people between 1876 and 2001.
Location: Right under the Brooklyn Bridge but just over the East River.
Pros: Easy access via the 2, 3, 4, 5, 6, A, C, J, and Z trains.
Cons: A girder must be crossed to reach it; necessitates jumping from the Brooklyn Bridge; threat of water-borne disease from a splash of the East River.
5. The Nightmare Before Christmas
Portal: A tree that transports people to Christmas Town.
Location: In a forest just outside of Halloween Town.
Pros: In a scenic spot; attached to a sturdy tree; a Christmas tree-shaped door makes where it leads fairly obvious.
Cons: Attractive to those who should stay away; threatened by loggers; potentially offensive to non-Christians.
6. Stargate
Portal: An ancient Egyptian artifact that transports people to "the other side of the known universe."
Location: A missile silo in Creek Mountain, Colorado.
Pros: Top secret location.
Cons: So top secret it's not on Google Maps.
7. Enchanted
Portal: A well in the animated fantasy world Andalasia that transports people to New York City.
Location: Just outside of the castle.
Pros: Easy to jump into (there are no guardrails); not far from the castle
Cons: Easy to fall into (there are no guardrails); spits people out under a manhole cover in Times Square; forces people to go to Times Square.
8. Harry Potter
Portal: A brick wall that transports people to Platform 9¾ so they can catch a train to Hogwarts.
Location: In King's Cross Station, behind a brick barrier between platforms 9 and 10.
Pros: Luggage carts are readily available; easily accessed by fourteen bus lines in daytime and three night routes.
Cons: If it doesn't work, noses could break against bricks; people are seen passing through the wall and create suspicion; train-station food is overpriced.
9. Alice in Wonderland
Portal: A rabbit hole that transports people to Underland.
Location: Next to a tree just outside of Lord Ascot's estate.
Pros: Well concealed; allows one to escape from unwanted marriage proposal.
Cons: Easy to fall into; lack of a cover allows rain water and debris in; hard to find.
10. A Kid in King Arthur's Court
Portal: A crack in the Earth that transports people from present-day Reseda, California, to King Arthur's court. 
Location: The dugout of a little league baseball field.
Pros: Ensures anyone who falls down it will be wearing a cup and possibly a helmet.
Cons: Forces games to be canceled while the crack is fixed; swallows equipment kids got for their birthdays.
11. Evil Dead II
Portal: A whirling hole that transports people and things to the year 1300 A.D.
Location: Wherever someone recites the following incantation from the Book of the Dead: "Nos veratos alamemnon conda" (in this case, the woods).
Pros: Portable; could be deployed when stuck in a conversation about the weather.
Cons: Sucks in everything around it; only safe to use in wide-open fields.
12. Time Bandits
Portal: A black abyss that transports people through space and time.
Location: At the end of a long hallway created by pushing back the wall of a boy's room.
Pros: Can be accessed without leaving your boudoir (if you're the boy whose room it's in).
Cons: Difficult to find; potential to cause great humiliation by pushing a non-transporting wall.