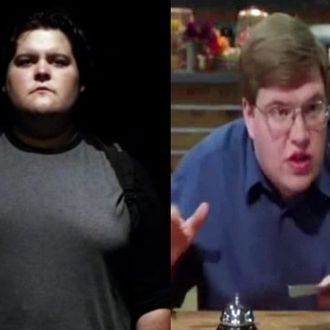 Community's Fat Neil and Garrett, named after departing producers Neil Goldman and Garrett Donovan
Photo: NBC
Pop pop! That's the sound of breaking news from the world of Community, where Vulture has learned of a big behind-the-scenes change coming at the show. Neil Goldman and Garrett Donovan, who've served as exec producers on the NBC comedy since its 2009 premiere, will not be part of the show when it returns for a fourth season (yes, we're thinking positive here). It's for a good reason: The duo have signed a big bucks overall deal at 20th Century Fox TV, the studio behind everything from Glee to New Girl. Goldman and Donovan are leaving Community on good terms, but this is still notable news for Human Beings.


This is because, while Harmon created Community and serves as showrunner, Goldman and Donovan have essentially served as his right-hand men, helping oversee many of the day-to-day details of the show, including ensuring Chevy Chase always has a low-level intern nearby to verbally abuse. (We kid, Chevy! We kid!) Anyway, their exit is thus notable, especially for Greendale geeks (present company included). Still, according to several industry insiders contacted by Vulture, the departure of the two men who provided the names for the character of Fat Neil and Garrett is unlikely to have an impact on NBC's decision to renew or cancel the show. Indeed, there are many other qualified writers and producers on the Community staff, and we've already heard discussion of an increased role for co-exec producer Chris McKenna (who wrote the mind-blowing "Remedial Chaos Theory" and just signed a big new deal with Community co-producer Universal Television). What's more, as long as Harmon stays with the show, Community  will retain its unique comic voice. The big questions, of course, are whether NBC decides to renew the show, and, then, whether the Peacock and production partner Sony can agree on how many episodes the next season should be (and whether there should be any changes to the existing financial agreement between the network and the studio). Most industry types Vulture has surveyed remain hopeful, though NBC is said to really, really like its new crop of comedy pilots.  

As for Goldman and Donovan, they're expected to both work on existing 20th series (perhaps one of the network's new fall pilots) while also developing projects of their own. The two men, who worked on the early days of Family Guy and spent several seasons on Scrubs, are also known for teaming with Bill Lawrence to create the very funny cult pilot Nobody's Watching for the WB (and later working on a failed revival at NBC). "They are great, incredibly funny guys who have a talent for cultivating passionate audiences, which is very much what we try to do at this studio," says 20th chairman Dan Walden.