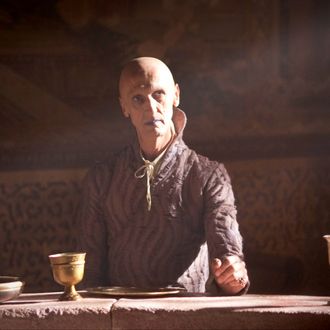 The creepy dragon-stealer from last week's
Thrones
.
Photo: HBO
Welcome to Vulture Precaps, where we combine recaps, news, and (often informed) speculation into a pre-Sunday night TV-viewing primer. 
Girls
What happened last week: Hannah propositioned her boss and tried to make Adam her boyfriend, neither of which turned out to be a good idea. Jessa reconnected with an old boyfriend and had super-hot window sex while Shoshanna watched. And Marnie set out to get Charlie back only to realize, oh wait, she actually did want to break up with him.
What's happened since then: After confronting her "too little diversity" critics on NPR last week, Lena Dunham was spotted in Brooklyn's Greenpoint neighborhood filming scenes for season 2 with Community star Donald Glover. The show also put out a casting call for "hipster types" of every race and ethnicity they could think of. Meanwhile, The Week's Dana Liebelson parses a few lessons from Girls for the political candidates to consider: Men should not make women's healthcare decisions for them, there should be federal jobs programs for writer-types, and, yes, diversity matters.
What to look for tonight: Shoshanna and Jessa getting into some straight-up dirty talk about last week's kinky assignation, especially in light of Shoshanna's persistent virginity. And with both Marnie and Hannah freshly loveless, more bathtub cupcakes.
Game of Thrones
What happened last week: Craziness in Qarth, where creepy hooded warlocks kill all but two of the Thirteen: Danaerys's host Xaro Xhoan Daxos, who proclaims himself king, and Pyat Pree, who reveals that the stolen dragons have been taken to the House of the Undying. In Winterfell, Theon Greyjoy, in his continuing quest to prove he's not a gibbering coward, reveals two scorched boys' corpses after hunting for the escaped Stark lordlings. Meanwhile the boys' sister, Sansa, becomes a woman, precipitating a remarkably human exchange with Cersei. Oh, and Jon Snow's "bone" gets him in trouble.
What's happened since then: Rose Leslie, the Scottish actress who plays the willing Ygritte — and who some of you might recognize as Gwen from Downton Abbey — spoke to TV Guide and hinted that her character "softens toward" Jon Snow in the coming episodes. We also learned that smoked whale was on the menu during filming in Iceland, and it was "quite delicious."
What to look for tonight: Tyrion noted last week that Stannis Baratheon's 200-ship fleet is sailing toward King's Landing, presaging the epic Blackwater battle this week, which Cersei has been hoarding wildfire in anticipation of — see an HBO still from the episode here. Meanwhile, we're likely to pay a visit to the House of the Undying, and Jon Snow will finally meet Mance Rayder, the King Beyond the Wall. Also, we miss Varys with all his meddling.
Mad Men
What happened last week: Betty finally started watching her weight, but accidentally saw Megan topless and so to get back at her she told Sally about Anna, but Sally kept it together. Pete had a steamy workplace sex fantasy about Beth and pretty much told her husband, his train buddy Howard, that he was screwing her. Roger convinced his Jewish almost-ex-wife Jane to come to dinner with him and Manischevitz in exchange for a new apartment, then defiled it by sexing her in it. Michael Ginsberg got screwed over when Don got jealous of all his good ideas, and Sterling Cooper Draper Price got left out of a New York Times Magazine article about innovative new advertising agencies. Oh, and it was Thanksgiving.
What's happened since then: Up-and-comer copywriter Ben Feldman confirmed to EW.com that going up against the Don Draper can be quite "imposing, especially when you stand in the elevator next to Jon Hamm, and he's 35 feet taller than you." We learned that Jon, who says he based a lot of Don on his father, wasn't everyone's first pick for Don, show creator Matt Weiner explained on Inside the Actors Studio this week. Apparently he wasn't sexy enough. And for everything Jessica Paré– and Megan-related — including how she first auditioned to be a prostitute in season four — check out the cover story from New York's TV issue.
What to look for tonight: Based on what little there was to glean from last week's preview, all we can say for sure is that Lane is back, something is going on with Harry, and Megan looks great in a red dress. The Pete-Beth and Don-Ginsberg plot lines seem to be have legs, so look for movement on both of those fronts as well. Also, has anyone seen Dawn lately?