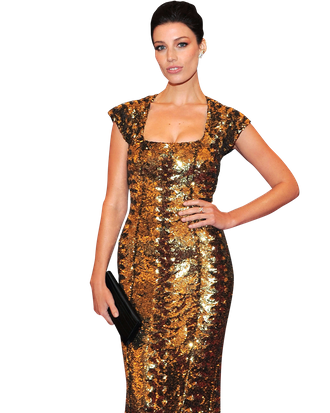 Photo: Larry Busacca/Getty Images
Jessica Paré says that playing Megan Draper on Mad Men was "a major upswing in her career." She's not being modest. If you recognized her before this big break, it probably meant you were either Canadian or pervy enough to have committed to memory that funny topless sex scene she did with Craig Robinson in Hot Tub Time Machine. Even now that Megan has become a major character on Mad Men (and Paré the worthy cover star of New York's recent TV issue), Paré is still pretty under the radar: When we interviewed her for the magazine, she was able to freely take us on a tour of forgotten-by-time specialty shops on her favorite stretch of Los Angeles's Glendale Boulevard without being swarmed by Mad Men fetishists. Below, an extended version of our nearly three-hour conversation, which started with wandering around and popping in stores, and ended with deep discussions about Megan over soy tea lattes. She was suffering from jet lag, having just returned from the Asia Pacific Pay-TV Operators Summit in Bali, but managed to be cheerfully Canadian anyway.
You just got back from Bali?
I just got back on Sunday. Actually, I left Monday. [The time difference is so great] I got back the day before I left. I time traveled. Bragging.
Did you get to have fun outside the conference?
I went to Ubud to check out the crafts and shit, and on the other days, I had a private pool at my villa. Which was amazing! It was way bigger than my pool at home, which is nonexistent. [Laughs.]
[Pass by Pampered Birds, an odd shop that seems to sell only parrots and cockatoos. Across the street is something called the Racquet Doctor.]
I like how this store and the Racquet Doctor over there, the string surgeon, feel like holdovers from the eighties, and things that my grandparents would be really into.
It's so specialized to only sell parrots and fix tennis racquets. Surely there can't be that high of a demand.
Well, they probably branch out and do some, like, squash rackets. I'm sure that they wouldn't say no to re-stringing badminton. [Laughs.]
[Pass by what looks like a walk-in dental clinic.]
This looks kind of like a place you could get drive-though dental work.
That would be great. I do get scared of the dentist, so a drive-through dentist might make me feel more at home. If I got to stay in my car.
[Enter a bookstore. She tells me Middlesex is her favorite book, and picks out Jonathan Franzen's Freedom.]
I just finished The Corrections. It took me a long time to get through, just because everybody's so miserable. They deserved it. So, I'm reading the other one! [Laughs.]
You seem to like dark books.
I went through a whole phase when I was younger of being obsessed with Tolstoy and Kafka and Camus, all those really, beautiful, dark depressing books. But what I like about Franzen and The Corrections so much is it's all about what's unsaid and those tangles that you get into in a family, especially when you want somebody to be somebody else so badly and they just won't. Which is I think obviously one of the great things about Mad Men, too.
[Entering music store, where later the clerk will tell her the vinyl single of "Zou Bisou Bisou" has been selling like hotcakes.]  
What's your musical taste?
I'm partial to the pre-funk sixties, like Iggy Pop, David Bowie, Lou Reed. I like Television and Richard Hell & the Voidoids, The Pixies. I used to listen to the soundtrack for the movie Tank Girl all the time. It was really good. God, I love that movie. I totally should watch it again.
You know Iggy Pop, right? You were in that vampire comedy Suck together.
I love that movie. I'm so proud of it. I really wish more people had gotten a chance to see it. And yeah, working with Iggy was so exciting. I didn't wear a ton of clothes in that movie, and I'm allergic to wheat, so I was skipping the dessert table and he was like, [imitates a man's voice] "Oh, you're not getting any cake, huh? I understand. You know, when I do my shows, I do them with my shirt off." I was like, "I know! I know!" I was so excited. He was just like, "I know your moves, man. I feel the same way." He's actually a really big fan of Mad Men, which was pretty hilarious. I wouldn't have picked that one for him.
[Settling down at tea café, after she helps me clean up spilled tea.]
You're so nice.
Oh! I'm Canadian! This really funny thing happened at that Asia Pacific Pay-TV Summit that's an example of me being a nice guy. This woman, she was so funny, I felt so horrible for her, she said, "You'll have to forgive me, I stopped watching Mad Men as soon as Don proposed to his secretary." I was like, "Whoa, that's me!"
She was like, "God, I hated that girl."
I know, she was like, "What the hell is that story line, bitch?"
People were very upset about it.
Yeah, but I definitely understand why I think people wanted Don to pick somebody like Dr. Faye who was challenging him to be the best version of himself. You wanted him to pick somebody who is his intellectual equal and who could love him and still challenge him and then he chose Megan, who sort of offered not "Be the best version of yourself that you can be," but "Be anybody you want to be, and whoever it is, I love him." Megan offers complete acceptance, which I think everybody would want, especially somebody like Don who's always hiding.
I think Faye seemed accepting of him, too.
But I think she was holding him to a standard and she was pushing him to be a more honest, better person. I heard Matt Weiner say a funny thing about it: "If only we chose to be with the people that were right for us." You know, if only we could always be like, "Well, I'm not super attracted to him or whatever, but he's good for me." I think part of the reason that a certain section of viewers felt disappointed at the end of the last season was that Megan seemed like the easier choice. She was the one that was good with the kids and young and, like, would happily have a steak waiting on the dinner table, you know?
I can't imagine being on that show and being Don's love interest because it's like you've got a giant target on your back.
Well, that was the big joke, right? When I had my first kissing scene with Don, the costumers were literally like, "Well, it's been great working with you, you're on your way out. You know that, right?" I mean, I didn't mind. When I got the part, I thought it was going to be maybe three, maybe five episodes; I didn't know what it was going to look like, but I was sure happy to have a job.
Let's start with how you ended up auditioning. Where were you in your career? You just did the movie The Mountie, right?
Yeah, well, I guess The Mountie was the last thing that I had done, but it had been a while. It had been tough. My parents made me finish high school before I started acting, and I did like two weeks of fine arts college before I was like, "This sucks. I'm going!" I got a few small jobs and then I booked a big-for-Canada feature. I mean, it's a big feature period. It was Denys Arcand, who's one of Canada's greatest filmmakers ever.

You mean the movie Stardom?
Yeah. I was the lead in this $12 to 15 million movie and we went to the Cannes Film Festival, we opened the Toronto Film Festival — it was a big movie.

From what I read, it sounded like maybe the movie got mixed reviews but everybody was into you.
I don't know. The whole experience was so surreal that I'm not sure at 18 I was really able to differentiate between what was a reflection on me and what was a reflection on the film. I try to stay away from other people's opinions of me because I too readily take them on as my own. I'm like, "You're right, my teeth are stupid! You're right, I hate the sound of my voice also! Ugh, why do I ever talk? It's terrible."
I thought it was interesting that back then, you were saying you didn't have ambition, but you clearly do.
Oh, I think I've always been ambitious. It just looks different on me. You know, I have friends who are actresses who go to every party they possibly can to be photographed and really try to make every connection they can, and I admire that and sometimes I wish I had a little bit more of that. Sometimes I feel like I don't have enough ambition. Sometimes I'll read a script and I just feel like I'm not right for the character. [Laughs.] And I don't know! I could be wrong! I'm not the director! The goal is not to be famous, but it turns out that it really helps to get other work. The more that you're known the more people are okay with hiring you, you know? So my ambition is to work and not so much to be, like, famous.
How tall are you?
Five-foot-eight. I like to wear heels and tall hair so that I look really big. Sometimes it upsets me that [costume designer Janie Bryant] won't give me a taller heel. I'm still a total shrimp next to [Jon Hamm]. I mean, he's massive that guy.

He is? How tall?
Six-foot-two or three, maybe? I don't feel in life like he's that much bigger than me, but I'll watch the show and on-camera he just makes me look like a little shrimp.

I feel like you tower over some of the other people.
Oh yeah. But I'm exactly the same height as Christina. I think her hair is even taller than mine. Tall hair, tall shoes. You look really powerful until you have to run anywhere and then everybody can see how vulnerable you truly are.

The running that you did actually was in the apartment, right? I feel like that's your one action scene.
Yeah, which is a lot for Mad Men. There's not a ton of action on that show. [Laughs.]

Do you think Megan brings out violent tendencies in Don?
That episode was quite unsettling, beginning to end. But between the episode where he has the fever dream and he murders Andrea and then the one with the movie theater hand job bit and the Howard Johnson one, it all makes you feel really desperately alone. Ah! What a job!
It makes you feel desperately alone?
As an audience member. It underscores the fact that ultimately, we live and die alone. I told you I read a lot of Camus.
That was well before Mad Men.
That was when I was trying to make up for dropping out of college.
You thought, I might as well be as depressed as possible.
I was like, "I'm going to plumb those depths." And I'm glad I did, because I like having access to them. Obviously Don and Megan have a real strong physical connection. She is his sexual equal and that physical energy manifests itself in a little bit of violence. For him, he's had this whole traumatic experience. He hasn't slept all night. He's sure that she's missing somewhere. She's left with a few guys or something, right? This is weeks after those nurses were murdered in Chicago. And she says when she gets home that she took a bus and tried getting a cab, but try getting anything but an offer at Port Authority. I think she was solicited. So they're both at that breaking point. And instead of taking a step back, they go at each other.

Their dynamic is so fascinating. In some ways I feel like it's healthy, but I read comments sections and there are people that think it's destined to be doomed.
I agree that there's something about it that's healthy. He is genuinely happy with her and she is with him. They really enjoy each other's company. But what most of the viewers are anticipating, and what I would anticipate as well, is that this is not a show about Don Draper being a happy, healthy man. I'm not giving anything away. That's just my opinion. Don Draper, he's a craven individual.

When they were having their fight after the birthday party and Megan walks out onto the balcony, everybody was like, "Oh no!"
She's gonna jump!

When she was running around that apartment, I thought it was going to happen again.
He's going to actually murder her.
You auditioned for the part of a hooker first, right?
Remember in episode one last year there was, like, the hooker that's slapping him? She's like, "I know what you want." He's like, "What are you waiting for?"
Are you a good slapper?
The hooker one did go to somebody else, but Matt told me that it's not because I didn't do a good job. [Laughs.]
What did you do when you got the part of Megan?
I remember I was so excited when I got it and they were like, "Are you able to come to the table read tomorrow?" I was like, "Yes! Of course! I can come to the table read! I have nothing else to do with my life! This is it." So I waited up for the script to come that night and every hour passed excruciatingly slowly. I finally got the script and I had one line and it was, "Yes, Joan." You can picture me sitting there, like, quietly looking at, you know, Jon Hamm and John Slattery and Christina Hendricks and January Jones. I was freaking out. Everybody was there. I was like, "Yes! Joan!" [Claps hands excitedly.]
Your first appearance on the show, if you blink you miss it.
Yeah, I'm pinning up a snowflake, and at the end, I think Joan asks me to go get somebody a drink.
When did you get the sense that Megan was going to stick around a while?
When my character got a last name, Calvet. It's from an inn in Montreal. Matt and his wife Linda stayed there. I think that happened in episode nine or ten. But I was like, "My character has a last name!" I don't know if you've ever seen Galaxy Quest — I realize this is nerdy, but there's one scene where Sam Rockwell who plays Guy, he doesn't want to get off the spacecraft because his character doesn't have a last name and he assumes that that means that he'll be killed first. [Laughs.] And so this was kind of the opposite moment. "I got a promotion! A last name!"
Matt Weiner said that he knew all along that Megan was going to be the one who married Don. Did you know that?
No. God no. The week before that we started shooting, the props person came and measured my ring finger. She said, "I don't know how to do this without giving anything away." And I didn't want to ask her what it meant because I didn't want to be disappointed. So I just didn't think about it, and then two days later, Matt phoned and told me that it was indeed what was going to happen. And still then, I was like, "I'll wait till Monday. Once we shoot that scene I'll be sure."
I think a lot of people were sure the proposal would implode over hiatus. Did you know what was going to happen?
No. It took seventeen months to get back since they had to make deals with everybody again. So I wasn't even 100 percent sure we were coming back at all. And I was desperate for the show to come back more than anyone, as you might imagine. [Laughs.] But I didn't know what kind of part I would have, how many episodes I would be in. A lot of people were like, "Well, of course you're going to be a big part of it because we saw the big proposal at the end of last season." And I just kept saying, "Two words: Closed casket." [Laughs.] You know, it opens on a closed casket, pan up to Don, bereaved, winks at a blonde down the aisle. [Rubs hands.] Bye-bye, Megan Calvet. But that didn't happen. Yet …

What did you do after you finished filming this season?
Much like I am now, I was looking for a film to do in the meantime. That was difficult because we didn't know when we were coming back, so I kept thinking that I was going to be working months before it actually happened. This year is somewhat similar. I mean, I know-ish when we're supposed to go back, but I'd like to do a movie or something in the meantime.

Did nobody know who you were? Now I think everybody knows who you are, or at least the 2 million people who watch Mad Men.
Yeah, I do have access to more parts than I had last year. I mean, there was still stuff for me in Canada.

When you're on the streets of Canada, do people know who you are?
Well, Quebec media is very excited that there's a French Quebecer on an American television show. That's a really big deal for them. I made it into Sette Jour, which is the Quebecois Us Weekly. It's pretty big for me. [Laughs.]
You were also one of People's "Most Beautiful People."
I know, that was cool, too. Confirming what my parents have thought for years.
That you were the most beautiful person in the world?
Among [the most beautiful]. My parents have thought that forever. I'm like, "Mom, I guess you were right!" [Laughs.]
I do feel like Americans mostly knew you for Hot Tub Time Machine.
That's totally true. Most border guards, yes. [Laughs.] I cross into the States a lot coming back from Canada, and they always say, "Well, you're an actor, what have you done?" So I always try Mad Men, but I guess they're not our target audience. So then I'm like [under breath], Hot Tub Time Machine? And they're like, "Oh yeah! We love that movie.

Do they remember what part you were? [She played the groupie who has a very topless scene having sex with Craig Robinson.]
Yeah. I mean …

Does it get creepy?
I don't have very puritanical feelings about that kind of stuff. But when you do nudity for a drama, for instance, and it gets taken out of context and just put on the net, that gets creepy. You're like, "You know there was a whole emotional content to the scene." [Laughs.]

Did that happen for Lost and Delirious, in which you play a boarding school girl exploring lesbianism and also getting topless?
Yeah. It happens whenever anybody does nudity. I think it's just one of those things that you have to either learn to live with or you just don't do it. But it's a part of our lives. Sex is a driving force that would be ridiculous to not talk about.

Plus your Hot Tub Time Machine scene is really funny.
It is a funny scene! And Craig [Robinson] is really, really funny and that's why I wanted to do it.

Was that at a time in your career when you were taking whatever came or was it something you really wanted to do?
I really liked the project. Like I said, my body is not a source of shame for me. I think tits can be funny. Please do not make the headline. [Laughs.] "Jessica Paré: Tits can be funny."

When did you start preparing for "Zou Bisou Bisou"?
I knew a few days before we started shooting the episode. We saved the dance for last. Matt had told me that I was singing a song and doing a little dance, but I didn't realize how involved it was going to be until they scheduled me for eight hours with a choreographer. And then eight hours turned into, you know, five days times eight.

That feels like it was your star moment.
Part of what's sensational about that moment is just the awkwardness. Even when Matt told me that Megan would perform a thing at his birthday party, I was like, "What is she thinking?!" And that's what everybody's reaction to it is. Their discussion at the end [of the party] is about the fact that she's inviting these people into their intimacy. They have this sacred intimacy and she just bares it to all of his colleagues. She thinks that it's something beautiful. She's showing how much she loves this man. But he's a hard man, you know? He's very stern and I think she doesn't see that side of him. She sees him as a fun, funny, good man, and I'm sure that makes him feel pretty great. But it also leads to this sort of disconnect for her.
Do you think she knows that she's titillating the men in the room?
Oh yeah. I don't think she's afraid to be sexy. I think it's partially her heritage and being from Montreal and having that influence, but I think it's also the time. She's not afraid to channel a little more of that. Like Brigitte Bardot, that kind of sexual energy.

Some people have different interpretations of the scene that followed, where she's cleaning up in her underwear. Is she manipulating him and trying to play power games?
Oh yeah, for sure. We're used to seeing a Don Draper that doesn't have a real Achilles' heel. I mean, he does in that there are secrets that he's trying to keep. But she has a hold over him and partially it's a physical one. So I think that she's trying to regain that upper hand in that relationship. And she's expressing herself in a way that we don't see on TV without that criticism. That's one of the things that I loved about that scene, that this woman is just expressing herself to her husband in this very powerful, sexual way.
What do you think you and Megan have in common?
We're from Montreal [laughs], we're annoying. [Laughs.] Just kidding. No, I think that Megan is good at being happy and I feel that way, too; I think I'm definitely capable of being unhappy, but I think that it's a positive outlook and a joie de vivre, and I think that she and I share that.
What changed about your life when that episode aired and you became an Internet sensation?
Well, on one level, I hadn't been able to tell anyone about this for months, so I was glad not to have to keep the secret. Day to day, my life hasn't really changed that much. My parents still love me the same. Maybe a little more. [Laughs.] Just a little more; they already love me tons.
Do people come up to you more now than they did before?
A little bit, yeah. I was at Gelson's the other day, the grocery store, and this girl in line behind me said, "Are you the girl from Mad Men?" And she was like 12. I said, "You watch that?" Her mom was like, "I cover her eyes." It's so nice, it's so rewarding, to have been working for so long and [now have this].

What's your living situation. You used to have roommates after you and your husband split up, right?
I got my cat; I got my place. Okay, I'll quit bragging.

Are you dating anybody?
You know. [Long pause.] I really appreciate that people are curious about this kind of thing, but I think for right now I'd just like to keep the conversation on my work because I'm really not an expert on any of the other shit. I don't know anything good about love or relationships; I don't know anything good about anything. But I am a Megan Draper expert. [Laughs.]

Okay, what's your every day? You knit. You watch TV.
Well, it's pretty boring. I mean, I like it, but it's pretty quiet. I play the ukulele, rather poorly.
But enthusiastically?
Some days. Some days sadly. It's a very bright-sounding instrument, so I think it's fun to sing sad songs on it, like Evan Dando's "My Drug Buddy." [Sings.] "I love my drug buddy." And I have meetings and auditions that I still go to. It's weird, I feel like the last hiatus went by and all I did was draw a couple of things.
You draw, too?
Yeah. Pretty poorly.

What do you draw?
Anything. I draw, I scribble, I paint, I collage, I knit, I crochet. One of my most exciting Saturday nights was just me and a bottle of wine and a crochet book. I learned to crochet like a motherfucker.

When you say, "like a motherfucker," does that mean you sucked?
No, like, I kicked ass! I can crochet like a motherfucker! [Laughs.]

Was the wine part of that?
Probably, because I had to relearn it the next day. But everything I made turned out amazing that night. I can accomplish any yarn-related thing that I put my mind to.

Are you sporty?
No, I don't like sports. I don't have a TV, but I'm not one of those people who doesn't watch TV. I thought it would help, but it doesn't. I watch Hulu or Netflix on my computer all the time. I love the AMC shows, Breaking Bad and Walking Dead and I'm about to get into The Killing, which I'm really excited about. And 30 Rock — did you see there was a "Zou Bisou" reference?

Yes! I saw that! Will Forte came down and proposed to Jenna while singing it.
I know! That was maybe the moment where I was like, "Wow, this is big!" So, 30 Rock and Parks and Rec and Up All Night. I love those shows because they're amazing, but I also appreciate them that much more because they are female-driven. And then, oh my God, this is really embarrassing, I can't help it, I am absolutely fucking head over heels for Ice Loves Coco. In a landscape where it's mostly people being mean to other people on reality shows, I just love how good they are to one another. I want to be friends with both of them, but Coco … Coco and I, I think should be friends.
How are you feeling on your teeth these days?
It's funny, I get self-conscious when people talk about them, but I forget about them because they're in my face so they do their job just great for the most part. [Laughs.] I never get anything stuck in them. I mean, I have, like, mixed feelings about them like anybody who has features like that. I had never thought about them until somebody made a comment. But now I'd have to say yeah, they are kinda weird but I kinda like it. I don't know. I didn't want to have braces when I was a kid and I'm pretty sure my dad didn't want to pay for them. I think it's part of what makes me look more like me and less like some other Hollywood actress.
Your outfit is very chic.
This? [Laughs.] Straight from therapy.
You came to meet me straight from therapy?
I did. That's why I'm all primed to talk about myself. I'm one of those people who thinks everybody can benefit from it.
What are you exploring now?
Hey! Better luck getting it out of my therapist.
Earlier, when we were walking around, you said you spent the first two years you lived in L.A. without a car. Why in the world?
I was afraid to because I didn't know how to drive in Montreal and then here just seemed much more dangerous. But now I would say that people here are aggressive, but they're predictable. In Montreal, they'll just pull a U-turn and go the wrong way in your lane towards you or the wrong way, up an off ramp to the freeway … MOM. Four kids in the car. My mom is a bit of a wacky driver. She was the one that I blamed for not driving for so long, and now I drive a little bit like her. Once she missed the entrance to the freeway, and she actually went a wrong way up the off ramp. She was like, "It's just a suggestion." I'm no better. I mean, for about a year every time I got in the car I'd be like, "The big one is the brake, right?"
You really didn't know how to drive when you came to L.A.?
Really didn't know. It's not just that I didn't have a car, I really did not know how to drive.
Even last season of Mad Men I was super broke. I had this old '96 Volvo Station Wagon 850, which I loved. It was my first car. When I was growing up, I was always like, "That's the car of happiness. If you have that car, you'll be happy." And then I got it and I had to put, like, a whole thing of oil in it literally any time I went anywhere. I'd leave set in my hair and makeup and be in the basement of the studio checking my oil hoping nobody would see how ghetto my car was. [Laughs.] I tried to save that car, I really did. But the guy was like, "You can't drive this anymore. First of all, your front passenger side wheel is, like, about to fall off — I don't even want you to drive it home. Furthermore, your engine has rusted through the supports. I don't even know what's keeping it in the car." He was like, "Seriously, don't drive away in that." Now I drive a super-sweet Volkswagen Jetta. Yeah. Don't get too jealous. [Laughs.]
How old were you when you when you got your license?
I think I was 25.
That was only four years ago.
I'm 31.
Why did I think you were 29?
I think it was wrong on my IMDb for a while, which was okay because I'm playing someone younger and I'm super immature. But I don't want people to think that I'm lying about my age. I'm in my thirties and I'm proud of it. So much has changed since I turned 30, which is so good. I'm finally happy being as tall as I am. And I just don't care as much what other people think, which is nice.