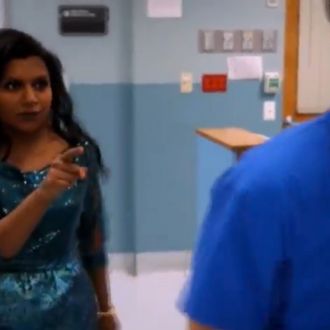 Hot on the heels of Fox's 2013 Upfronts presentation, here are clips from each of the five new shows scheduled for next year.  Have at 'em!
The Mindy Project
Rom-com aficionado Mindy Kaling writes and stars in her own Bridget Jones – about a thirtysomething OBGYN with a taste for drunk bicycling. There's even a Hugh Grant-as-Danile-Cleaver-ish character (and a Hugh Grant reference to bring it home.)
The Mob Doctor
Pretty much what it says in the title, but with an extra helping of sassy female fixer (check the dog toy). Don't miss the Matt Saracen cameo!
Ben & Kate
Nat Faxon plays doofy bother to Dakota Johnson's loopy single mother in a sweet sibling comedy. Also, that's the kid who taught Willard to dance in the new Footloose. She's good.
The Goodwin Games
Three estranged siblings (Scott Foley, Becki Newton, Jake Lacy) and a stranger named Elijah compete for their father's inheritance with a personalized Trivial Pursuit game. From the clever premise wizards who brought you How I Met Your Mother.
The Following
Ex-FBI Kevin Bacon (!!) gets back in the game to hunt down an escaped convict who based his crimes on the poetry of Edgar Allen Poe. It looks like he also makes eyes at a couple pretty ladies, too.