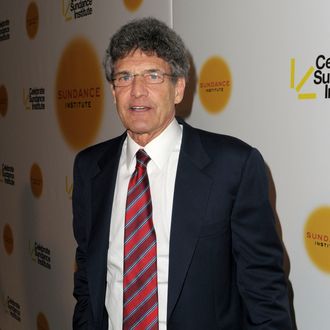 Photo: Michael Buckner/Getty Images
For 40 days and 40 nights, Disney has sought a chairman for its once-vaunted studio, and just now, news comes that's it's found one in former Warner Bros. chairman Alan Horn.
To outsiders, this might seem like the usual Hollywood shuffle: studio becomes bomb factory, fires chief, finds new one. But there's a larger issue confronting Disney — namely, the looming irrelevance and death of the Disney brand in film — and from the choice of Horn, it's hard to tell just what Disney hopes to accomplish.
Horn will oversee "worldwide operations for The Walt Disney Studios including production, distribution and marketing for live-action and animated films from Disney, Pixar and Marvel, as well as marketing and distribution for DreamWorks Studios films released under the Touchstone Pictures banner." Disney's music and theatrical divisions report to him, too.
That may sound like a lot, but the reality is that the Disney studio is a shell of its former self: It has opened just five films so far this year, and one of them was a rerelease of Beauty and the Beast designed to milk a little extra 3-D cash out of those kiddos who were just gleams in their parents eyes back in 1991. Another two films Disney released were notable not just for their extremes but for their sources: The highest-grossing film of the year so far (The Avengers) came from Marvel, not Disney, while the biggest money-loser of the year (John Carter), unfortunately, did.
As one former studio president turned producer put it to Vulture, "The crisis at Disney is that [Walt Disney Company CEO] Bob Iger doesn't want to make movies." By comparison, in a 2010 interview with Deadline Hollywood, Horn professed a preference for releasing at least two dozen films a year.
There is no question that his track record at developing, making, marketing, and releasing big movies at Warner Bros. is sterling. Horn, as Disney's press release rightly touts, is "responsible for some of the world's most successful entertainment properties including the Harry Potter film franchise and the hit television series Seinfeld among others." In his dozen years there, Warner Bros. was the global box-office leader seven times.
Even more, Horn's Warner Bros. became known as the home of the popcorn auteur, if such a thing can be said to exist: Christopher Nolan made both The Dark Knight trilogy and Inception at Warner Bros. Ben Affleck made The Town. Scorsese made The Aviator, The Departed, and Shutter Island. Clint Eastwood made Million Dollar Baby, Mystic River, and Gran Torino. And let us not forget the then–Wachowski Brothers' Matrix films.
But it's also what Horn didn't do at Warner Bros. that might give a brand-obsessed (first the Muppets, then Pixar, then Marvel) portfolio manager like Disney's Bob Iger pause: He didn't resuscitate the retinue of Warner Bros.' Looney Toons characters, which are arguably some of the most iconic in the business — Bugs Bunny, Daffy Duck, Porky Pig, et al. — yet are fading fast.
And for all the billions in grosses amassed by the Harry Potter franchise, the property is still viewed internally at Time Warner as a merchandising disappointment: Apparently, we Muggles don't crave toy wands as much as we do comic book action figures.
Also, unlike Marvel, which artfully spun characters like Iron Man, the Hulk, and Captain America into a juggernaut mega-ensemble franchise like The Avengers, DC's stable of characters have been left moldering for decades. When they have been pulled out of the toy chest, it has been with mixed results (save for Nolan's take on the Batman franchise) and then, without a larger, guiding vision for the label. Indeed, the studio lost half the copyright on Superman to the estate of one of its co-creators for lack of development and very nearly lost the other half, just starting production on Man of Steel just in time to beat the legal deadline. This will not fly at Disney, the world's largest consumer-products company.
Such dormancy leaves one former studio head turned producer without access to such venerated intellectual property baffled at the lack of strange anti-synergy that defined Horn's time at Warner Bros. "A Justice League movie starring all the iconic DC Comics characters like Batman, Superman, Wonder Woman, Aquaman, and the Flash? It would make The Avengers look like My Dinner With Andre."
In the months that follow, we'll see if Iger has authorized Horn to do what he does best — bring great filmmakers to work, regardless of the source material — or whether he'll be kept to duties as a highly paid traffic cop whose job it is to oversee the making of the studios annual Marvel, Pixar, Muppets, and theme-park-ride-inspired films, while Mickey Mouse looks sadly on, gathering dust.