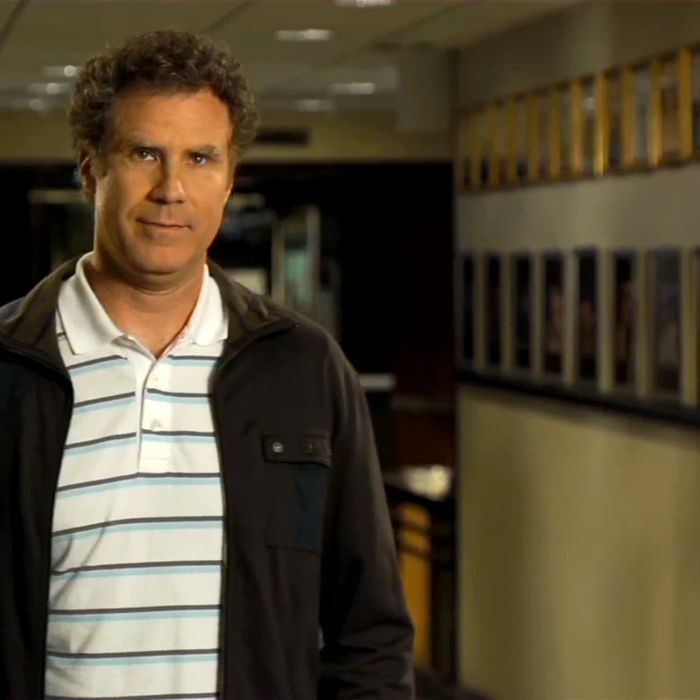 Tomorrow night, Will Ferrell returns to host Saturday Night Live for the third time — and will be the third SNL alumnus, after Jimmy Fallon and Maya Rudolph, to do so this season. As with his former colleagues, Ferrell poses a challenge to the SNL prognosticator in that it's tough to guess which of his dozens of returning characters he'll want to revive. Then there's the fact that the project Ferrell is presumably there to promote (the feature film The Campaign) doesn't come out until August. Will he bother to flog it? Would he balk at reprising his Harry Caray or Robert Goulet just because both those gentlemen happened to have passed away? These are just a few of the considerations I had to keep in mind when preparing the predictions below.
11:29 p.m. Cold Open: In light of the week's events, former President George W. Bush (Will Ferrell) is moved to address the nation in order to share his somewhat confused views on marriage equality.
11:36 p.m. Monologue: Ferrell headlines a rousing musical number about how thrilling it is to return to his old stomping grounds as a huge star.
11:40 p.m. Commercial Parody: NBC touts the imminent arrival of Howard Stern (Bill Hader) on America's Got Talent, while trying to downplay the less family-friendly aspects of his longtime radio show.
11:45 p.m. Mitt Romney (Jason Sudeikis) and his oldest prep-school friend Brigg (Ferrell) privately reminisce about the ways they used to haze their classmates.
11:53 p.m. On Inside the Actors Studio, James Lipton (Ferrell) delves into the life and career of Courtney Stodden (Nasim Pedrad).
12:02 a.m. Ancient vampire Barnabas Collins (Ferrell) wakes up in 2012, only to be completely confused and unsettled by the prevalence of vampire content in pop culture.
12:09 a.m. Usher performs.
12:15 a.m. Weekend Update features a visit from a gay couple from New Jersey (Hader and Fred Armisen), who share their reaction to President Obama's affirmation of marriage equality; and Battleship star Taylor Kitsch (cameo as himself) submits to Get in the Cage with Nicolas Cage (Andy Samberg).
12:28 a.m. Celebrity Jeopardy!, hosted by Alex Trebek (Ferrell), welcomes contestants Kim Kardashian (Pedrad), Paul Sorvino (cameo by Zach Galifianakis), and Sean Connery (cameo by Darrell Hammond).
12:37 a.m. At Target, an ebullient cashier (Kristen Wiig) keeps getting distracted by her customers' purchases, while ignoring the romantic overtures of her shy assistant manager (Ferrell).
12:45 a.m. Usher performs.
12:50 a.m. Several overweight household pets (Armisen, Ferrell, and Bobby Moynihan) mourn the death of obese house cat Meow.
12:56 a.m. Kanye West (Jay Pharoah) lists a few more things he doesn't like.
1:01 a.m. Good night!