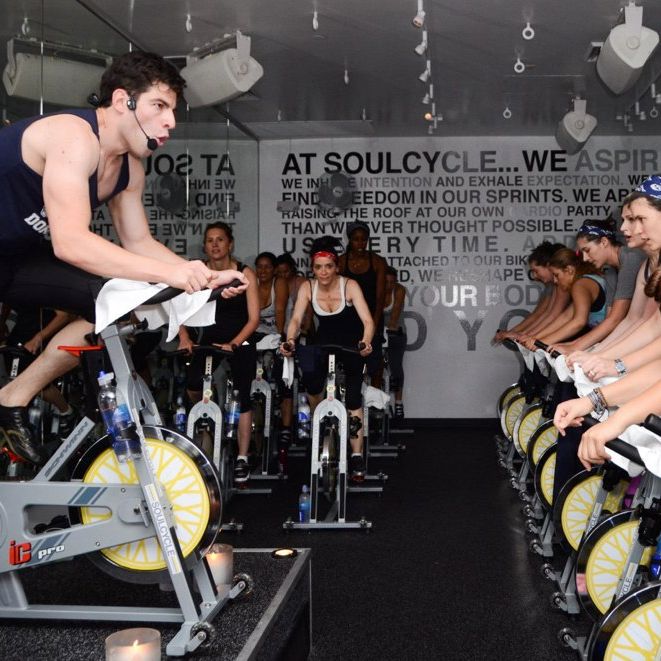 As Rihanna sang about finding love in the most hopeless of places, Max Greenfield sat in front of us in a stylishly darkened room, straddling a stationary spin bike and wearing a dark blue tank top with the words "QUAD DOMINANT" emblazoned on it in capital letters. Encircled and lit almost solely by four giant candles, he was covered in sweat, as were we. And it was all Vulture's fault.
Just a few weeks ago, Vulture mocked up the cover to an imaginary exercise video that his lovably preening New Girl character Schmidt might make; Greenfield then responded, in kind, by actually shooting the workout video and releasing it on YouTube. Later, he would tell us that his only ambition was to create a viral clip to "totally blow Vulture's mind," but a funny thing happened along the way. "SoulCycle put it on their site immediately and they're tweeting me, 'Oh my God, his spinning form is incredible,'" laughed Greenfield. "And I'm thinking, What is going on? And then Katie Couric tweets me and is like, 'Your form's impeccable, Max, everybody should check out this video,' and I'm like, What is happening?"
SoulCycle then asked Greenfield if he'd be interested in teaching two L.A. spinning classes for charity, and together with IDPR and Zooey Deschanel's website, HelloGiggles, he put together back-to-back classes yesterday to benefit Milk + Bookies.
"Okay, we need to go over some ground rules," Greenfield told the class as he kicked things off. "There are none." The room laughed, filled with the sort of cute girls in tank tops and Lycra that might complicate things for Schmidt, who's currently suffering from an ailing penis and can't endure arousal. Still, permitted Greenfield, "If you want to get off the bike and dance a little, that's totally allowed." It was clear: Greenfield was in charge, but he'd be teaching with Schmidt's enthusiastic personality. It was the closest thing you could get to an hour-long New Girl outtake comprised solely of Schmidticisms, as long as you were willing to sweat for it.
Here are just a few of the notable things that Greenfield said and did while spinning:
Greenfield's first song for the spin class? The Glee version of Whitney Houston's "How Will I Know," during which he recapped the emotional journey of Mercedes and Rachel from rivals to friends: "If they could put away their egos, Mercedes and Lea Michele, then they can make something like this. And this is as beautiful as it gets, am I wrong?"
By way of introduction to Rihanna's "Where Have You Been," Greenfield informed us, "This is Princess RiRi, and Princess RiRi is killing it."
"Do you have Bieber fever?" Greenfield asked the room at one point. "I certainly do. I'm suffering from it right now. He's ninety-nine point adorable." In the middle of Justin Bieber's "Somebody to Love," Greenfield even confessed, "I tried to get the bangs like Bieber once, but it doesn't work with this Jewish hair. But at least I tried, and that's what I ask from all of you today: to try."
As Chris Brown's "Turn Up the Music" played, Greenfield angrily rebutted the titular plea: "I can't turn up the music. This is as loud as it goes!"
To the tune of "Wild Ones": "Who knew Flo Rida could be so emotional? You add Flo Rida and Sia, you get tears."


Katie Couric was right: Greenfield was an excellent spinner. He'd taught his first class before us, but that didn't slow his pace one iota: As others in the class adjusted their bike knobs for an easier ride, Greenfield spun even harder and faster and encouraged us to do the same. His only respite came when he periodically clambered down from his bike to dole out high-fives or, as promised, to dance a little.
As Greenfield later told us, it was his first time spinning in two years, and the back-to-back classes prompted his first major workout since New Girl wrapped its first season a few weeks ago. "I slacked off for the first two weeks and then I knew this was coming up and I was like, Don't be an idiot," he laughed. "Usually, I'll stay in decent [shape] and then I'll look at my next script and I'm like, 'Oh, that's funny, that's funny … Oh man, I've got to take my shirt off.' And that's what I'm really looking for. So, depending on how naked I am in the next episode, that's how crazy I'm going to go at cross-fit that week."
Alas, tomorrow night's New Girl season finale will leave us Schmidt–less until the fall, and Greenfield teased that his character's relationship with Cece will be tested: "Schmidt has a little bit of a jealousy issue in the final episode and he deals with it in a very interesting way." One thing Greenfield thinks Schmidt will never do, though, is hook up with Deschanel's Jess. "I think if it ever happened, it would be a misbegotten night," he said. "I've always envisioned them as having a very brother/sister relationship, so it would be kind of weird. That's like when Joey and Rachel got together!"
Still, there are no rules in either spinning or love, just as there is no monopoly on "adorkable": Our parting gifts were gray T-shirts sporting the twee promotional adjective, which had formerly been used to describe series star Deschanel but could just as easily apply to the grinning Greenfield. Or maybe, in light of all the body-sculpting that had just gone on, "ab-dorkable" would be more fitting? Cut us in, Fox.