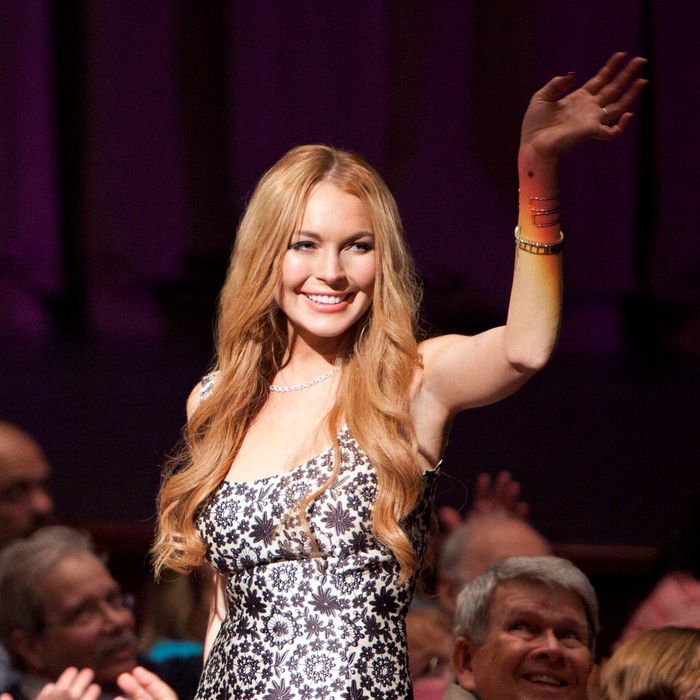 When it comes to celebrity drop-ins on Glee — such as last night's guest appearance by Lindsay Lohan — it appears that six degrees of separation from creator Ryan Murphy are four too many.
Take, for example, the recent news that both Kate Hudson and Sarah Jessica Parker would be appearing on the show. Look closely, and an intriguing pattern emerges — one that becomes obvious after calling the client information department at Creative Artists Agency:
Glee creator Ryan Murphy? "Represented by Kevin Huvane."
Sarah Jessica Parker? "Represented by Kevin Huvane."
Kate Hudson? "Represented by Kevin Huvane."
In April 2011, news came that Tom Cruise (also a Huvane client) was being sought to play a failed rock star forced to lead one of McKinley High's rival glee clubs. Cruise ultimately scotched the rumor but never said it hadn't been in the works. And Cruise clearly wanted to sing, though, because shortly before he was mulling whether to appear on Glee, he was also being offered a singing role in a film adaptation of the Broadway musical Rock of Ages. Eventually, the star got the part of Stacee Jaxx who is, of course … a washed-up rock star.
And though Miley Cyrus (yes, another Huvane client) has publicly bashed Glee (saying the show strained credulity and that, as such, she couldn't bear to even watch it), the show has covered two of her songs — "The Climb," in July 2010 (pre-bash), and "Two More Lonely People" (post-bash), for this year's Valentine's Day episode.
Given the many Huvane connections, a quick walk down the agent's current list of clients could give us some clues as to who might be headed for a multi-episode arc on Glee in the seasons to come:
 Last year, Jennifer Aniston was rumored to be eager to replicate Paltrow's career-making musical turn on Glee for herself. Jen — focus! This dream is just a speed-dial away!
Renée Zellweger, not only is she a Huvane client, but so is her Chicago director Rob Marshall. After seeing "Nowadays" with Gwyneth, we have to ask: Why hasn't this already happened?
"All fine and good," you say. "But what about Lohan? She's not a client of Murphy's agent!" 
 No, it's true: Lindsay's not — that is, not since mid-March, when she fired him.