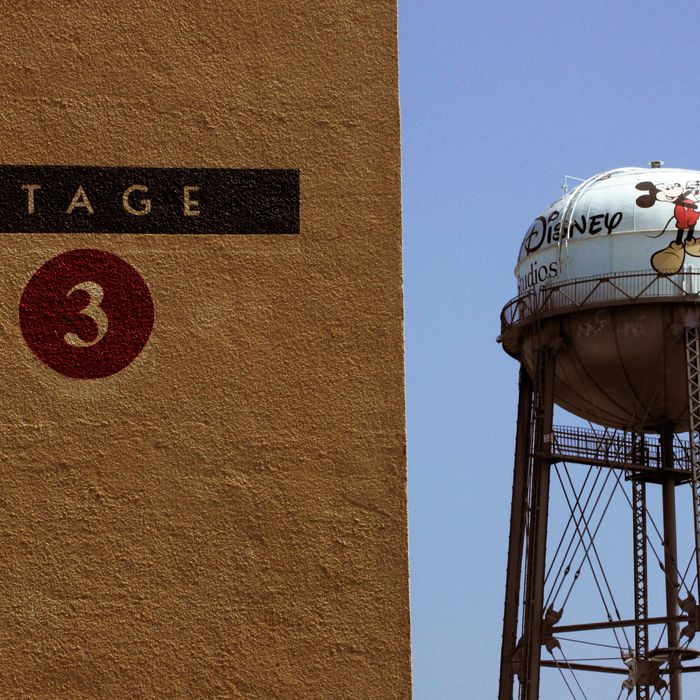 Photo: Jonathan Alcorn/Bloomberg via Getty Images
Things have been wild and, well, Woola at Walt Disney Studios this year. The ebullience felt over last weekend's $200 million opening of The Avengers was tempered by the fact that the studio had to take a $200 million loss on March's John Carter. Such a spectacular failure didn't just highlight how dependent Disney has become on outside brands like Marvel, it also cost the studio chairman, Rich Ross, his job late last month.
But lost in all the media speculation and Hollywood chatter about who might replace the recently defenestrated chairman is a larger question that must be on the minds of potential candidates: What does "Disney" mean in 2012?
It is a brand that, almost since its founding in 1923, has become synonymous with family. But since he took over from Michael Eisner in 2005, Disney's CEO Bob Iger has been busy spending billions of dollars to acquire costly pinch hitters that now threaten to eclipse the Mouse: $4 billion for Marvel in 2009; $7.4 billion for Pixar in 2006; the Muppets from the Jim Henson Company in 2004 for an undisclosed sum, said to be less than a quarter of a billion dollars.
"In a strange way," Iger told Fortune magazine in a profile published yesterday, "I am the brand manager of Disney." It's a curious strategy that has paid off for Disney's stock price, which has shot up 80 percent under Iger's tenure, but it also seems to be taking a heavy toll on the Disney brand. As one rival studio chief puts it, "Bob Iger is the CEO of a company; Michael Eisner was the CEO of Disney."
There's only one problem with Iger's strategy: Disney became the world's largest consumer products company (and, for that matter, the world's largest publisher of children's books and magazines) not by outsourcing creativity, but by exploiting Disney-developed properties, as anyone who's watched the Lion King Parade tromp down Main Street USA can attest.
But with so many adopted children hogging the spotlight, Disney is the natural-born one that's getting pushed into the shadows: After all, Pixar didn't rename itself "Disney Animation" when it joined the company, and as one of Disney's largest shareholders, Pixar chief creative officer John Lasseter carries outsize influence on the Disney lot. So, too, does Marvel CEO Ike Perlmutter. If you doubt any of this, just ask Ross, now jobless thanks to the troika of Lasseter, Perlmutter, and Iger. Or ask Kevin Feige, Marvel's production chief, whom insiders say was approached by Iger about running the whole studio but declined — likely because it'd be a step down, not up.
And therein lies the rub both for the Walt Disney Company and its once-vaunted studios: Should Iger hire a studio chief merely suited for what the job has become (essentially a vehicle to distribute the intellectual property of others), or someone who can make the Disney Studios what it needs to become to remain a vital and relevant brand?
If it's the former, Iger may have found his man in Scott Stuber, the former vice-chairman of Universal Pictures, who insiders say met personally with Iger late last week to interview for the job. (Both men were unavailable for comment, per their spokespeople.) These days, Stuber is a producer, currently overseeing Universal's forthcoming quarter-billion-dollar Battleship. He is widely admired both for his charisma and ability to get things done as an executive, even if, as insiders say, developing original, family-friendly properties is not Stuber's strong suit.
Then again, not too much development is currently required at Walt Disney Studios, which between Marvel, Pixar, the Muppets, and a distribution deal with Steven Spielberg and Stacey Snider's newly recapitalized DreamWorks Pictures, has more than enough product to release. What such a reduced "studio" needs is less a visionary than a skillful politician and air-traffic controller who can massage the considerable egos of Mssrs. Lasseter, Permutter, Spielberg, and Bruckheimer while avoiding any more Hindenberg-like immolations, such as this week's $200 million write-down on John Carter.
"Every story about its outrageous success is careful to note that Disney is releasing The Avengers," says our rival studio chief. "But there's a difference between making and releasing, isn't there? The difference, even for making a tiny little film like, say, Honey, I Shrunk the Kids, is that it's a homegrown property that then grew outward. When you make a movie, even if it was years ago, the attraction lives in the [theme] park for twenty years. And that part of it, I don't see happening; there seems to be no interest in growing the Disney brand from homegrown material … I see a future for the parks where Marvel's Iron Man is walking around, but he's not a Disney character."
Indeed, most of Disney Studios' recent big-screen successes have been reverse engineered from theme-park rides. This was, after all, the studio that took the last attraction that Walt Disney himself had a hand in designing (The Pirates of the Caribbean) from a heavily barnacled park stalwart and turned it into a global, multi-billion-dollar cash machine. But for the Disney brand to live on, its studios cannot forever mine its theme parks; it will now need to focus on its once-vaunted lot to find new hits to become rides and attractions.
"You have to say, 'This matters. This. Matters,'" says this rival studio chief. "The [Disney] name is both a handicap and a golden ring. But there's a brand here that either needs to be kicked in the shins and revitalized, or it's going to wither. I don't see it mattering to future generations the way that its mattered in the past."
If you doubt the perils of failing to innovate, just ask Viacom's capo Sumner Redstone how things are going at Nickelodeon. (Or simply read The Wall Street Journal's excellent analysis of Nick's SpongeBob crisis, which in short comes down to Nick losing nearly a third of the aging series' viewers compared with the same time last year.) Or ask Warner Bros. how many first graders know who Bugs Bunny is.
There have been some attempts at originality at Disney Studios, of course, and a few of them hugely successful. Alice in Wonderland, after all, was produced by former Disney Studios chief Joe Roth, and grossed just over a billion dollars worldwide. But there have been more costly Disney flops than hits (both Tron: Legacy and John Carter were money-losers) and sadly, far fewer swings of the bat by the studio, which now makes just three or four movies a year.
"I don't know why someone would even want the [Disney studio chairman] job when you're not really a 'studio' in the traditional sense of the word," opines one top film producer and former production chief at a rival studio. "It's almost set up to be just a distribution system."
Complicating matters, says this producer, is that the old adage coined by a former 20th Century Fox chairman is still operative today. "I think it was Bill Mechanic who once said, 'Being a studio executive is a great job, but a shitty life. Being a producer is a great life but a shitty job.' And that's still true." Or, as another agent puts it, "Being a studio exec is an all-in job, with all the stress of producing but with none of the glory or the money."
Who then, to lead Disney?
"The right person for this job has to think forward and know how to aggressively pursue new movies, rather than letting these other entities fill in the blanks," says one top producer and former studio production chief. "They need someone who can take advantage of what [Disney] means, because parents still want a sure thing."
The problem is, almost no one believes that Stuber — the producer of the forthcoming bawdy R-rated movie Ted (as well as 2011's Your Highness and 2010's The Wolfman) — is that person.
"I don't know why you'd hire someone who doesn't instinctively do what [Disney is] known for," says this producer.
Speculation has run from Marvel's Kevin Feige to Disney Über-producer Jerry Bruckheimer to Spielberg's partner, though none are considered likely to agree. Some have thought that Stuber's old partner and former MGM studio chief Mary Parent might be interested, but this, too, is unlikely: Parent just made the blockbuster Pacific Rim for Warner Bros. and by next month will be in New York prepping Darren Aronofsky's Noah. Parent is, perversely, having too much fun and earning too much money at making movies to be a likely hire at Disney. Some have even floated the idea that were Disney to make a sizable investment in DreamWorks Pictures (brace yourselves, Disney board members: Mr. Iger may need to ask you for more wheelbarrows of cash again soon!), former Universal Pictures chairwoman and current DreamWorks CEO Stacey Snider could be brought into the fold, since, after all, Disney already distributes DreamWorks' films. In Hollywood, as with most areas in life, there are few problems that can't be solved with lots and lots of money.
Oddly, though, the one name conspicuously absent from the Disney Studios chairman candidate rumor mill is that of Chris Meledandri, a producer once based on the Disney lot some twenty years ago who would go on to build largely from scratch a string of animated franchises and stand-alone successes for Fox and Universal that Disney would be lucky to have had: Alvin and the Chipmunks; Ice Age; Despicable Me; Hop; The Lorax.
Bald and bespectacled, Meledandri may be a photo negative of the suave, JFK Jr. look-alike Stuber. (Indeed, he could well be the inspiration for one of the villainous Gru's dimuntive, yellow minions in Despicable Me.) And yet, someone like Meledandri, if not Meledandri himself, is what Disney Studios would most seem to need right now: Someone who remembers Walt Disney's old maxim, which now seems oddly prescient: "I only hope that we don't lose sight of one thing – that it was all started by a mouse."