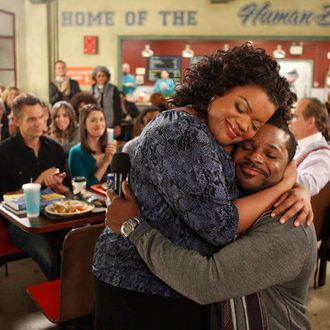 How you're feeling right now.
Photo: Jordin Althaus/NBCUniversal, Inc.
Greendale is accepting applicants for next semester: NBC brass made the call today to bring back the network's low-rated but critically beloved Community for another season, according to a source close to the production. Like 30 Rock, the show will return for only thirteen episodes, though unlike 30 Rock, it doesn't mean that this will be the show's final season. Also still up in the air: The fate of co-star Chevy Chase, who has feuded with showrunner Dan Harmon, though most people associated with the show (including its cast members) expect him to be back. More Dean costumes! More homages! Get to celebrating.