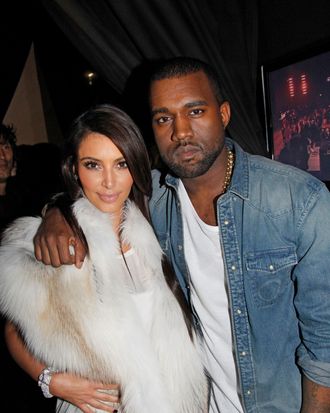 Kim Kardashian and Kanye West attend the Kanye West Ready-To-Wear Fall/Winter 2012 show as part of Paris Fashion Week at Halle Freyssinet on March 6, 2012 in Paris, France.
Photo: Eric Ryan/Getty Images
If you've glimpsed Kanye West in the new ads for Keeping Up With the Kardashians, expect a lot more Kimye to come: Kim Kardashian tells E! that her new beau will appear in several upcoming episodes. "I want to show my life," Kardashian explains. "If we are having dinner and he does show up, I'm sure we're not going to go, 'Stop the cameras!'" But will Kanye get his own confessionals? He's got so many opinions!