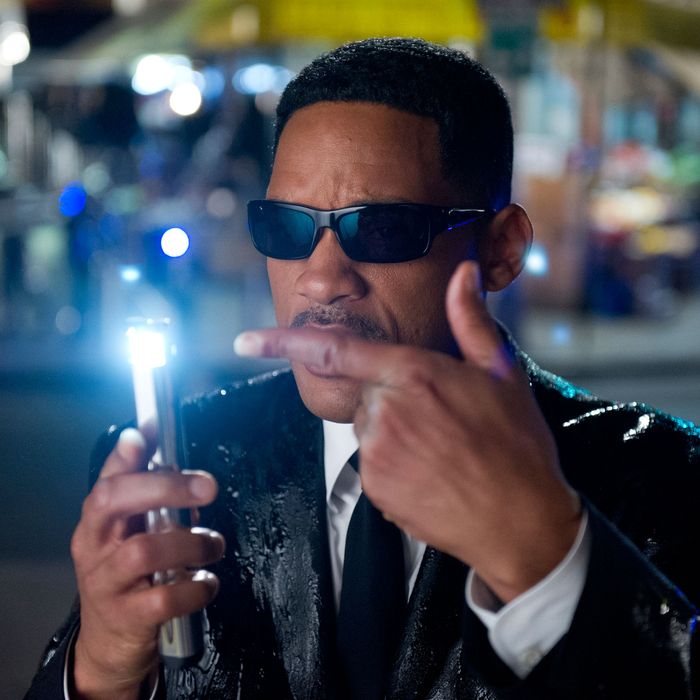 Photo: Wilson Webb/Columbia Pictures Industries, Inc.
This Weekend's Winners: Despite the nearly four-year absence of its leading man, Will Smith still managed to open Men in Black 3 at No. 1 (with $70 million), nosing aside The Avengers, which finally eased just 16 percent to settle in at No. 2 (with $46.9 million) in its third weekend.
This Weekend's Losers: By comparison, things just get worse for the shipwreck that is Battleship, which is now officially in poorer shape than Disney's John Carter. In its second weekend, Battleship lost nearly half (-46 percent) of its already modest audience to gross just $13.8 million over the long weekend.
How It All Went Down: This wasn't just a trial for a franchise that had been absent for a decade — it was also a litmus test on the superstardom of the Last Great Movie Star, Will Smith.
"It's hard to shake a stick at anyone who makes $200 million worldwide in five days," says one top writer-producer. "But I think he was away for too long, and I think you pay a price for that. This movie should have made $70 million in three days, not five, so you've seen a real decline: I would be very nervous about the M. Night Shyamalan movie [After Earth]."
Indeed, MIB3's $70 million domestic opening is actually $2 million less than the first Men in Black film, a fact that will likely make this a break-even proposition for Sony thanks to its exorbitant cost.
Also worrisome: 56 percent of MIB3's audience was over the age of 25. Notwithstanding Smith's family friendly brand of action-comedy, not too many kiddos turned out for what should have been one of the summer's biggest draws.
Our insider noted that while the moderate opening for Men in Black 3 is "concerning" for Sony, which is currently filming the aforesaid After Earth, the news could not have been better for Twentieth Century Fox, which hopes to make back-to-back second and third Independence Day films with Smith. An MIB3 opening that was massive — say, $100 million plus domestically — would not have boded well for Fox, a cost-conscious studio that has been at loggerheads with Smith over his hefty salary demands. On the other hand, any lower and it might have appeared that Smith's star power had faded to the point that hanging two expensive CGI action sequels on him would be folly. As such, it looks more likely that Captain Steven Hiller will once again say, "Welcome to urf" in the next year or two.
Finally, in far more grown-up fare, Wes Anderson's Moonrise Kingdom and the Weinstein Company's release of the French-language film The Intouchables both exploded within the four theaters into which each was released: Moonrise set the record for the best limited-release debut of all time, taking in almost $670,000 from just four theaters over the weekend, while Intouchables grossed a whopping $137,438. For a foreign-language film, these are incredible numbers; indeed, insiders tell Vulture that audience test screenings for Intouchables were similar in their off-the-charts-ness to Screen Gems "surprise" hit Think Like a Man, a sure sign that America may soon be seduced just as the rest of the world, which has so far paid just shy of $350 million to see Olivier Nakache and Éric Toledano's poignant tale.