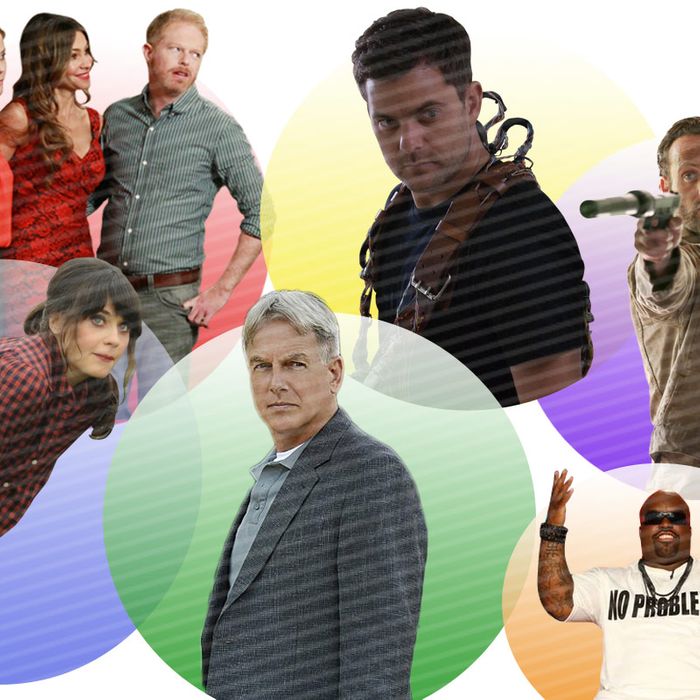 Photo: Fox, NBC, ABC, CBS and AMC
Nielsen's official TV season ended almost a month ago, but because we live in the DVR Era, final numbers for the 2011–12 campaign came out just a few days ago. Some fundamentals about the season remain unchanged from what we knew at the end of May: CBS is still the most-watched network, nobody watched Bent, and far too many people tuned in for Rob! But now that all the data is in, Vulture has been able to dive deeply into the ratings and uncover a slew of fun factoids about What We Watched during the season now ended. Read on to discover why zombies are even more powerful than you thought, how Shonda Rhimes owns the hearts (and vajayjays) of American women, and which show ended up being the least-watched program on all of network TV. 
(Some housekeeping notes: When we refer to the impact DVRs have on a show's rating, we're talking about Nielsen 2011–12 season-to-date ratings for first-run broadcasts only. When breaking down how shows do in various demo groups, we're referring to numbers for combined live and DVR viewing up to seven days after first broadcast; and, unless otherwise noted, we count both first-run and repeat telecasts.)
Why Modern Family Is Really TV's No. 1 Show With Young Adults …
DVRs definitely make a difference in overall standings, as do repeats. In terms of entertainment programs, American Idol is tops among viewers 18 to 49 when you count only viewing that takes place the day it airs, followed closely by The Voice. Modern Family, The Big Bang Theory, and Two and a Half Men are all grouped together in third place. These standings are based on ratings for both originals and repeats, because Nielsen rules say encores count in the official standings, if they air in a show's regular timeslot. But this gives reality shows like Idol and Voice an advantage, since they rarely air reruns and most comedies (and many dramas) on network TV air a lot of repeats. So what happens when you take out the repeats and also include people who watch via DVR? Boom! Suddenly, Modern Family jumps dramatically to become the No. 1 entertainment show on TV. Plus, Big Bang leapfrogs over the singing shows to No. 2, while Idol and Two and a Half Men have to settle for third. 
 … Unless You Don't Count DVRs
No DVRs at all? Suddenly, the No. 1 show among viewers under 50 is The Voice, which edges out Idol by 0.1 of a rating point (but only because NBC kind of cheated and counted the post–Super Bowl debut of Voice in its average). The No. 1 comedy? Sans DVRs, it's now Two and a Half Men, followed by Big Bang Theory. Modern Family settles for third. In a world without DVRs, Criminal Minds and NCIS: LA get higher ratings than Grey's Anatomy.  
The Ten Shows We'd Rather Watch Later
Ten shows are so DVR-friendly, they actually get higher ratings via DVR playback than they do live. Fringe rules this category: Its live-only adults 18 to 49 rating is a tiny 0.8, but it delivers a 1.1 rating just via time-shifting, a whopping 138 percent gain. (We're counting any DVR viewing at all, including folks who watch the same night a show airs). Friday time slot rival Grimm follows a similar pattern, averaging a 1.1 rating live and a 1.5 with DVR audiences. Eight other network shows that draw more viewers outside of their time slots: Vampire Diaries, Supernatural, Modern Family, The Office, Up All Night, House, Glee, and New Girl.
Men Are From Mars, Women Love Reality Shows
Credit (or blame) young women for the continued abundance of reality shows on network TV. Nine of Nielsen's top twenty shows among adult women under 35 are unscripted: The performance and results shows for The Voice and Idol, as well as the performance of The X Factor, are all in the top ten, while the results show for X, as well as The Bachelorette, America's Got Talent, and The Bachelor, land in the top twenty. By contrast, dudes in the same age category only consider the performance episodes of The Voice, Idol, and X worthy of their twenty most-watched shows.
A Tale of Two Networks
The gap in audience between CBS and NBC is pretty stunning. The Eye's least-watched scripted entertainment series last season was A Gifted Man, which drew an average of 8.63 million viewers each week in L7 and ranked No. 59. It got the ax. And yet, Gifted Man regularly brought in almost as many weekly fans as watch NBC's most-watched weekly scripted series, Smash (9.3 million viewers, No. 47) and Harry's Law (9 million, No. 52). (Smash will be back, but Harry's won't because it skews too old for NBC's taste). Overall, nearly twenty scripted shows on NBC, including Law & Order: SVU and The Office, had smaller total audiences than Gifted.
Maybe It's Time for Zombie Xtina?
Among viewers under 35, the top-rated non-sports entertainment show on TV last season wasn't on a broadcast network. AMC's The Walking Dead averaged a stunning 6.6 rating in this demo, ranking No. 1. (NBC's The Voice was the No. 2 show, and tops on broadcast.) In the broader, more coveted category of adults under 50, the zombies still impressed: Dead averaged a 5.1 and would rank No. 8 among all shows if Nielsen published a combined broadcast-cable list. (One other caveat: As noted earlier, repeats bring down the average for many network shows. Dead's average only includes originals. If you only look at original runs of network shows, ABC's Modern Family suddenly averages a 6.7 in adults under 35 — and reclaims the top spot in the demo. Damn those Nielsen rules!)
Revenge: Not As Sweet As It Seems

Vulture loves Revenge. Everyone in the media loves Revenge. But check this: Even with DVR data figured in, the cray-cray Graysons manage just a 3.0 rating with adults under 50. That's slightly smaller than the average ratings for Terra Nova, Desperate Housewives, and House, all of which have been canceled. Part of the problem: The show aired at 10 p.m., where network dramas have struggled to compete against competition from cable and DVRs. Still, even among 10 p.m. dramas, Revenge isn't as hot as its buzz: CSI, Hawaii Five-0, The Mentalist, and Smash all outperform it in the demo; it's tied with Private Practice. The good news is ABC has wisely decided to shift Revenge to Sundays at 9 p.m., right behind the red-hot Once Upon a Time.
Don't Call Her Adorkable
Zooey Deschanel is the Bill Cosby of the Girls generation: Season one of New Girl is the No. 1 scripted show on broadcast TV among women under 35 — bigger than Modern Family, Glee, or the nerds on The Big Bang Theory. (The only network show bigger than Zooey is NBC's unscripted competition series The Voice. But its average was boosted by its post–Super Bowl debut). 
The Show Everyone Watches, But Nobody Talks About
It is impossible to underestimate the power of CBS's NCIS. NBC has been able to declare its Sunday Night Football franchise as TV's most-watched program because, according to Nielsen rules, repeat telecasts of a show count against its average. Since there are no repeats in football (no, the NFL Network doesn't count), but CBS makes sure to rerun NCIS whenever it can, the latter show's overall average comes out below football (and American Idol). If you count only first-run episodes, however, NCIS is seen by 22.4 million patriotic Americans each week, nearly 1.5 million more than NBC's Sunday pigskin. Among the ad-coveted demo of adults under 50, however: Football averages a whopping 8.0 rating, far ahead of NCIS's 4.9.
Rupert Murdoch's Teen Fetish
Rupert Murdoch owns the minds of American teenagers. Fox has six of the top ten shows among viewers ages 12 to 17. In order, they're Glee, American Idol (performance shows), Family Guy, Idol (results), The Cleveland Show, Napoleon Dynamite, and The X Factor (results and performance). The network is particularly mighty with teen boys: The top ten scripted shows on network TV all air on Fox. (The highest-rated non-Fox show in the teen male demo? ABC's Modern Family.)
The Shonda Gap
Talk about a gender gap: Among men 18-34, Fox's The Cleveland Show, perhaps because of its proximity to Sunday afternoon football, is a big hit: It ranks No. 18 with young guys. But among women of the same age, Cleveland might as well be in Moscow, ranking a dismal 87th place, well behind canceled shows such as The Finder, The River, and The Playboy Club. On the flip side, NBC's Smash is a big hit with women under 35, ranking No. 14 (and tied with the results show for The X Factor). Among men of this certain age? Smash falls all the way to No. 62, even lower rated than Whitney and Desperate Housewives. Still, that's nothing compared to the Shonda Gap: Ms. Rhimes's Private Practice is one of TV's twenty biggest entertainment shows in prime time with women under 35. With guys 18 to 34, the docs ended their season tied for 105th place, below even Are You There, Chelsea?
The Kids Love Their Sitcoms
Reality TV may seem played out, but the genre still provides most broadcast nets with their most-watched entertainment shows. For ABC, it's The Bachelor; for NBC, The Voice; for Fox, American Idol. CBS's MVP is NCIS. Younger viewers may be tiring of unscripted fare, however (or are simply getting their fix on cable). Among adults under 35, the No. 1 show on three of the Big Four nets is a comedy: Modern Family (ABC), New Girl (Fox), The Big Bang Theory (CBS), The Voice (NBC).
But Dramas? Not So Much
Younger viewers gave up watching dramas on the big broadcast networks last season. Only six hour-long dramas made Nielsen's top 25 with viewers under 35: Grey's Anatomy, Once Upon a Time, House, Desperate Housewives, Smash, and Alcatraz. (Glee is considered a comedy by Fox and the TV Academy.) Three of those six shows are now dead, while Grey's is headed toward the exits (specifically, its ninth season).
ABC: No Penises Allowed
ABC says it targets younger women (those under 50), and it seems to be reaching said target. The network boasted seven of the top twenty shows in this demo group. On the flip side, the following should scare Shawn Ryan, whose testosterone-pumped drama Last Resort debuts on ABC this fall. Among male viewers under 50, the Alphabet network pretty much doesn't exist: It has just two entertainment shows, Modern Family (No. 3) and Once Upon a Time (No. 35), that crack Nielsen's top 40 list. 
Nobody's Watching
It's a modest hit in Canada, but the CW's broadcasts of The LA Complex will be remembered for something else: During the 2011–12 season, nothing else on the five broadcast networks had a lower viewer count. The five episodes the network broadcast in-season averaged just 609,000 viewers (and yes, that includes DVR playback). Leave out the tiny CW and NBC's Saturday night infomercial for Ford, something called Escape Routes, captures the bottom slot, with a mere 1.1 million weekly viewers. As for established shows, it saddens us to report that TV's lowest-rated returning series was Gossip Girl, which, even with DVR usage included, drew an average of just 1.6 million viewers.