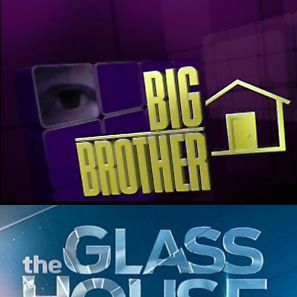 Photo: Courtesy of CBS; Courtesy of ABC
June 18 is the scheduled premiere date for new ABC series Glass House, a reality show that — as you can probably guess from the name — follows the goings-on in a literal glass house, where fourteen strangers compete against one another for the right to remain in said house, with viewers advising them on strategy via social networking platforms. Back in May, CBS sued ABC in an attempt to shutter the show, which, the network claims, is "strikingly similar" to its own Big Brother. (Glass House also has some former Big Brother employees on its payroll.) Last week, with the discovery stage of that process "dragging on" and the first episode approaching, CBS filed a petition for a temporary restraining order. Now ABC has responded by arguing that Glass House is not so much like Big Brother as it is like every reality show. 
In its opposition today, ABC asks the court to deny CBS's application. The network argues that "CBS's copyright claim will not succeed" as "none of the alleged similarities shared by Big Brother and The Glass House involve copyright protectable elements – they are all generic staples of the reality show genre: people living in a house, competing with each other to avoid elimination, and winning a prize. Nor is the sequence and arrangement of these unprotectable elements the same in Big Brother and The Glass House, foreclosing the possibility of infringement." Addressing the rest of the CBS claims, ABC says that "there was no conspiracy to hire away Big Brother employees" and "that here is  no 'secret sauce' in Big Brother's production process" that could've been misappropriated. 
With $16 million already spent on promoting the premiere (the delay of which, even for a week, "would seriously undermine the show's potential success"), ABC better hope that the judge finds their latest offering to be as totally standard as they do.