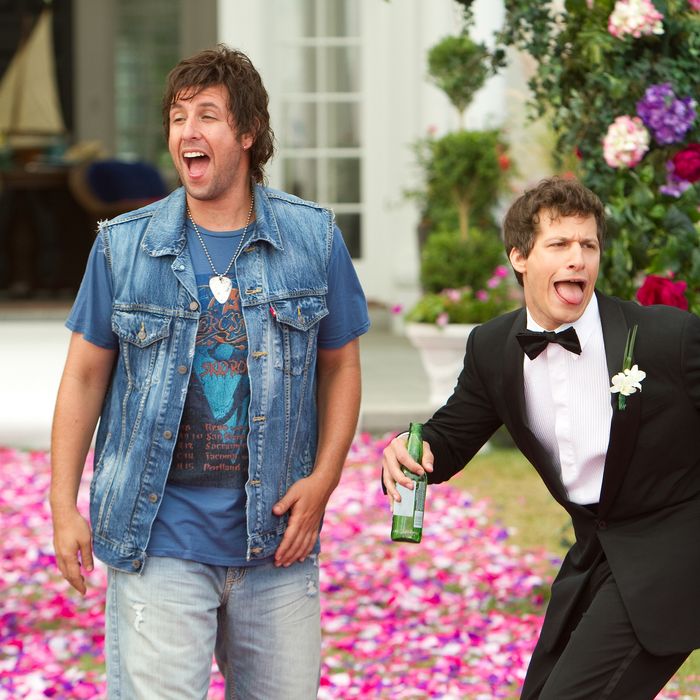 Donny Berger (Adam Sandler) and Todd Peterson (Andy Samberg) in Columbia Pictures' comedy THAT'S MY BOY.
Photo: Tracy Bennett/SONY PICTURES
Adam Sandler and Andy Samberg's That's My Boy opens this weekend, and it does not look very good. (It does, however, look very raunchy.) Given that it's an Adam Sandler movie, does it star … a man-child? Apparently so!
"Long seen as a slacker manchild, Sandler has made a poor transition to adult characters." [IndieWire]
" … Sandler plays another deplorable man-child slob with his signature high-pitched vocal inflections, as though channeling a brain-damaged sock puppet." [Variety]
"In full-on man-child mode, Sandler plays a stereotypical Northeastern white-trash character recognizable from his exaggerated regional accent, nonstop substance abuse, profanity-dominated speech and fixation on sex." [THR]
"Wearing a horrible wig and employing one of his creepier man-child voices, Sandler plays the grown-up Donny as a perverted lout who inexplicably charms just about everyone…." [Chicago Sun-Times]
"Samberg plays Todd as a sort of manchild, as fresh as a daisy, as affable as a puppy." [Time]
"The star's latest loudmouthed man-child is Donnie." [Slant Magazine]
Okay, fine. How does it stack up to other recent Sandler movies?
"That's My Boy, which is a thousand times better and funnier than Jack and Jill, Sandler's last movie, yet still falls short of actually being good [Time]
"Jack and Jill, Zookeeper, Bucky Larson: Born to Be a Star — these movies aren't merely bad, they're sandpaper-on-skin excruciating, unfunny to the point of inspiring hostility toward whoever's chosen to make them." [Movieline]
"I laughed twice at That's My Boy, which is two more times than I did while watching Sandler's 2011 efforts Just Go With It, Bucky Larson: Born to Be a Star and Jack and Jill. Combined." [Wrap]
"After squishing around in such dubious PG-13-rated hits as I Now Pronounce You Chuck and Larry, Grown Ups and Just Go With It, Adam Sandler's latest swings for the fences of hard-R-rated raunch, just past the outfield of rancid." [Chicago Tribune]
"If there's a (faint) upside to That's My Boy," it's that the crassness of the endeavor at least finds Sandler in his R-rated element after superficially less objectionable vehicles like Grown Ups and Jack and Jill." [Variety]
"That's My Boy is hardly Sandler's worst, and next to last year's abysmal Jack and Jill, his latest one looks almost inspired." [AP]