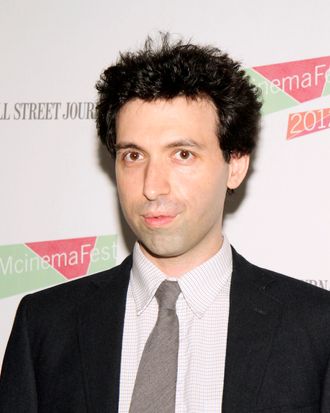 Alex Karpovsky.
Photo: Mireya Aciderto/Patrick McMullan
Yesterday, Vulture named Ray the most likeable male character on Girls (he had us at "slim leg"). Then at last night's premiere of Sleepwalk With Me at BAM, Alex Karpovsky reminded us that, actually, Ray's a "prime-time jerk." But aren't we all? "I think we all know what jerk lurks inside of us," Karpovsky told Vulture. "What jerk waits for us when we come home to an empty apartment and we are angry and it is way too hot and the Internet is not working. We all have an internal jerk, as much as we pretend we don't." Fair enough — but we don't all have Shoshanna's virginity notched on our bed posts. So, can we at least expect Ray to be sweet and cozy with her, come season two? 
"One thing I like about the unfolding of Ray in season one is that we did see a vulnerability in him and a soft side in him," Karpovsky said. "And I think that doesn't go away when it comes to [Shoshanna's] feelings, and I will say that much. Anything more would tip the hat on season two." As for what he thinks Ray sees in Shosh: "A lot of things. Most strikingly her sincerity, her courage to be who she is, her belief in her own convictions even if they are not totally formed, her innocence. She hasn't been warped by New York and its hipster bullshit. She is either an anti-hipster or a pre-hipster, one of the two. Either way, she is not a hipster, and that is a good thing for Ray." Not to mention, Brooklyn.