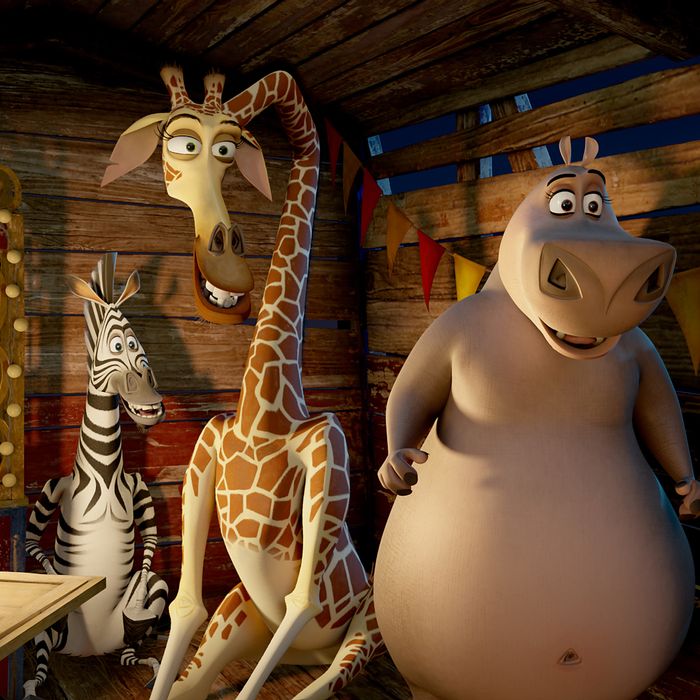 Photo: Courtesy of DreamWorks Animation
This Weekend's Winners: Madagascar 3: Europe's Most Wanted continued to be America's most wanted, too, with the DreamWorks Animation menagerie stalking $35.5 million and the No. 1 berth. Similarly, Fox's Prometheus grossed (out) second place with $20.2 million.
This Weekend's Losers: Ensemble musical comedy Rock of Ages never found its voice, squeaking out a meek third place finish with $15.1 million. Interestingly, studio suits all agree that Rock of Ages is one demise that doesn't accrue to Tom Cruise — but more on that in a moment.
Meanwhile, just when you were getting used to the idea that Little Nicky was the nadir of Adam Sandler's career, That's My Boy arrives to make it seem like a smash hit by comparison: Opening in fifth place with $13 million, Boy marks the weakest opening for a Sandler comedy in over fifteen years, dragging this weekend's box office down by 15 percent from the same time last year.
How It All Went Down: When brand-new Adam Sandler and Tom Cruise films get their Crest White Strip-ed teeth kicked in by CGI zoo critters, you have to ask what just went wrong, because something certainly has.
We'll start with That's My Boy, because, really: $13 million? Sandler's penultimate film was terrible, too, but that didn't stop Jack and Jill from opening to twice that amount just last year.
As one distribution head at a rival studio observed, "The rating on the Sandler [picture] was R and his audience is PG 13-loving, particularly in the flyover states."
But another studio production chief took that theory one better, excoriating the film's very raisons d'être. "The premise of this movie is offensive," said one rival studio chief, "The guy has a kid by sleeping with one of his teachers and then the whole thing is basically about dealing with a parent who acts like an infant. Who wants this? What kid wants this?" (But to be fair on the latter point, Sandler has made an extraordinary career out of acting like an infant. Or as the critics like to say, a "man-child.")
By comparison, it was more a failure of marketing than production that reduced Rock of Ages to gravel.
"I don't understand anything about the Rock of Ages campaign," says one studio chief, explaining, "Def Leppard's music is for middle-aged straight guys … and middle-aged straight guys would rather clean out the garage two times a day than go to a musical. This wasn't Hairspray — all pastel and girly — and the plot looked suspiciously like Footloose. The failure of this movie isn't Tom Cruise's; it's a total lack of understanding of who pays to go to a musical: Gay men and women must be served."
Indeed, for a film whose trailer actually comes out and says, "Our entire existence is riding on Stacee Jaxx!" Rock of Ages barely touted that fact that it had one of the world's few remaining movie stars in Cruise for its print or broadcast marketing efforts.
"[Instead, New Line] sold it as 'an experience,'" said another studio's distribution chief, "but it appealed to 40-plus-year-old men and women, who really don't rush out to the movies, when who they really needed to appeal to was young people."
Finally, in movies intended for actual grown-ups, the Sundance romantic comedy Safety Not Guaranteed entered its second week with an additional 38 theaters, grossing just shy of $300,000, while Moonrise Kingdom entered its fourth week by taking in a robust $2.1 million. That means that both of those films will probably play for much of this month and next, so you can hold off seeing them until you've bought a ticket for The Best Exotic Marigold Hotel: Now entering its seventh week, Hotel has started to see its grosses decline (this week, by a third), and even though it still took in a healthy $2.2 million, that means it will probably vanish from theaters near the start of next month. Carpe diem!