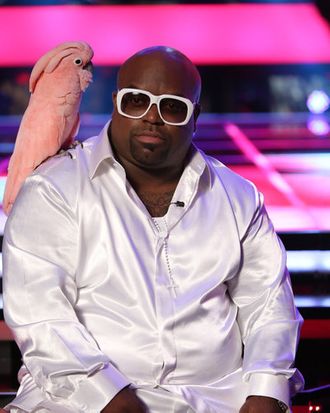 THE VOICE – "Blind Auditions" – Pictured: (l-r) "The Voice" Season Three Blind Auditions kicked off today, Tuesday, June 18th in Universal City, CA. CeeLo introduced the audience to the new woman in his life, Lady, a Moluccan cockatoo.
Photo: Tyler Golden/NBC
Last season on The Voice, Cee Lo had a fluffy white cat that he held in his lap during some auditions. This season, he got a bird. Why? Because he hates attention and spectacle. "I met her flying around in a fantasy of mine," he tells People. The bird, a Moluccan cockatoo named Lady, "sometimes whispers inappropriateness in my ear," Green says, "but always ladylike." Just like Christina Aguilera!