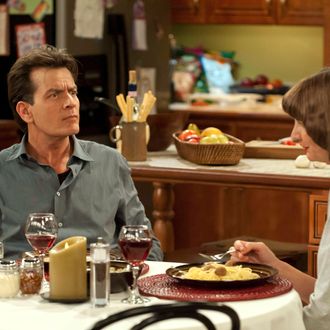 Photo: Prashant Gupta/FX Network
Charlie Sheen's new FX series attracted plenty of viewers (and likely more than a few rubberneckers) Thursday night: The debut of Anger Management bowed to 5.5 million viewers at 9 p.m., while a second episode notched 5.7 million, making it the most-watched series premiere of any show in FX history. Most of the audience was either over 50 or younger than 18; however, about 2.7 million of the 5.5 million who watched the debut were in the key demo target of adults 18 to 49. That's a bit older-skewing than a typical FX first-run series, but even so, Anger still ended up the top-rated scripted, prime-time comedy premiere in cable history in the demo (not counting kids' programming).
Anger also gave a bit of a boost to FX's returning comedies Wilfred and Louie. The former averaged 2.5 million canine lovers, about 1.6 million of whom were adults under 50. That's about the same as last summer's series debut for Wilfred, but up a healthy 71 percent from the show's full-season average. Louie earned 1.4 million viewers and 911,ooo under fifties, which is actually a bit less than the show's 2011 season premiere. However, FX says Louie was still up over 50 percent from its prior season. The network is also forecasting that, once seven days of DVR data is included, both returning comedies will end up with their most-watched episodes ever (welcome to the era of time-shifting!). Whatever the final numbers end up being, it's far too soon to say just how much Anger will boost FX's 10 p.m. comedies, since it's very likely viewership for Anger will come back down to earth in the weeks ahead, once those curious about Sheen's comeback drift away. Two and a Half Men experienced massive tune-in for its first few post-Sheen episodes last fall, but within a few months, it had lost almost all of those extra eyeballs. Finally, one last FX note: Russell Brand scored solid sampling for his new late-night talk show. Brand X was seen by 1.1 million viewers, boosting FX by 32 percent over previous fare in the time slot and averaging around the same viewership as a typical episode of Conan on TBS.