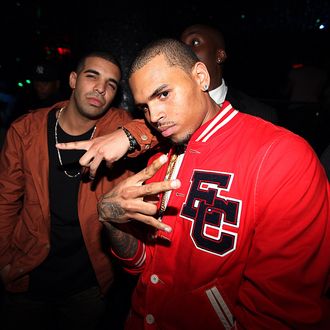 In happier times.
Photo: Shareif Ziyadat/2010 Shareif Ziyadat
And so Day Two dawns on the great Chris Brown–Drake Bar Fight Fiasco of 2012. What do we know today that we did not know yesterday? Well, we now have pictures of Chris Brown's bloody SUV, along with the photos from yesterday of Brown's bodyguard, hospitalized for a head wound, and the poor 24-year-old Australian girl who got caught up in the brawl — this was a legitimate fight. TMZ is also reporting that Chris Brown spoke with the NYPD last night and gave them "physical evidence" implicating Drake in the fight. So would that be … a glass bottle with Drake's blood? A shredded sweater? Do they do DNA testing for this sort of thing? Meanwhile, Drake is still denying any sort of involvement and is "cooperating" with the authorities. Jonathan Cantor, the manager at W.i.P., was arrested this afternoon on two unrelated outstanding warrants, after cops were called to the club over a noise complaint. No other arrests have been made, but police are now investigating claims that gunshots were heard during the fight.
As for Rihanna, she's not naming names, but things are getting pretty heavy over on her Twitter: "This morning should NOT be this rough… What is life? Is there any?"  Is there?!
And on the international desk, a French paper is reporting that San Antonio Spurs player (and Eva Longoria ex) Tony Parker was apparently also caught up in the fight.  A piece of glass hit him in the eye (yikes), and he has to wear some "therapeutic contact lenses" for a while, but he'll be okay.
This post has been updated throughout.