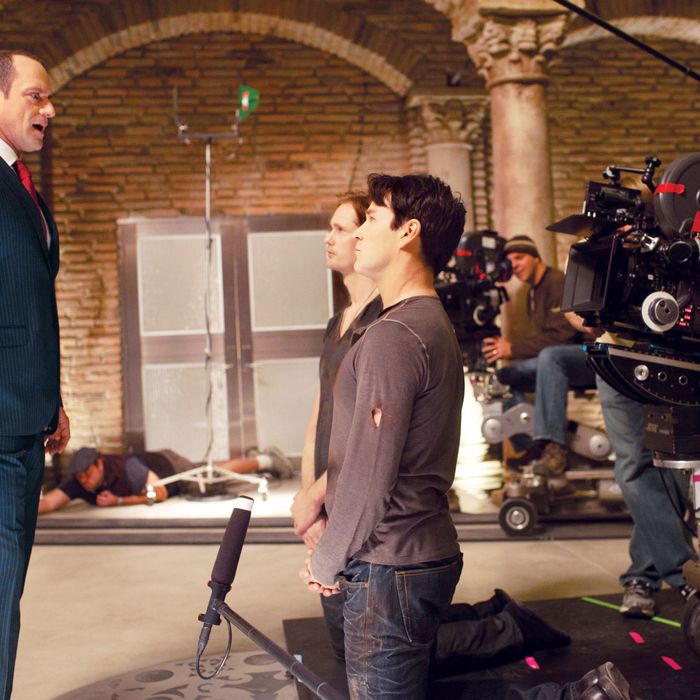 Meloni with Alexander Skarsgård and Stephen Moyer on the set of
True Blood
.
Photo: John P. Johnson/Courtesy of HBO
"Is Tara Dead?" The Starbucks barista preparing Chris Meloni's Quattro espresso is asking about a character on HBO's True Blood, the unabashedly schlocky vampire soap opera that the actor recently joined in its fifth season. As I walk around Manhattan with the 51-year-old on a June afternoon—a week before he's even appeared on the show—it seems like every New Yorker not only recognizes Meloni from his twelve-season stint on Law & Order: SVU but also is aware of his new job. Like the woman who tells him "Law & Order is my favorite show, and I'm sure I'll love True Blood, too!" and the teenage girl who taps his shoulder in Central Park and says she "hears [he's] on True Blood now," then asks for a picture because "my mom told me if I didn't ask, I'd get in trouble." Half a block from Starbucks, a twentysomething man stops him and says, "I was wearing this same tie the last time I saw you!" which was when he sneaked onto the New York set of SVU to meet the actor a few years ago.
Meloni isn't a movie star or paparazzi prey. But he did play a beloved character on 272 episodes of one of history's most popular TV shows, which means he is quietly, unshowily, really famous. It's the kind of fame that causes spit takes on sidewalks, turns heads in coffee shops, and makes eye contact with passersby risky. According to Meloni, the attention is less than it used to be. "From season four to nine, it was really crazy," he says. "Five years. It was miserable."
On SVU, Meloni played Detective Elliot Stabler, a quick-tempered cop and family man with a little psychological baggage and a lot of charisma. Meloni, a tall, substantially built man with handsome, rugged features (in his own self-deprecating assessment, his is "not a ­cuddly face"), has made a specialty of this kind of character—the do-gooder with a threatening streak, the nice guy who's also a bad boy. Also fitting that bill are Chris Keller, the charmingly sociopathic, ­frequently naked, bisexual inmate he played on Oz, and Meloni himself. The ­actor speaks in short, cut-to-the-chase sentences, then apologizes for going on too long. He used to dip tobacco, but now he just chews Nicorette. He first bonded with his wife, Doris, to whom he's been married for seventeen years, over their shared love of motorcycles, but the couple quit riding when they had kids.
Meloni's True Blood character, Roman, is yet another upstanding badass. Also known as the Guardian, Roman is the 500-year-old founder and head of the Vampire Authority, the governing body for bloodsuckers the world over. He's on a mission to enforce the peaceful coexistence of humans and vampires, an agenda that some of his fanged brethren take issue with, putting Roman in the position of trying to stave off a civil war. Meloni describes the character as a "guy with great intentions. He takes very seriously his role as a political figure," which on True Blood means he's already stabbed a traitorous former ally, chanted vampire liturgy in Aramaic, and shagged the ancient ­Salome, of New Testament fame. (Meloni may have a tattoo of a crucifix on his arm and come from a very Catholic family, but he says, "If you say, 'Let's go to church,' I break out in sweat. It's the last place I want to be found. I get my God in a drive-through window.")
Meloni's move to premium cable—for which he turned down an $8 million offer to return for a thirteenth season of SVU—came as a bit of a shock, especially given the uncertain job security of True Blood, a show with a tendency to off its main characters. Some speculated that his exit was tied to the departure of SVU's longtime showrunner, Neal Baer, but Meloni denies this, saying simply, "Twelve years. I never dreamed that I would stick with something for so long. I enjoyed it so much. But it was time. I had been thinking about it for a while."
Since leaving network TV, Meloni has filmed an unspecified role in Zack Snyder's upcoming Superman movie, played a used-car salesman in the indie film Small Time, worked on the script for a movie adaptation of David Vann's book Legend of a Suicide (which he hopes to direct), and taken up flying (he recently made a fifteen-hour solo flight across the country). He's currently filming a movie about Jackie Robinson, in which he plays Brooklyn Dodgers manager Leo Durocher. In addition to having his hairline shaved to play the part—his four-day stubble is covered today by a straw ­fedora—he's been reading up on ­Durocher. "He's far more of an extrovert than I am," says Meloni. "Extroverts get energy off people. It infuses them. I think introverts have the opposite reaction. Being in crowds drains them. It's not that they don't like people; it's just how someone's built. Like they can only do it for so long." Which may explain why he and his family are considering a move from the city. "New York gives a lot, but it takes a lot out of you," he says. "A lot of smells, a lot of noise, a lot of people, a lot of action, a lot of possibilities."
Just then, a middle-aged man walking down 56th Street pulls up short, turns around, and puts his hand in Meloni's. "Can't wait to see you on True Blood!"