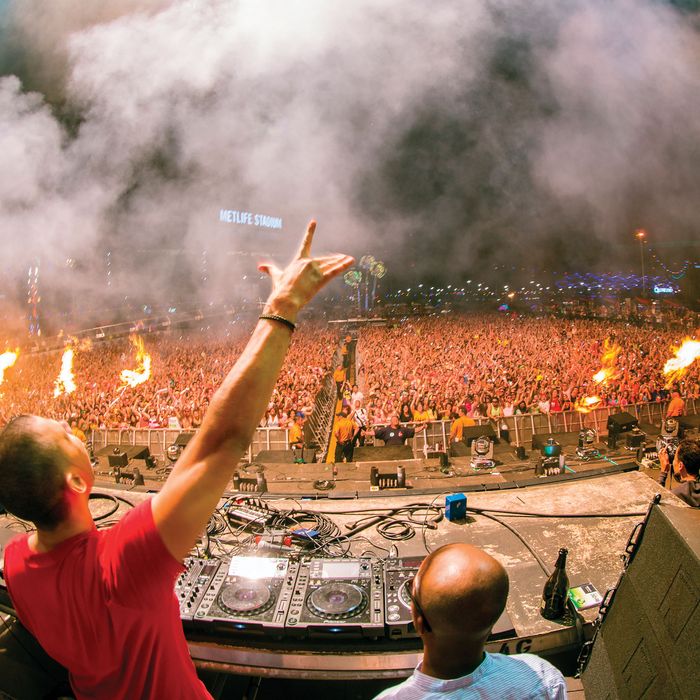 Dance music is mainstream, raves are taking over stadiums, and promoters are salivating with wallets open. Grigoriadis on the new commercial, soon-to-be corporate super-rave:
This summer, New York is getting a preview of what will soon be a national phenomenon: the megarave. Dance music, which is now bigger in the U.S. than at anytime since the electronica boom of the mid-nineties, has been filling arenas and winning Grammys for artists like Skrillex and David Guetta for the past couple of years, but the rave scene is just starting to explode. Pacha, the nightclub franchise from Ibiza, is throwing parties on Governors Island; taxis are promoting Sensation, a rave event at the Barclays Center in the fall; the Electric Zoo Festival is happening on Randalls Island over Labor Day; and last month the Electric Daisy Carnival, the West Coast's most popular rave, came to the Northeast for the first time, drawing 60,000 for three days to the asphalt lots in and around East Rutherford, New Jersey's MetLife Stadium.
That's a smallish number for EDC, as it's called: The annual festival in Las ­Vegas drew 345,000 earlier this month, making it the biggest rave in U.S. history. These are gold-rush days for rave promoters, who have reportedly been entertaining offers from billionaire Ron Burkle and Robert F.X. Sillerman, the media executive who laid the groundwork for the creation of Live Nation,
a company also getting into the game. Sillerman says he plans to spend $1 billion to build a rave conglomerate and go public next year.
And why not? These events are so easy to replicate: Throw up giant walls of LEDs flashing geometric shapes, commission installation art made in Oakland or Bushwick, put up a Ferris wheel, and that's justification enough for about $300 per head. Most of the audience is 18 to 25, and during EDC,  I was reminded of how unintentionally hilarious this scene can be: mesh Day-Glo T-shirts for guys, fur leg warmers for girls, T-shirts bearing slogans like "Sex, Drugs, and Dubstep," "I Love You But I've Chosen Electro," and "Beats, Bumps, and Bitches," plus some terrible and obvious costumes (Burger King crowns, NASA suits, bunny ears). There were many, many pacifiers.
It's easy to judge from the outside, but these kids seem to be finding something emotionally compelling, even liberating, about this sandbox. For some of them—with the right drugs, mostly ecstasy (which in its purest, powder-based form is now called "Molly")—it's carnal release, even a vision quest. "Youth culture loves to get wild, freak out, and they always have," says Lorin Ashton, the California D.J. known as Bassnectar. "Stop being so stodgy and hypocritical and pretending you never did it." "Sometimes I feel like the world's most well-paid babysitter," says Deadmau5, the Canadian D.J. who performs wearing a neon mouse head, "but whether people are high out of their minds, I'm doing what I love and making people happy."
The ecstasy is still working on these kids, but the effects won't last forever. The drugs will wear off, the music won't sound as good, and like in the nineties rave scene, they'll start taking Special K and staggering around dance floors, arms folded, like zombies (to say nothing of what may happen if authorities crack down; Pasquale Rotella, the EDC founder, is being tarred in the Los ­Angeles press as a new Peter Gatien). We'll have to see if we're at the beginning of a new, permanent American dance-music scene, like the one in Europe, or whether this, too, will soon fade away, slipping into dormancy for another decade.
Abebe on why the new dance music isn't all bad:
If there's not yet an institution where one can get a Ph.D. in the history of electronic dance music, it's not for lack of material to study. There are the classics: Detroit techno and Chicago house, the genre's ancient Greece and Rome. There's the explosion of rave music across Europe, the genre's Renaissance. And there's the constant mutation through hundreds of subgenres, the breadth of which laypeople should probably pray never to be quizzed on. (Two paragraphs each, please, on broken beat, Electronic Body Music, moombahton, psytrance, happy hard-core, 2-step, hardstep, drumstep … ) Devoted fans will discuss those distinctions with a level of scholarly intensity that could make an Ivy League comp-lit department look restrained. The music, its rites and rituals, its politics and philosophy—they've been pored over with respect, nuance, and the occasional bout of snobbery toward those who make the mistake of calling everything "techno."
As you might imagine, that is not quite the spirit in which today's electronic dance music—now abbreviated nationwide as EDM—has exploded into the music-­industry mainstream. It's a lot more raucous and straightforward than all that. "If you're 19 years old," one Live Nation executive said recently, "this is your rock and roll." The massive Electric Daisy Carnival, says super­star producer Kaskade, is "our generation's Woodstock." Live Nation is investing heavily in this market, and 41-year-old Kaskade is of a different generation from the 19-year-olds dancing around him, but their pie-eyed sloganeering feels like an accurate description of the audience: smitten young believers who've found something that, to them, feels completely new.
That idea is plenty audible in the songs of today's EDM themselves, in forms both flattering and not. In this music, nothing is old, nothing is new, and assorted crowd-pleasing chunks of dance-music history are boiled down into one gooey, adrenalized soup: the sentimental synths of trance, the hooks of pop songs, the pulsing beat of electro-house, and the buzzy, concussive bass sounds of dubstep, which allow for a little headbanging when the chorus comes around. There are plenty of choruses—not the epic sensual builds and ecstatic releases venerated by dance-music aesthetes, but the blunt rush of recognizable pop anthems. (At large events, the same crowd-moving favorites and Top 40 remixes can reappear in set after set.) Fans aren't distracted by subtle questions of history or genre. At times, they seem to be embracing dance music as if someone found the whole of it moldering in a box in the back of a closet three years ago, and yanked out all the fun and shiny bits—rave costumes, house piano, neon, synths that sound like robots ­recycling one another. There's pure gleeful boosterism on all sides—from the people flocking to see acts like Avicii, Skrillex, Deadmau5, and Swedish House Mafia, happy to hear that this is a "new rock and roll" revolution, and from the promoters and industry types with the dollar signs in their eyes, hoping it's true.
Maybe that makes the music coarse and one-dimensional, as some have complained—an undifferentiated glut of hyper­active dance-pop. But it's hard not to see something curious and exciting in it: shades of the same enthusiastic, Wild West, land-rushing, everything-is-new mentality that powered scenes like punk. So far, that means some deliciously inelegant anthems, and some strange aggressive sounds percolating in the margins. But once the initial excitement passes, and the audience starts tumbling toward new sounds—well, that will almost certainly be fascinating.  
Summer Rave Calendar:
June 23: Through the Roof & Underground at 12 Spot June 23: The Slums of Shaolin at TBA
June 23: Governors Ball at Randalls Island
June 28: Jacked with Afrojack, R3Hab, and Quintino at Pacha NYC
July 4: Evolve with Victor Calderone at Governors Island
July 7: Alesso's 21st-Birthday Bash at Governors Island
July 7: Sonic the Hedgehog: Marble Zone at TBA
July 13: The Thunderdome: The Wasteland of Bass at Neon East Thunderdome
July 15: Dayglow at TBA 
July 20: Far Far Away Land at TBA 
July 28: IDentity at Nikon at Jones Beach Theater
August 31–September 2: Electric Zoo 2012 Festival at Randalls Island
September 1: Dreamphaze at TBA
This story appeared in the June 25, 2012 issue of New York Magazine.