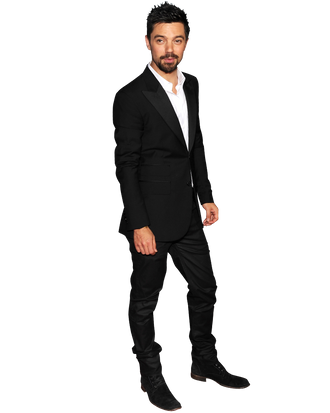 Dominic Cooper.
Photo: Larry Busacca/Getty Images
Dominic Cooper's face is built for romantic, roguish roles like the ones he's played in Mamma Mia!, The Duchess, and An Education. Then there's The Devil's Double, in which he plays Uday Hussein (as well as his body double, Latif) and transforms from roguish to downright brutish. For his newest movie, Abraham Lincoln: Vampire Hunter, Cooper parlays his dangerous charm into the character of Lincoln's vampire-slaying mentor. He chatted with Vulture about his "mental hair" and how The Devil's Double has impacted his career.
I saw the Vampire Hunter trailer at the movie theater last night and people were chuckling. I think they'll be surprised to see how earnest it is. That's the point, right?
That's definitely the point. I was never clear. I genuinely didn't know quite what the tone was meant to be. It's very easy in the novel to read it and kind of have your own idea of what it's gonna be and how seriously to take it.
When you signed on for the movie, you thought it would be goofier and over-the-top?
I did, actually, and I think I got it wrong. Timur [Bekmambetov, the director] was great at kind of steering me in a different direction. I made it much more theatrical and flamboyant and lighter, and actually it worked much better the more he told me to ground it and make it darker and real. Believe in it.
What's an example of when you were going too silly?
The scene where you're introduced to him, you discover him in a bath and showing [Abe Lincoln] around the house. I remember loving it and practicing it with a friend beforehand. I just made it too easy and casual and throwaway and light.
I have to ask about your hair. You already have a bit of natural volume, but you had a pretty epic bouffant in the movie. Was there a lot of thought put into how big to make the hair?
No, I think I just had particularly big hair at that point. I wanted to have really shaved sides, as well, but it didn't really fit. I think Timur liked that originally, because it's how I looked when I auditioned, but we needed to make it more of that time.
So you had really crazy hair when you auditioned?
I had completely crazy, mental hair. But yeah, I think they made the right decision with calming it down a bit. As long as there was something distinctive about him as a character, in terms of his appearance.
I feel like there aren't as many vampire shows or movies coming out of England. Why isn't it as big over there?
I have no idea. I don't follow them, but I know people are obsessed with them in England. I think the production value has to be extraordinarily high for them to be cool, and maybe there's slightly less money in television in England. But that's me guessing.
There are a lot of post-production effects. Did you just need to have faith that the effects guys would do right by your performance?
Completely. And you can't handle it any other way. Because you're pulling really stupid faces as you're screaming or dying or about to take a bite of someone's neck. You have to have trust. We looked a bit pathetic when we were filming it. We weren't frightening at all, and now it looks great.
How has your career changed since The Devil's Double? Has it opened new doors for you?
Yeah, it absolutely has. It was an extraordinary experience. It did much better than I'd ever dreamed or hoped. All the right people for me saw that film and it put me in a completely different position, of people having a trust that you can be the lead in a film. You always wish in a way that more people had managed to see it — I don't think many people did see it — but it's done everything it could possibly have done for me. I'm really grateful.