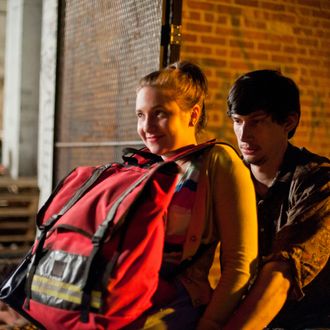 You may recall that when James Franco is not blogging about literature, he also has opinions on television — specifically Girls, and the sad dudes who populate the show. Franco, like many viewers, was not too taken with the male characters, and took to his HuffPo blog to call them "the biggest bunch of losers I've ever seen." But creator Lena Dunham and writer Jenni Konner think that's a little unfair. Especially coming from James Franco, noted actor, blogger, director, musician, and generally exhaustively well-rounded dude. From a conversation with Alan Sepinwall:
Lena Dunham: Oh my God, we read that aloud and I really thought I was being punked.
Jenni Konner: I just didn't understand what his thesis was. Do you know what I mean? Like I didn't understand actually what he was saying about the show.
Lena Dunham: I really felt like whoever is his Svengali manager was like, "You have to host the Oscars, write a novel, also, it's important to dabble in TV criticism this day and age," like it's how you stay relevant.
And they would like to defend the boys' honor.

Jenni Konner: Yeah. I also think it's funny that he called them losers. It just made me laugh, because I was like, well, yeah, because you're like a cool star who host the Oscars and you have all these amazing things.
Lena Dunham: Yeah, he's like these are the saddest group of losers I know.
Jenni Konner: Yeah, he is a carpenter.
Lena Dunham: I know.
Jenni Konner: But I think, also, he is—
Lena Dunham: I'm sorry all our first girlfriends couldn't be "The Practice"s Marla Sokoloff.
Dunham and Konner want the record to show that they are huge Franco fans; they just think he's too cool for the dudes on Girls. Also, maybe Franco didn't see the last three episodes? How can you hate Adam after that running scene!?