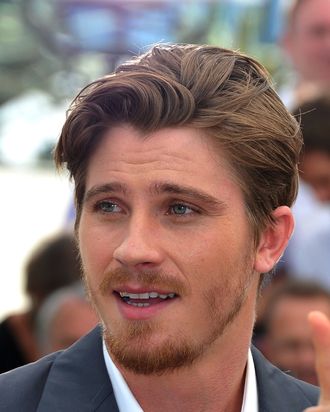 Garrett Hedlund.
Photo: Pascal Le Segretain/Getty Images
At Cannes, we wrote about the refreshingly sexy elements at play in On the Road — including a free-spirited, topless Kristen Stewart — but there was one moment in the adaptation of the Jack Kerouac classic that probably deserved a little more ink than we gave it: the scene where a nude Garrett Hedlund vigorously bangs 54-year-old Steve Buscemi. "I don't know how honest I can be about this," laughed Hedlund when we caught up with him a few days after the film premiered. "I did feel ridiculous because after [shooting it], I asked him if he wanted to have a cigarette. And he said no! He had always asked me for cigarettes before — 'Hey, man, can I bum one of those?' — and after the scene, I was like, 'Hey, you wanna have a cigarette?' And he said, 'Uh, I'm good.'"
It was an unexpected cinematic moment for sure, but a controversial one, too: Some of the people we talked to felt that the scene was a notably negative one in such a sex-positive picture, since Sam Riley's worshipful Sal Paradise (a character based on Kerouac himself) begins to lose respect for his best friend, Hedlund's Dean Moriarty (based on real-life Beat figure Neal Cassady), after he prostitutes himself to Buscemi. And since it's the only explicitly gay moment in the film — despite the fact that the Beats had plenty of man-on-man intermingling, and another male character claims to have slept with Moriarty — there were some questions about the moviemakers' intentions.
Still, Riley cautioned that Sal's reaction is the opposite of homophobic. "I think there was perhaps an element of jealousy there," he told us. "I know in real life, [Kerouac and Cassady] are supposed to have 'done it,' but I don't think very often … from my understanding, it only happened once or something. That relationship is a strange mix of admiration and competition, of jealousy and brotherly love and an attraction, I think."
In any case, it may have led to some unusual typecasting for Hedlund: He's reportedly on the casting short list for Finnick Odair in the Hunger Games sequel Catching Fire, where he'd play another charismatic, nearly nude character who rents out his body from time to time.