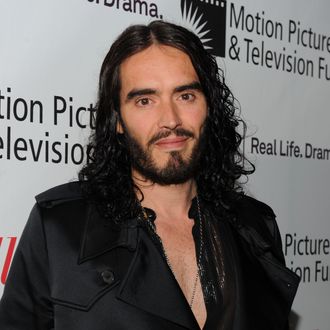 Cares about his mom's feelings.
Photo: Alberto E. Rodriguez/2011 Getty Images
Rock of Ages star Russell Brand got really angry at Graham Norton last night, when the talk show host asked him about the end of his marriage to Katy Perry. Questions about their high-profile breakup are usually something famous people must take in stride, but not when it upsets their mothers, who are sitting right there in the audience, as was apparently the case this time.
"My mum is here. She got upset when you dragged up my marriage. I saw her cry," Brand told Norton. And then, for extra righteousness, he added, "I have come here to promote a film and you made my mum cry. I don't see you as that sort of person, Graham." Norton responded by saying that he did not, in fact, see himself "as that kind of person" either, because even the most hardened gossip reporter doesn't like to think of themselves as someone who makes other peoples' moms cry. Or at least, they would never admit that on television.