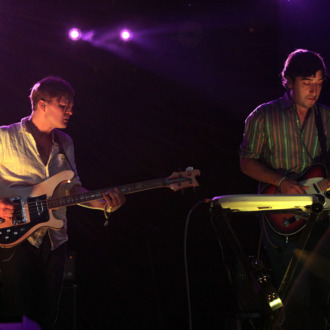 Photo: Noel Vasquez/Getty Images
Let's start with the facts, such as they are: Grizzly Bear has a new album coming! It doesn't have a title yet, but it does have a release date (September 18), a bunch of tour dates, and a track list from which you can begin to speculate wildly if you so choose. "Sleeping Ute," the first song on said track list, is also available in listenable form below; it's more psych-rock, less folk-rock, with a couple of left turns and Daniel Rossen going heavy (plus a drum that sounds a lot like the Funkmaster Flex bomb, at least to Vulture).
But that is not all the new music that Vulture would like to point your attention to today! Hot on the heels of "Werewolf," here is the studio version of Fiona Apple's "Anything We Want," which is one of the songs she debuted at SXSW. Virtuoso spoon bands are very big for fall.
And since good chunks of Usher's Looking 4 Myself are now available online, here's the A$AP Rocky–featuring, Neptunes-produced "Hot Thing." Usher is just making up his own Song of Summer categories now. (This might not be the worst strategy.)
Enjoy!