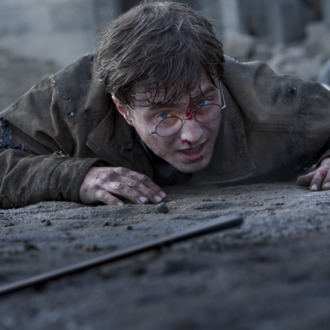 Photo: Jaap Buitendijk/(C) 2011 WARNER BROS. ENTERTAINMENT INC. HARRY POTTER PUBLISHING RIGHTS (C) J.K.R. HARRY POTTER CHARACTERS, NAMES AND RELATED INDICIA ARE TRADEMARKS OF AND (C) WARNER BROS. ENT. ?ALL RIGHTS RESERVED
The new installment of The League of Extraordinary Gentleman includes a Harry Potter–like character who's the Antichrist. Never change, Alan Moore. A Tom Riddle character has been part of the Gentlemen universe since 2011's Century 1969, but the new book includes an even more familiar character.
At no point does Moore use the words "Harry" or "Potter", but a magical train hidden between platforms at King's Cross station, leading to a magical school where there are flashbacks of psychotic adolescent rage and whimpering children pleading for their life, all strewn with molten corpses, does rather suggest a link to the Boy Who Lived. A hidden scar and a mentor named Riddle, though possessed as he is by the real villain, completes the picture.
Ultimately, the character is a symbol of the pitfalls of the current publishing world, and according to another story in the Independent, this character "kills someone with a lightning bolt from his flaccid penis." Expelliarmus!