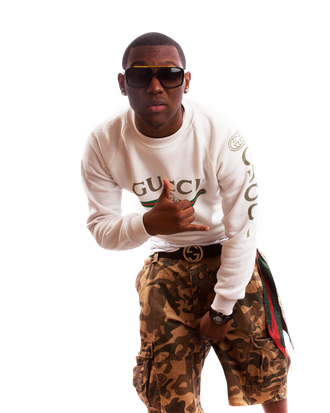 Hit-Boy.
Photo: Courtesy of Hit Boy
Hit-Boy is the master of the self-fulfilling prophecy. In 2007, he flipped a chance MySpace encounter with Polow Da Don into a prolific producing career, with his best-known work to date being Jay-Z and Kanye West's "N*ggas in Paris." Now the 25-year-old steps away from the software formerly known as FruityLoops and picks up the mike with his debut, "Jay-Z Interview." Hours after the song's release, the perennially humble wunderkind — who at the time had still not checked Twitter despite being a trending topic — talked to Vulture about the strategy behind his latest release, the Kanye West comparisons, and Gwyneth Paltrow's Twitter controversy. 
"Jay-Z Interview" was just released, but the title has circulated as a mysterious hashtag on Twitter for some time. Did you deliberately choose that name to build anticipation and retweets, since anything related to Jay-Z automatically piques interest?
I had the name even before I wrote the song. I had the name for maybe two months — maybe longer than that, maybe four months — before I had even written the song. I just knew that was a great title for a song and I just kept it, wrote it down in my notes, and finally got the right beat from [producer] Bink. I started hashtagging it and people just caught on. It became its own phenomenon and made it to TV. They [MTV's Hip Hop POV] showed it on TV and showed me the power of social media.
So do you have to up the ante next time with, say, #KanyeInterview or #PrinceInterview?
[Laughs.] I'm known for coming up with different styles and different flavors. I'm producing for a bunch of different people; I'm doing, like, Justin Bieber stuff right now, but I can rap good. I'm not stuck to one thing. The next thing will just be more good music.
Justin Bieber, or "Lil' Swaggy" according to rapper 2 Chainz, has been on hip-hop overdrive lately. Are you worried that this immersion will alienate his core pop fans?
Not at all. He's too in it. His fans really love him. To have a cosign on the urban side is ill in my opinion, so he has all grounds covered.
Gwyneth Paltrow has come under fire for tweeting "N*ggas in Paris," using the N-word, from a Watch the Throne show in Paris.  But The-Dream said he tweeted it from her phone unbeknownst to her. Since you were there with them, did you see what happened?
I was right there with The-Dream and Beyoncé and Gwyneth and all those people, and we were just having a good time. I didn't see that [the tweet], but they were partying together. They were sitting directly next to each other, so you never know. I just know we were all in the moment and Champagne was flowing. That moment was just incredible.
Katy Perry performed an innocuous rendition of "N*ggas in Paris", sans the N-word, earlier this year. Honestly, it can get awkward in mixed audiences when that word comes on in the song. Did you ever consider how the title and lyrics would be received or mimicked by non-black fans?
It's funny you say that. A moment popped in my head during the concert when Kanye is performing "All of the Lights" and he says, "This is your one chance to get away saying 'MJ gone/Our n*gga dead.'" I feel like it's that same moment. It's so powerful that you can't really — the song is called what it's called — long as it's not in a disrespectful way, honestly, I don't really mind it. 
Not everyone knows the difference between using the N-word respectfully and not using it respectfully, though. Do rappers have a responsibility to show fans the difference?
I guess it's the same as if you listen to an old Eminem album and he's talking about killing people and stuff like that. It's just a fine line. I don't know who's really responsible, but they [the rappers] just meant [for people to] enjoy that moment. We named the song this and we knew people would call it that, so it is what it is.
"Jay-Z Interview" is very reminiscent of Kanye's breakout "Through the Wire." Do you welcome the comparison to your G.O.O.D. Music head or is it added pressure?
I wanted to give something personal and I would reference that video ["Through the Wire"]. Just showing it ["Jay-Z Interview"] to people in the last week or so, they automatically say that it reminds them of when they first saw or heard Kanye, so I can't escape that.
Speaking of big shoes to fill, I hope 'Ye slid you a pair or two of his highly coveted Nike Air Yeezy IIs.
Man, he told me he was going to give me some, but I didn't really press the issue. So I don't have none as of now.
You should really press him. Did you hear that someone on eBay bid $90,000 for a pair?
Yeah, I know. That was ridiculous, right?