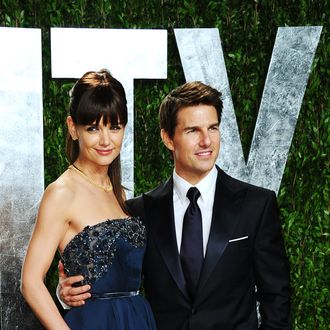 No longer.
Photo: Alberto E. Rodriguez/Getty Images
After yesterday's at once headline-grabbing and not-shocking announcement that Katie Holmes is seeking a divorce from couch maniac and Scientologist-in-Chief Tom Cruise, "sources connected to the couple" have revealed Holmes's reasoning to TMZ. Unsurprisingly, L. Ron Hubbard, the Galactic Confederacy, and Dianetics appear to have been a major factor in the breakup. It seems that Holmes doesn't want their daughter Suri, now 6 years old, raised as an out-and-out Scientologist.
Katie has never been fully committed to Scientology, even though she has had ties with the church.  We're told the couple had been arguing over Suri — that she's now of the age where Scientology becomes a significant part of her life.
Holmes, who should walk away with at least $15 million and the couple's Santa Barbara mansion, per the couple's prenup, is expected to file for sole custody of Suri in the coming days.