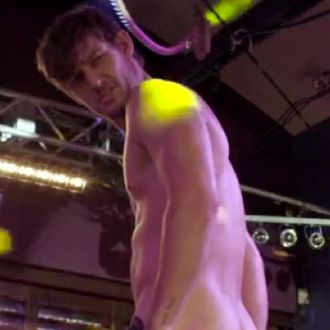 As we've known for the better part of this year, Steven Soderbergh's Magic Mike follows Channing Tatum as a male stripper who takes a young dancer called the Kid (Alex Pettyfer) under his wing and tutors him in the ways of making easy cash. It sounded like The Color of Money, but instead of pool cues, it's … uh … Well, you get the idea. It presented a particular challenge: how to market a Steven Soderbergh–directed film about male strippers.
When we got a glimpse of the first Magic Mike trailer back in April, it focused on a totally different story: A young male exotic dancer (Tatum) tries to get serious with a girl (Cody Horn) and pursue his true passion (furniture design) despite his hopelessly hedonistic profession. Much of the promo involved Horn knocking on Tatum's job. It was received tepidly. What little Internet commentary there was at that early date amounted to, "Come on, lady, just let Channing Tatum be a stripper!"
Then, two weeks ago, the Magic Mike international trailer surfaced, as did a cheeky red band trailer that was, quite literally, a hindquarters headquarters. Why the change in strategy?
A Warner Bros. spokeswoman declined to comment on the sudden marketing changeup, but as one Mike production insider explains, "It's a film about male strippers, and people were literally asking, 'Where's the beef?'"
Indeed, the problem with the first approach was that it seemed to attract neither women nor men: Three weeks ago, when the studio first began getting audience research data on Magic Mike tracking, only about a third of men were aware of the movie, and about a fifth of them were interested in seeing it. That's about what you would expect with a movie about male strippers, but the female numbers were equally lackluster: Only half of women of any age were aware of the movie, and barely a third of them expressed "definite interest." Obviously not good.
After the red band trailer surfaced two weeks ago, however, things quickly changed for the better with women, even as they got a bit worse with men. New audience research conducted the day after the butt-filled Magic Mike clip debuted on June 13 showed that while only 12 percent of men over 25 and 15 percent of men under 25 expressed definite interest, women's awareness and interest had exploded: Practically two thirds of women had now heard of the movie; 41 percent of women over 25 and 36 percent of women under 25 expressed definite interest.
But Magic Mike writer-producer Reid Carolin, however, says the studio's shift toward a more prurient presentation was always part of the plan.
"They wanted to sell the story of this movie, but that meant first connecting with Channing's audience," Carolin tells Vulture. "So, how do you activate Channing's fan base? You show them something [like a romantic-comedy-type trailer that] they're familiar with. That way, later on, they might say, 'Hey, it's a stripper movie, but I am going to get something I know I've liked and gone through before.' [The studio] always knew that they'd broaden the scope to be about the guys and the romp and the fun."