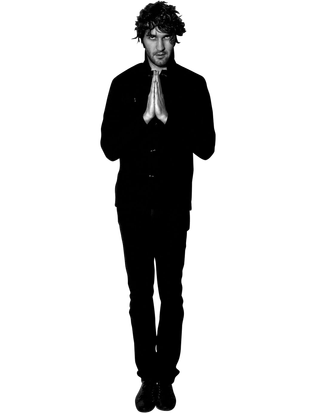 Brian King of Japandroids.
Photo: Japandroids
Canadians are known for being polite. But they were awfully crappy to the Vancouver-based Japandroids, who felt so alienated from the insular local music scene that they actually broke up for a spell around 2008. Since then, the hard-touring duo has earned a rep for immediately rousing crowds with gleefully noisy garage-rock gems such as "Young Hearts Spark Fire " and are getting critical high fives worldwide for their second studio album, Celebration Rock. Likewise smitten with the release, Vulture rang up unflinchingly optimistic singer-guitarist Brian King to test his mettle by asking him about a bunch of bummers: his love-hate relationship with Vancouver, his nagging health condition, and why he didn't like Japandroids drummer David Prowse when they first met.
Your perforated ulcer has interrupted your career a few times. How severe is this condition?
Um, well, it depends on your point of view. I have a medical condition that is serious, and it's not going away. Touring is not what I should be doing, in the sense that it's an unhealthy lifestyle, but I love to do it. And until I feel like I cannot do it anymore, I will do it. We have a tour manager who sorta babysits the two of us and makes sure that we are alive.
And your mom?
Um, my mom would rather I be a doctor.
Explain your album title, Celebration Rock.
I couldn't imagine the album being called anything else. It doesn't just sum up the collection of songs that would make up the album, it sums up the band as a whole. The music that we make and what it's like to see us play. We play celebratory rock-and-roll music.
Do the rigors of touring so much ever make you feel un-celebratory?
Well, we spend a lot of time on tour. It's not always a totally joyous experience. But in general, we're quite positive. This is our seventh year in a band. And we met in 2000 and didn't start the band until 2006. Once you've known someone for ten to twelve years, I'm not going to say that things never come up, but at some point you realize that what you're doing is bigger than bickering or the problems that you have together.
What was your first impression of Dave, your bandmate?
At first we didn't really like each other that much. I don't know — the same reason you meet people and they're not instantly your best friend. We didn't click. It wasn't until we discovered our mutual interest in music and started to see shows [together] that we realized we had something pretty big in common. There was a local music scene in Victoria, the town we went to school in. That was a game-changer for us: It made playing music and playing bands tangible. Like, maybe this is something we can do.
Then you moved to Vancouver and almost broke up. Why was that?
The Vancouver music scene just seemed stacked against you. The city didn't embrace live music the way other cities did. Venues were popping up and shutting down. There were really strict liquor laws. There was a small, established music scene, and we were not a part of that. Nobody knew us, therefore nobody wanted to play with us. We had to do all the work ourselves: find a venue, rent it out, find a P.A. Your friends would have to work the bar, work the door. We'd have to convince other bands to play with us. We'd have to act as promoters, so you get pretty sick of it.
Most people credit Pitchfork with saving Japandroids. Would you agree with that?
More or less. Pitchfork discovering us was certainly a turning point. But that also happened at exactly the same time that Unfamiliar Records, a small Canadian label said, "Hey, we heard your record, and we'd love to put it out." It was those two events happening at the same time that made us rethink the idea of breaking up. We basically had broken up and decided to see if these things would actually take us anywhere. We never stopped having day jobs.
What were those jobs?
I have a degree in earth and ocean science. So I worked in mineral exploration — like in geology, that was my day job the day I moved to Vancouver until the day in spring 2009 we quit to go on tour. Dave worked in housing shelters and before that, in restaurants. Back then, the band didn't make any money. It still doesn't.
Still?
Well, not really. We don't make enough money to have income from the band. We make enough money to reinvest the money immediately in touring expenses. That's not to say that there's not money out there to be made. But we've made certain decisions to be a certain kind of band without question, at the cost of making money.
Like, you've never licensed a song.
I wouldn't be so naive or arrogant to say we would never ever do it, period. But we don't have any immediate plans to do it. And that's the way a majority of bands make money these days.
Why did you two move to Nashville to write this record?
We needed a change of scenery. We toured for about two years on [2009's] Post-Nothing. That was a very exciting time in our lives. But writing a record is a grind. It's kind of deflating. It feels like you've been on this ride, and now the ride is over. You go back home, back to your old life, your old job. We were disappointed and bored.
Why Nashville?
We wanted to get out of town and discover a new place, which is kind of what touring is like. We picked Nashville because both of us like the South quite a bit. In the fall, the weather is beautiful there, and the cost of living is relatively cheap. We don't know anyone there, which is great. If we went to London or New York or L.A., we would've just partied the whole time. We did more work in Nashville in one month than we did in Vancouver in, like, six months.
Have your live shows always been as energetic as they are now?
Yeah, we've always played the same way from when we first started, even before playing our first show. Some of the bands we were into when we started — like the Murder City Devils, Constantines — they had really intense, really energetic live performances. When we started our band, we just mimicked that.
Do fans ever try to hang with you after shows?
Yeah, but I don't think any more so than other bands. Our schedule is such that we have to turn down offers more than we actually get to hang. But we try and talk to as many people as we can, maybe have a drink after the show. We like meeting new people.