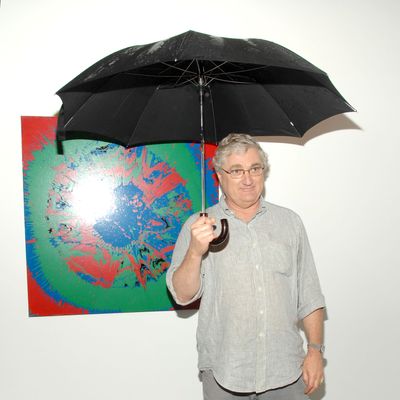 Walter Robinson, editor (till today) of Artnet Magazine.
Photo: PAUL BRUINOOGE/Patrick McMullan
I have long known and loved Walter Robinson, the great Khan and pasha-in-chief of Artnet.com's online magazine, the best, most effervescent, no-bullshittiest art site around.  On Monday afternoon Artnet's magazine shut down, effective immediately. A notice on the site explained that it had always been a money-loser for the site, which is primarily a giant database of information about sales prices that is used by galleries and museums all over the world.
My heart skipped a beat when I heard the news. Everything I've written since 1998 has been republished on Artnet — often with pithier titles (supplied by Robinson), always with much better and way more pictures (many taken by Robinson). For years, I wasn't paid at all by Artnet. Even though I was as almost-broke then as I almost am now, it felt fine. Once I got paid, it topped out in the low three figures. I loved every second of it.
Mostly because of the way that Walter edited and oversaw Artnet. No jargon. No unbearably long multi-footnoted, almost unreadable art-historical pieces — except all the ones by Donald Kuspitt, whom Walter loved and defended. Then there was Charlie Finch, a planetoid unto himself, the writer whom everyone read. (Charlie may be the porn star of the art world. Half of all hits go to him.) He played marauding Omega to Walter's laid-back Beta. Never an alpha dog, Walter instead was always eager around, entertained by, and amazed with everything going on around him. He could dis things, even us writers, but with a big heart.
In 1998, Artnet was the site that convinced me that if my writing didn't exist online, it didn't exist at all. It showed me criticism's future. Walter's Artnet magazine didn't pant after the popular kids in the lunchroom. He had his own taste, his own eye, his own vision — one that supplied to his site a built-in beauty and chaos. Artnet didn't cover all the right parties or the right people. At all. In fact, Artnet showed up at later-night things peopled by sketchier art-world types — many of whom, like me, were not so in-demand at hipper places. In the beginning, I loved Artnet because Artnet loved me.
Of course, the art and money business part of Artnet is going to keep going — only the online magazine is being shut down. Auction prices and sales will keep going too. It's an ominous sign: Even after sixteen years, a genuinely good online magazine, a brilliantly individualistic, multicolored, fast-adapting, self-organizing species, is still difficult to monetize. Art critics could be a dying species — or, rather, making a living solely from writing criticism, a goal that's already nearly impossible and is practiced by a tiny handful of us, just got harder.
For more than a decade I've thought that Walter is the best writer of gallery roundups around. His snappy, well-paced weekly columns were filled with openness to art, original ideas, artists, and shows I'd never heard of; unexpected twists; and his incredible nose for news. Like Finch, Walter Robinson should be hired right away by anyone interested in page views. Neither of them can likely be tamed or is remotely controllable. Yet both are forces of nature that should not be allowed to go silent. Good-bye Artnet. I loved you, you maniac. I will miss you. A lot.