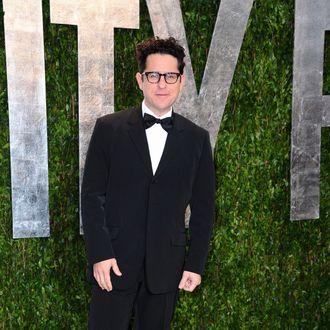 Photo: Alberto E. Rodriguez/Getty Images
We hear that Paramount Pictures has picked up a script called God Particle for J.J. Abrams's Bad Robot to produce from Oren Uziel — the same screenwriter who penned the macabre zombies, vampires, and humans-versus-invading-aliens action-comedy The Kitchen Sink for Sony Pictures.
A rep for the director declined comment, and while details are scant, the logline seems classic Abrams bait: After a physics experiment with a large hadron accelerator causes the Earth to seemingly vanish completely, the terrified crew of an orbiting American space station is left floating in the middle of now-even-more-empty space. When a European spacecraft appears on their radar, the Americans must determine whether it's their salvation, or a harbinger of doom.
Still, don't let your heart beat too fast, for based on what else our spies tell us, it seems unlikely that Abrams would direct God Particle. Paramount's plan is to shoot the whole film for under $5 million; that means it's likely to be released by its newfound Insurge Pictures micro-budget division, which launched in 2010. Of course, Paramount already knew a bit about wringing big profits from anorexic budgets before then: Its Paranormal Activity franchise has grossed $575 million worldwide from three films whose budgets, even when added all together, don't even crack $9 million. (Naturally, a fourth is on the way.)
Other studios have been quick to embrace the "nothing ventured, everything gained" model: This year's CBS Films Daniel Radcliffe thriller The Woman in Black, for example, was made for $13 million, but cost just $3 million to acquire and $14 million to market and distribute in the U.S. It went on to make $127 million worldwide. Likewise, Fox's Chronicle cost just $22 million to make and has grossed $126 million worldwide.
But the first film released under the Insurge label, this year's The Devil Inside, was a truly execrable piece of filmmaking whose only impressive achievement is that despite being made for $1 million, it went on to gross $101 million worldwide. (It is the rare film to receive a CinemaScore of F — almost none do — and even rarer for becoming a hit nonetheless.) Hopefully, the involvement of Abrams's Bad Robot won't just guarantee God Particle a ridiculous profit margin should it get made, but also ensure some sort of quality control.