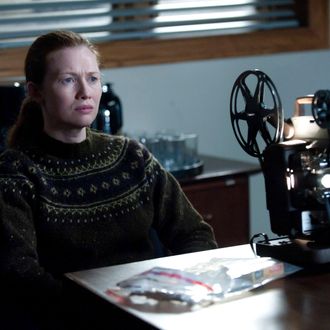 Photo: Carole Segal/AMC 2012
Viewers delivered their own answer to the question "Who killed Rosie Larsen?": Who cares? The Killing ended its second (and quite possibly final) season with one of its least-watched episodes ever, attracting roughly half the total audience that watched its 2011 series premiere. Sunday's episode averaged 1.5 million viewers for its initial 9 p.m. telecast, down dramatically from its premiere episode last year (2.7 million) and its season one finale (2.3 million). It was also down from this spring's season-two premiere (1.8 million), albeit less dramatically, falling about 17 percent. The Killing held up a little better with adults under 50, with Sunday's finale matching the demo rating for the show's season two premiere (0.5). But that's not to suggest AMC execs have anything to be happy about.
Despite promising to solve the show's central mystery (for reals!), The Killing found itself trounced by its cable competition, losing not only to blockbusters such as True Blood and Keeping Up With the Kardashians, but also other 9 p.m. shows such as Ice Road Truckers, The Next Food Network Star, The Glades, Mythbusters … and a repeat of Law & Order: SVU. Even more depressing, the big finale ranked only No. 37 out of all cable shows Sunday, drawing a smaller demo rating than Oprah's interview with the Kardashians, Storage Hunters on Tru TV, A&E's new drama Longmire, a telecast of the first Robert Downey Jr. Sherlock Holmes film on TNT, and My Big Fat American Gypsy Wedding on TLC.
So does this mean The Killing is toast? Well, it is important to note that cable networks such as AMC don't just rely on overnight Nielsen numbers to make a judgement on a show's fate. This week's episode will be repeated at least a half-dozen times over the next week, and hundreds of thousands, if not millions, of viewers will catch up via DVR or on demand. Considering the show's ratings stayed relatively stable over the course of the second season (even if down from season one), it's possible AMC could decide that the brand name of The Killing is something worth retaining, particularly since the show is primed to reboot for a possible third season. Still, the two new pilots the network green-lit earlier this year are both murder mysteries with conspiratorial tones. While that might make them possible companions for The Killing, it's even easier to imagine one of those shows as a replacement.