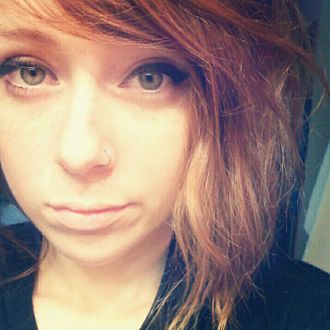 Photo: Kitty Pryde/Facebook
YOLO generation ambassador Kitty Pryde's appearance at Brooklyn's Knitting Factory on Friday night was her first performance for a national (critic-filled) audience and the next logical step in her ascent as an Internet rapper. In a post–Kreayshawn and A$AP Rocky world, in which displaying the right pile of signifiers (both sonic and cultural) in a slick YouTube video can beget instant blog posts and label interest, the 19-year-old redhead is herself an obvious progression. She's also a natural hype-cycle savant. Her bedroom and backyard clip for the half-coy "Okay Cupid" still has fewer than 400,000 views, far less reach than her immediate Tumblr-ing predecessors. But since its debut in early May, her web presence — complete with a too-honest Twitter feed, free music, and the requisite photo shoots (aided by the music blogging manager she shares with Main Attraktionz) — has been flawless, or at least perfectly flawed. And such was her New York City debut.
The video for "Okay Cupid," an airy ode to crushing on an archetypal shitty dude, surfaced online almost simultaneously with Pryde interviews addressing the comments section and @-reply backlash, a savvy marketing push and conversation-steering lowering of the bar. Barely a month later, a free online EP followed with the apt title haha i'm sorry, a "Call Me Maybe" interpolation, and an on-message hook declaring, "I'm not really interested in hittin' the tip-top/ And I got you mad, but you're watchin'/ You say, 'This little white girl is ruining hip-hop' / I say, 'Damn right,' and take a lick of the Ring Pop/ And smile." Days later in Williamsburg, she was performing in a small room containing some industry influencers and toying with the same self-deprecation onstage, referring to herself as "retarded" and shouting out her "Mommy and Daddy," while hitting every lyric and leaning into legitimately clever punch lines.
"Am I doing this right?" Pryde asked at one point. Wearing a homecoming dress, flanked by her BFF and little brother fresh from Florida, she was doing it exactly right because she was having fun on her terms — more small-town talent show than New York rap show. The word swaggy was written on her arm in Sharpie (a tribute to Justin Bieber, the namesake of her opening song) throughout a 35-minute set that included an Odd Future instrumental and allusions to Four Loko, Supreme, and Neutral Milk Hotel. Her worldview and references are distinctly of-the-moment, granting outsize importance to Twitter mentions, Adderall, and other artists without official releases who are known for their not-quite-viral YouTube videos. Anyone who grew up pre-MySpace might see this all as an exemplar of myopia and online artifice: the definition of oneself through cultural consumption — a carefully curated hodgepodge of Facebook likes and reblogged vintage magazine clippings.
But in the flesh, Pryde fully embodied her own Internet persona, a skill that eludes adults so often they typically write it off as an impossibility. Nineties babies, though, have so deeply internalized a system of virtual winks and giggles that ironic self-awareness is just a default setting, one Pryde's wit and slinky talk-flow can turn into a strength. "I thought I was Sheena / You know, a punk rocker?" she rapped at one point. "Till I grew into wanting to be Flocka / And everybody hates it / What a shocker!" She gets it, playing both fan and performer, twisting warped narcissism and adolescent insecurities within the hip-hop tradition of addressing success and haters before they even really arrive. Moments like the faux-posturing outro ad-libs "real trap music" and "just snorted a pill," which she diligently repeated live, are Pryde's most cloying, but also her truest. They're a reminder that she recognizes the inherent absurdity in what she's doing, and then dares to do it anyway.