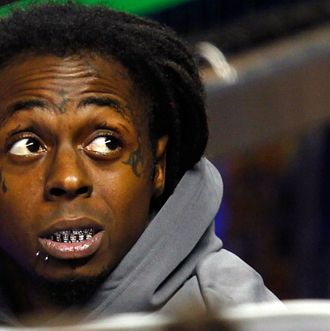 Lil Wayne at a Miami Marlins v. San Francisco Giants game last week.
It really can be hard being Weezy: Last night, Lil Wayne tried to secure front row seats to the NBA playoff game between the Oklahama City Thunder and the visiting San Antonio Spurs, only to be told the tickets were all sold out. The rapper later tweeted that he'd been "denied by the team to be in their arena. Wow. Smh. Go Spurs!" Soon after, at least two Thunder players offered him tickets — but he still felt "unwanted." The damage, it seems, had been done.
Here is Lil Wayne speaking to the AP:
That's not the point, though. It's the players stepping up but of course the players aren't white. I don't want to be sitting there on behalf of you and I'm sitting next to a [person] that's like 'I don't want this [guy] sitting next to me.' [Forget] you… I'm in Forbes.
A possible dig at Thunder's corporate owners, Chesapeake Energy, whose CEO Aubrey McClendon graced the cover of Forbes magazine last October?
As for Kevin Durant, one of the players who offered Lil Wayne a sympathy ticket, he did his best to tamp down this little flareup.
It was just a misunderstanding. We were sold out of tickets, I heard, and we didn't come through. He knows a few of us on the team and he knows it's nothing like that. We offered him tickets to tonight but he had to do something. He's a superstar in his own right, so he can't just pick up and go to a game.
Especially a game where he'd have to deal with navigating that wasteland behind the front row.