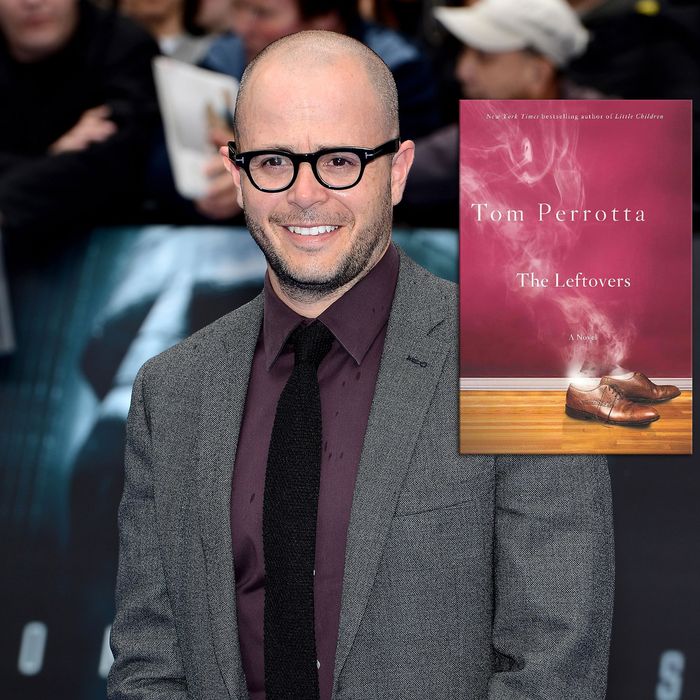 Photo: Ian Gavan/Getty Images
Damon Lindelof's return to TV is picking up speed: Vulture has confirmed the just-posted Deadline report that the co-creator of Lost is teaming up with Election author Tom Perrotta to adapt the latter's 2011 novel The Leftovers for HBO. The book, which Stephen King has dubbed "the best Twilight Zone episode you never saw," takes place three years after a Rapture-like global event causes millions of people to simply disappear from the face of the Earth. Where did they go? Why were so many left behind?
In an exclusive interview with Vulture, the man who gave us Jacob, the Man in Black, and the Engineers of Prometheus doesn't answer any questions having to do with those characters (obvs!), but he did tackle lots of other topics, starting with why he's once again collaborating on a project rather than going solo. "The best work I've done has always been in partnership with other writers," he says. Joking that he's "pathetic" on his own, he continues by saying that, "With a bunch of other writers, I can step up my game." Lindelof expects to begin working with Perrotta on the pilot script by the end of the summer and will then wait to find out from HBO whether it wants to move forward to filming a pilot. Keep reading to find out how and why Lindelof decided to tackle this book, how the potential series might differ from the book, and what he thinks about the inevitable Internet dissenters.
How The Leftovers Popped Up on His Radar
Lindelof saw King's write-up of the book last August in The New York Times Book Review. "I got about a paragraph into it and immediately Amazon'd the book," he says, noting he had already read Perrotta's Little Children and Election. "And when I got the book, I fell deeply and passionately in love with it. I think that even from the moment I read the logline for the book, it was something I wanted to be vicariously a part of as opposed to just enjoying it as a consumer." Lindelof finished the novel in two days; he then got on the phone to his agents at CAA to find out if anyone had snagged the film or TV rights to the project. "They told me HBO had snapped it up when it was still in galleys," he says. Lindelof asked his agents to keep tabs on the book's development progress at HBO and to let execs at the network know of his interest.
In a bit of kismet, a few months after Lindelof found out The Leftovers was set up at HBO, the cable channel hired producer Michael Ellenberg, with whom Lindelof had become friends after working together on Prometheus. An immediate deal couldn't happen, however, since Lindelof was under contract to ABC Studios, and HBO rarely partners with outside studios on projects. It wasn't until the ABC pact expired and Lindelof signed with HBO's corporate cousin, Warner Bros. TV, that talks could begin on a deal for Lindelof to adapt The Leftovers.
Why He Was Attracted to the Project
The scribe points to two major themes in the book that caught his interest. The first was that it takes place in a world where it's now impossible to deny the existence of some sort of miraculous power. With 200 million people suddenly gone, and without explanation, "You can't be an atheist anymore," he says. "It takes us back in time to a place in human history where everyone's lives were dictated by the gods of Olympus or the gods of the heavens. [The book] tries to explain the purpose of it all, and that lined up with the meta level of Lost."
Lindelof was also fascinated by the "cool morality tale" associated with the many, many humans not chosen to be taken away. "We all look at ourselves in the mirror and think, 'Am I good?'" he says. "The fact that there's this reaping which occurred, and you don't make the cut, some of us don't feel worthy, seemed very ripe territory for a cool character drama."
The Book Is Just a Jumping-Off Point
While most of the novel's fundamentals will make the transition, expect major changes and additions. "The pilot will introduce characters and storylines not in the book. It has to," Lindelof says; The Leftovers is a relatively slim novel compared to, say, Game of Thrones. "The book is so rich in characters and details … and opens so many creative doors," he explains. "But it probably only has enough content for two or three episodes."
Tackling Another Series With a Central Mystery
One of the main mysteries of The Leftovers is just where all the "disappeared" folks went. Lindelof doesn't want to spoil how the book tackles (or doesn't tackle) this question, but he did say the puzzle will be a key part of the show. During their talks, Lindelof and Perrotta agreed the answer to the question "did matter and [viewers] needed to know." Of course, the fact that Lindelof is working on another show with a mystery center is likely to send portions of the Internet into crisis mode today. "I told Tom to brace himself for people asking [about the rapture mystery] as the first question," he says. "And then I told him, 'I don't know if you know this, but I sort of have a reputation for not answering things.'" Lindelof fully admits he's walking into another buzzsaw, but he actually seems to relish the possible backlash. "I guess I can't help myself," he quips. "I'm sure there's a certain subset of viewers who watched Lost until the bitter end and will say, 'I'm just not going to put myself through that again.' But I'm so incredibly magnetized to this concept and the people in this story. It's firing all my creative pistons in a way they haven't been fired since Lost."