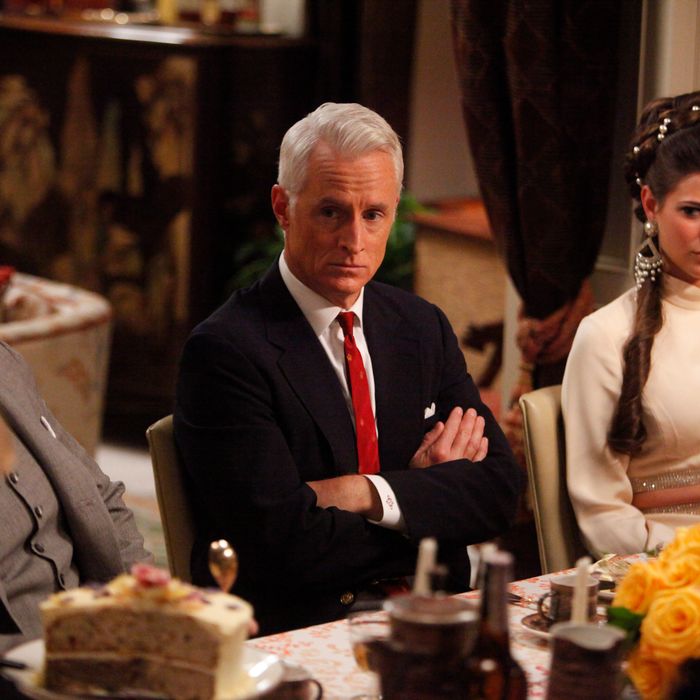 Roger Sterling (John Slattery) and Jane Sterling (Peyton List)
Photo: Jordin Althaus/AMC 2011
Leading up to his suicide, Lane Pryce had been trapped in an unhappy marriage, one he was poised to shirk (oh, to shack up with that Playboy bunny!) before his father forced him back in. Always on the hunt for a silver lining, we decided that the one small bright side to his tragic, shame-driven hanging is that he died before he could contribute to the one glaring anachronism on Matthew Weiner's adamantly accurate series: the disproportionately high divorce rate. This season, Roger and Joan each split from their spouses, and Don's walking papers were signed in the not very distant past. Knowing Weiner's obsession with fifties and sixties verisimilitude, a viewer might think divorces were becoming far more common and acceptable, at least in New York City. But no: While it's true that between 1962 and 1967, the national divorce rate rose by 29 percent, even that large a jump only brought the divorce rate to 11 percent in the Northeast — and New York actually had the lowest reported divorce rate in the country.
To match the historical record, Mad Men should have just one divorced main character in its central cast of characters. Not even tallying Don's previous split from Anna and Roger's from Mona, the show has three recent divorces, and it looks like there may be a few more on the horizon: Pete and Trudy, if he doesn't give up on Manhattan and start appreciating her fabulous nightgowns; and a possible trifecta for Don if he can't start rooting for Megan's career and remembering to call her. It's possible that Weiner didn't know he was creating an anachronism, but his attention to period detail (no Sally pun intended) makes that seem unlikely. Maybe it's that our current national rate of divorce and our comfort with it have just seeped into the writers' room — but more than anything, it seems like a simple way to rearrange pairings. How else were they supposed to free up Roger and Joan in the same season?
UPDATE: We read your angry comments on this post and have published a response here. Warning: We come armed with more statistics!