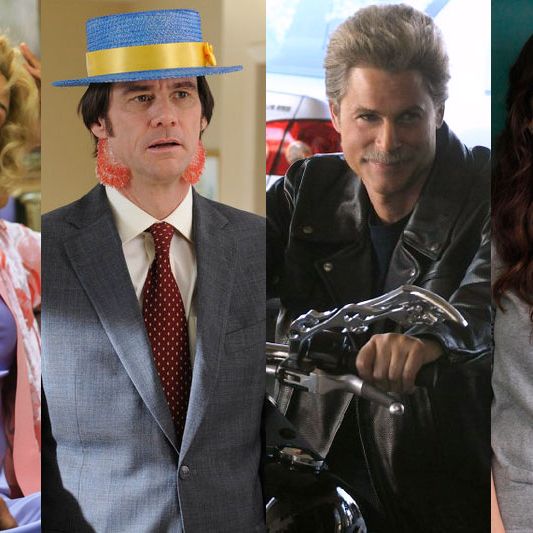 Photo: Ray Mickshaw/FX, Ali Goldstein/NBC, Lifetime, Greg Gayne/FOX
It's not that difficult to get into the Emmy race. Turns out throwing your name in for nomination consideration is as easy as being a dues-paying member of the Academy of Television Arts & Sciences, and non-members need only pony up an entry fee. (Hey, actors, just $200 to list yourself alongside the likes of Jon Hamm!) There are only two requirements to try for some Emmy love. Rule One: You need to have been a part of a program that, if it wasn't a movie or miniseries, lasted more than five episodes. So The Playboy Club, with three episodes, and Work It, with two, are out of luck; but the stars of Bent, with six, and The Firm, with eighteen — being burned off on Saturdays as we speak! — are all making a play for plaudits. Rule Two: Often, you or your representatives need to be really optimistic. (Again: The Firm.) We parsed the official list of submitted candidates (the first round of ballots are due June 28, with the Emmy nominees announced on July 19), and searched for the most surprising and quixotic quests, who sat out this year's race, and who decided it was time to graduate from a supporting acting category to main: Look who's a big boy, Jon Cryer!
• Rob Lowe has two shots at Emmy nods. He's entered as lead actor in a comedy again this year for his role as Über-upbeat Chris Traeger on Parks and Recreation, and as lead actor in a movie or miniseries for his role as Über-creep Drew Peterson in the Lifetime TV movie Drew Peterson: Untouchable.
• Felicity Huffman will be the only Desperate Housewives actress trying to make it into the lead actress in a comedy category. (She won in that category in 2005, the show's first season, and was nominated in 2007.) Teri Hatcher, Vanessa Williams and the late Kathryn Joosten (who has already won twice as guest actress on DH, in 2008 and 2005) are entered in the supporting race. We assume the others — of which only Marcia Cross has ever gotten a nomination, in season one — just gave up.
• Acting nomination looking iffy? These TV stars are hoping to snag a statue for directing: David Boreanaz (Bones), Jennifer Love Hewitt (The Client List), Matthew Gray Gubler (Criminal Minds), Simon Baker (The Mentalist), Mark Feuerstein (Royal Pains), Tim DeKay (White Collar), David Duchovny (Californication), Courteney Cox (Cougar Town), Kevin Connolly (Entourage), Matthew Morrison (Glee), Brian Baumgartner, John Krasinski and Rainn Wilson (The Office), James Roday (Psych), and Brian McNamara (Army Wives).

• An addendum to the above: Amy Poehler, John Slattery, and Jon Hamm are also up for directing episodes of Parks and Recreation and Mad Men, respectively, but we're positive they'll do just fine in the acting categories. Ditto Bryan Cranston, who is in the running for directing an episode of Modern Family.

• Total number of Jonas Brothers who want Emmys: Two. Joe, for playing the fiancé of Jennifer Love Hewitt's character on Hot in Cleveland, and Nick, who guest-starred on Smash as Broadway protégé Lyle West.
• Many dead shows have submitted themselves in the top drama and comedy series races, among them The Firm, Bent, The Secret Circle, Friends With Benefits, Best Friends Forever, and I Hate My Teenage Daughter. The only eligible ones that aren't bothering are CSI: Miami, A Gifted Man, Man Up!, Ringer, Rob, and Prime Suspect. We admire their dedication to saving ink.

• Top series categories too crowded? Canceled shows The River and Missing are trying for miniseries nods alongside American Horror Story, which, even though it will have a second season, can enter in this category because AHS is technically an anthology, with new characters each year. Also competing in the category are returning British shows Sherlock and Luther, as well as new entry The Hour. These shows also have multiple seasons, but British series often get in here because of their very short seasons. They are, quite literally, mini series.
• Two and a Half Men's Jon Cryer has promoted himself to lead actor in a comedy after winning the supporting actor award in 2009 and will compete alongside co-star Ashton Kutcher.
• Glee's Heather Morris — who plays the comedy's most consistently funny character, Brittany S. Pearce — and Amber Riley, who broke out this year as Troubletones' lead diva Mercedes Jones, are the only full-time cast members who did not submit themselves in the acting race this year.
• Best writing on TV? USA Network thinks it's got it! Between Royal Pains, Suits, White Collar, Necessary Roughness, Burn Notice, Covert Affairs, Fairly Legal, and In Plain Sight, the cable network has submitted 64 episodes in the writing for a drama category — more than a quarter of the total number of drama episodes submitted by all networks.
• The only Mad Men episodes not in the running for a writing Emmy are "A Little Kiss" (Megan sings "Zou Bisou Bisou"), "Tea Leaves" (Fat Betty debuts), "At the Codfish Ball" (Sally sees a blow job), "Christmas Waltz" (Hare Krishna!), and "Lady Lazarus" (Pete sleeps with his neighbor's wife).
• Modern Family entered nine episodes in the writing for a comedy category, the most for any series, while Covert Affairs and Burn Notice submitted the most episodes on the drama side with ten each.
• Jim Carrey is entered in the guest actor race for playing Dave Williams in Leap Dave Williams, the holiday movie featured in the "Leap Day" episode of 30 Rock. In five short segments, he grew gills, jumped off a cliff, and stripped while running down the street. Andie MacDowell, who said three lines of dialogue as Dave's wife, is in the running for guest actress.
• Besides Ringer, 90210 is the only show on the CW not entered in the top series race. Also, none of the series regulars on Gossip Girl are entered in any of the acting categories.
• Nickelodeon's Supah Ninjas submitted itself in comedy writing for an episode that goes a little something like this: "The rival Ishina Clan unleashes a computer virus to uncover the Fukanaga's secret dojo. The kids aren't prepared to fight the Ishina so Grandfather shuts down the Dojo and they return to their regular lives. When the Ishina abduct Connor, the Supah Ninjas reunite for an ultimate showdown." Good luck going up against that, Modern Family!
• Outside of Larry David, Louis C.K., and James van der Beek, actors who would like to win Emmys for playing themselves include guest stars Johnny Depp, Sting, Cat Deeley, Helena Bonham Carter, and Liam Neeson (Life's Too Short); Kiernan Shipka (Don't Trust the B****); Michael J. Fox, Rosie O'Donnell* and Ricky Gervais (Curb Your Enthusiasm); Kelsey Grammer, Denise Richards, and Stacy Keach (30 Rock); Nancy Grace (Raising Hope); Dane Cook and Joan Rivers (Louie); and Reese Witherspoon (After Lately).
• Does New Girl deserve a nod for makeup? Here's how the team describes its workload: "Designing and maintaining the look, feel and color of Zooey Deschanel's make-up as a main feature in her character's unique and fashionable look." Something tells us they're going to have a tough time edging out the likes of The Walking Dead, which submitted this description for what the show's team did for the zombies in the episode "What Lies Ahead": "We created prosthetics for hundreds of the undead in varying stages of decomposition. Our featured walkers consisted of bald cap application along with silicone, foam latex, 3-D transfer facial prosthetics, dentures to expose rotted teeth, contact lenses and hand laid/flocked hair and wigs. Our sculptures simulated a sunken eye/pronounced bone structure look in addition to full upper torso chest, back and hand prosthetics to replicate decaying flesh." Adorkadead!
• Sophia Bush is the only One Tree Hill star entered in a lead acting category for the show's final season. Co-star Bethany Joy Galeotti will compete in the supporting category.
• The Sopranos' Steven R. Schirripa is on The Secret Life of the American Teenager now — and he wants an Emmy for his time. 
* This post originally noted Rosie O'Donnell's entry for Happily Divorced, but she didn't play herself on that show.