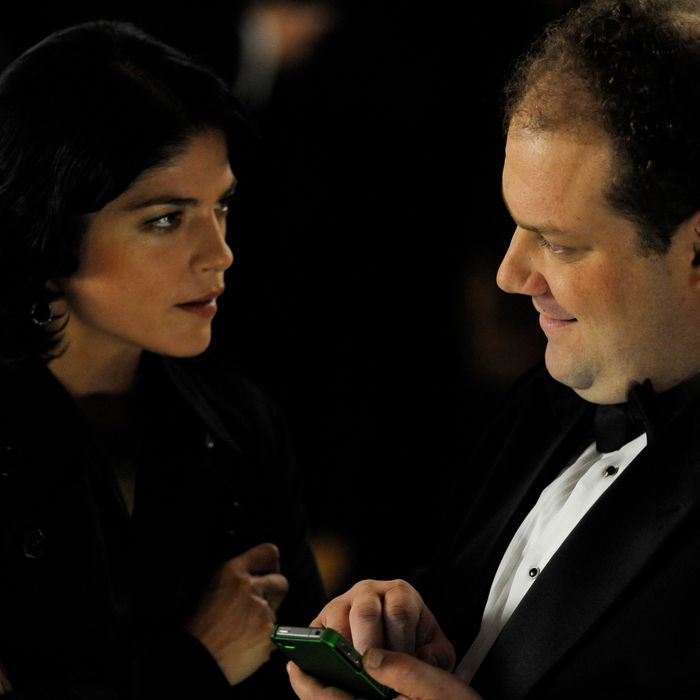 It's hard to get on and harder to stay on Todd Solondz's wavelength, but his films are worth the near-constant recalibrations. Just when you've decided he has too much contempt for his (suburban, Jewish, New Jersey) characters to do much more than take cheap shots, he'll shock you with flashes of empathy, insights that bathe what came before in a revelatory new light. You could never call Solondz a humanist, but he achieves something I've never seen elsewhere: compassionate revulsion.
Take Jordan Gelber's Abe, the protagonist of Dark Horse, who's 35 and portly, lives with his affluent parents, drives a preposterous yellow Hummer, and takes a salary from his dad's company (a real-estate firm specializing in strip malls) for doing little but sitting at his desk and bidding on comic-book memorabilia on eBay. You might think when you see him, I'm going to be stuck with this blob for the next hour and a half? At the wedding that begins the film, Abe manages to extract the phone number of a dark, very pretty, egregiously unstable, zonked-out woman named Miranda (Selma Blair, who Solondz has said is basically playing Viy, the same character from the first part of Storytelling, after a decade of moroseness). Abe travels three hours to her parents' home (she lives with her folks, too) and spontaneously proposes marriage. He seems so un-self-aware — he boasts that nepotism has nothing to do with his non-job — that you wonder if Solondz means him to be a cartoon blowhard or delusional. Either way, he has zero stature.
And then, gradually but steadily, he attains amazing stature — even tragic stature. In Solondz's mind-numbingly boring suburban milieu of strip malls, multiplexes, and Abe's parents' golden-hued furnishings (production designer Alex DiGerlando, art director Dawn Masi, and costume designers Kurt and Bart go to town), Abe has fantasies, many featuring his father's secretary, Marie (Donna Murphy). These aren't Walter Mitty daydreams in which the nebbish comes out a hero. Instead, people tell him that he's lazy and out of shape, unworthy of Miranda or anyone else, especially compared to his younger brother the doctor (Justin Bartha). In these visions, even Abe's indulgent, enabling mother (Mia Farrow) drops the pretense of admiring him and says that she and her husband (Christopher Walken) gave up on any hopes for his future years ago. It's their younger son, Richard the doctor, who gave them what they wanted.
What a fascinating weave Dark Horse is, with its blurred, Buñuel-esque boundaries between reality and dreams. In Abe's fantasies, Murphy's Marie goes from a moist, pink-eyed maternal type to a sultry, taunting cougar — an amazing transformation Murphy largely achieves by straightening her posture and relaxing her features. (A terrific stage actress proves herself a terrific film actress.) The other actors make what are often called "strong choices." Walken wears a thick toupee at scary odds with his sagging, basset-hound features. He's so angry at the world — and his older son — that he can only contain himself by becoming borderline catatonic, staring at the TV screen in a stupor when he's not buying out mom-and-pop stores. But you also see, in the end, his desperate love for his child. Farrow's appearance is a shock, with her puffy lips. But so is the blonde wig and big glasses, to the point that you think she's fully aware of how she comes off and it's right for the character, a New Jersey woman without a career living in an overstuffed house with a swimming pool, still clucking over her boys.
Blair's Miranda rouses herself to admit to Abe that, ludicrous as he is, he might be what she needs after all: She could marry him and have kids and give up her dreams of a literary career along with her "independence and self-respect." She says, "I want to want you," and he says, "That's enough for me," a heartbreaking line on so many levels. In Dark Horse, Solondz's archness is balanced by intimacy: He's not judging his characters from on high but close-up, too close for comfort, his occasional hostility defensive, as if he fears that he's of this world, too.
Much of one's thoughts about Solondz's films are retrospective — they have a long half-life — and the aggressively unprepossessing Abe isn't as bad as he first appears. His room might be that of a teenager, but the collectibles show taste. He has a replica of Oddjob's lethal bowler under glass: How cool is that? He has Simpsons dolls and posters and DVDs, which suggest an antic spirit. Moaning that he could have been a singer but is now too old for American Idol, he's like Chekhov's Uncle Vanya, with the crucial distinction that he can't even take refuge in mindless work. He's a creature of consumerist American suburbia, unfit to stand on his own but not so narcotized that he can't suffer over the meaninglessness of his life. Solondz doesn't lay all the blame on that culture — or on nature or nurture or any single cause. It's some irreducible combination of them all, and it's poison. 
In 1995, Solondz became an indie sensation with Welcome to the Dollhouse, then passed up multiple Hollywood offers to make dark and difficult movies like the three-sisters-and-a-pedophile picture Happiness and its sequel, Life During Wartime, which had a different cast and a different tone. Dark Horse, his most accessible work since Dollhouse, doesn't have a major distributor (producer Ted Hope's company, Double Hope Films, has joined forces with Brainstorm Media) and might have trouble reaching an audience. You should see it not just for the sake of Solondz and Hope, but for the sake of American independent cinema. It's that vital. The discomfort you'll experience is nothing compared to the exhilaration of seeing the world through Solondz's angry, sad, mordant but never-ever cynical specs.