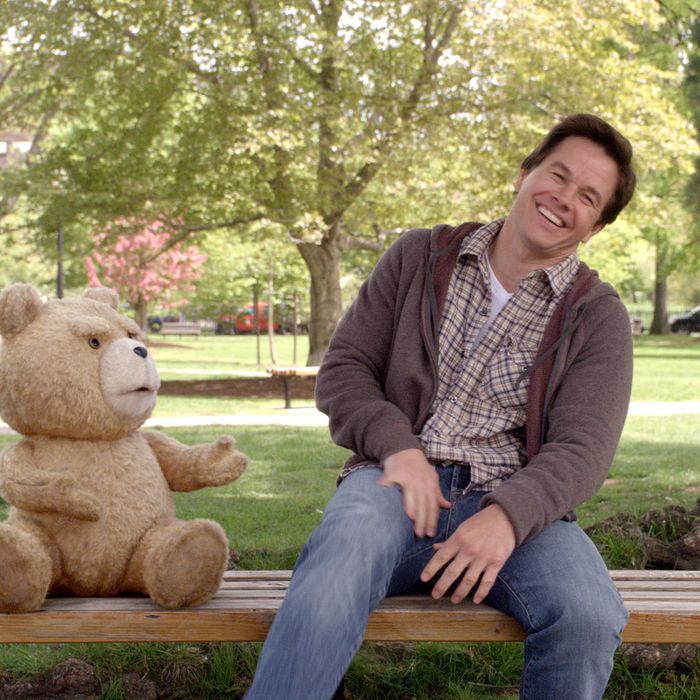 Photo: Universal Pictures
The low comedy Ted has divided people into two camps, those who find its rote smuttiness, sexism, racism, homophobia, and fart jokes unendurable, and those like me, who — despite opposing most of those incorrect -isms — think watching a big teddy bear with a potty mouth do bong hits and bang hookers (though he lacks genitalia) is a good time out.
Mark Wahlberg plays John, the unambitious rental-car worker who, as a lonely boy, wished his bear could talk and ended up — a Christmas miracle! — with a BFFL. The bear, Ted, has grown up to be a serenely unemployed stoner (his Boston-accented voice is supplied by director Seth MacFarlane) with a fetish for Flash Gordon — the campy one scored by Queen starring Sam Jones. ("Flash! Dah-dah! Savior of the universe!") John's accomplished girlfriend, Lori (megababe Mila Kunis), thinks it's about time he stopped screwing around and asked Ted to move out, but John can't quit his bear. If Ted weren't a teddy bear, this would just be another story of a man-child forced to grow up. But the whole thing, of course, is the bear.
Wahlberg has become a great straight man — dopey and innocent, perhaps reliving the childhood he missed, having been too busy assaulting people as a juvenile delinquent. The lure of indolence is palpable, Ted's effusions endearing. ("Ah, ya bahstahd, I love ya. I'm not gay.") Ted runs out of invention in its last act (the bear is coveted by a chillingly deadpan sociopath, played by Giovanni Ribisi, and the villain's fat son), but I can't think of a better movie to see if you're male and want to get high and relive your idiot adolescence. Except maybe Flash Gordon. (Flash! Dah-dah! Savior of the universe!)