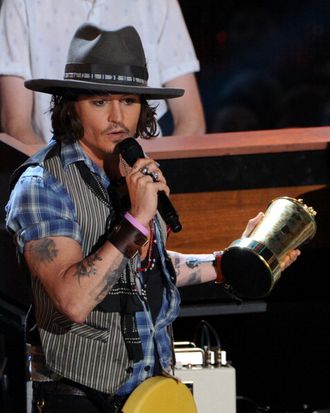 The MTV Movie Awards — the channel's self-proclaimed "biggest night of the year!!" — went down on Sunday, and a couple things happened. (Honestly, a couple. Not much more.) The storied contributors to film known as fun. kicked the night off with Janelle Monae. Jennifer Aniston was loving it (or maybe just trying to pretend that she wasn't confused by it) and Channing Tatum was loving it, too (though he had to tie his shoe in the middle). It was an invocation to an evening of MTV sensibilities (meme-themed imagery to end all meme-themed imagery) and many celebrities being mashed together for two hours.
Host Russell Brand delivered a Gervais-lite monologue, intermittently shouting "Twilight!" and "The Hunger Games!" between star-cutting riffs on topics including Justin Bieber's legal troubles and "short-lived celebrity marriages." Segueing from that latter theme into Kim Kardashian and Kanye West's new love, Brand had one nice, self-aware bit: "I admire Kanye a lot; his drunken stage-invasion of the last MTV awards show I hosted took a lot of pressure off me, like watching someone else get in trouble at school. I owe ya one, Kanye. And Kim took a load of pressure off me with her world-record quick marriage. Cheers, Kim." 
Mila Kunis and Mark Wahlberg, the show's first presenters, entered to Watch the Throne's "Who Gon Stop Me." Huh. They apologized for the TelePrompTer banter more than they read said banter, then gave an award to Jennifer Aniston for Best Dirtbag for her Horrible Bosses role. Aniston first thanked Friends, then, if we're not mistaken, left the show shortly after.
Steven Tyler and Joe Perry presented MTV's version of a lifetime achievement award to Johnny Depp. Then his acting was celebrated by a spot of rock and roll playing, with Depp joining the Black Keys for "Gold on the Ceiling" and "Lonely Boy." The message: Depp is so awesome that he can just jump in with the Black Keys. Or maybe the Black Keys play such straightforward rock even Johnny Depp, actor, can jam on a couple. YOU DECIDE.
Next Channing Tatum pretended not to be able to read and Matthew McConaughey helped him out. Basically, the bit just served as a reminder that the two will soon be seen stripping in Magic Mike.
Christian Bale got choked up about Heath Ledger after a retrospective clip of Christopher Nolan's first two Batman films. Then new Dark Knight Rises footage debuted, although other than a shot of Catwoman and Joseph Gordon-Levitt speaking to one another, we couldn't tell you what was new in there.
The Twilight Saga: Breaking Dawn Part 1, Harry Potter and the Deathly Hallows: Part 2, and The Hunger Games: The First Part, When We Didn't Have a Super-Long Title Yet all won multiple accolades, and Emma Stone took home the newly invented Trailblazer Award. Yup, definitely an MTV award show.