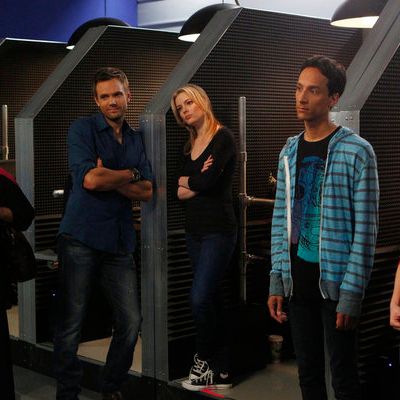 NBC is giving the team now running Community a little extra time to adjust to their new gigs: The Dan Harmon–less comedy won't begin its fourth season until October 19, the network said today. It'll actually be the last new or returning show to debut this fall on the Peacock. As expected, the network today announced a fall rollout strategy that will see several old and new shows getting sneak previews during the Olympics, including Matthew Perry's half-hour dramedy Go On.
Perry's show will likely be the first fall debut of the entire season, with NBC planning to air a "sneak preview" of the pilot on Wednesday, August 8, immediately after coverage of the London Games ends for that night. The following Sunday, August 12, new comedy Animal Practice gets previewed behind the Olympics' closing ceremonies. Then on August 13, with the Games over, NBC rolls out the Mark Burnett–produced game show Stars Earns Stripe for a monthlong summer run Mondays from 8 to 10 p.m., with Grimm beginning a summer run right behind it at 10 p.m.
The real NBC fall rollout starts Monday, September 10, when The Voice returns for its third cycle. On September 11, Go On returns with its official premiere, followed by Ryan Murphy's The New Normal and Parenthood. The next night, after America's Got Talent, NBC will preview Guys With Kids at 10 p.m.; later the same week, on September 14, Grimm returns to Fridays at 9. The rollout rolls on the next week, with the September 17 debut of Revolution, a new drama from J.J. Abrams. On Thursday, September 20, NBC will bring back most of its Thursday comedies: Up All Night, The Office, and Parks and Recreation will air from 8:30 until 10 p.m. What's on the schedule for the 8 p.m. half-hour? We're betting on some SNL election specials, but no word yet from NBC. 30 Rock isn't currently set to return to its new 8 p.m. Thursday slot until October 4.
While the official TV season doesn't begin until September 24, NBC is debuting just one night during premiere week: Wednesdays. That's when Animal Practice and Guys With Kids are set to debut in the 8 to 9 p.m. slot, with a two-hour Law & Order: SVU from 9 to 11 p.m. Dick Wolf's new Chicago Fire debuts Wednesday, October 10 at 10 p.m., while Whitney (8 p.m.) and Community (8:30 p.m.) finally roll out on October 19. Mark your calendars, people!