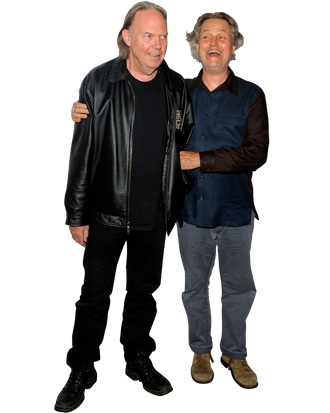 Neil Young and Jonathan Demme.
Every few years now, Jonathan Demme shoots a Neil Young concert film, starting with the Nashville performance of Prairie Wind in Heart of Gold in 2006, then with the Chrome Dreams tour in Trunk Show in 2009, and continuing the tradition with Toronto solo shows in this year's offering, Journeys. The pair threaten to do many more such films ("Umpteen," Young jokes), but what makes this installment unique is that the director took the musician from his hometown of Omemee, Ontario, to the Toronto gigs in a vintage Ford Crown Victoria to hear stories about his childhood (Young as a youngster!) along the way. Some of those stories will also be featured in the musician's upcoming biography, Waging Heavy Peace, due this October, but there's nothing like hearing Young reminisce while whizzing past old haunts. Vulture chatted with Young and Demme about going down memory lane, cannibal fever, and eating tar.
Did you know that in Prometheus, there's a Steven Stills moment?
Young: Oh, there is?
Demme: Jealous?
Young: You mean it could have been me? A missed opportunity!
The captain of the ship has what he claims is a musical artifact: Steven Stills's squeezebox.
Young: How odd!
Demme: Sounds like Stills has a good publicist, man.
Speaking of publicity plans, were you trying to match this to the release of your new album, Americana? Or did you want to have the album timed with the Queen's Jubilee, since you do "God Save the Queen"?
Young: No.
Demme: Oh, sure! [Teasing him.] Everything's working for you. You're on a roll! Look at this.
Young: There's just so much stuff, and it has to come out, and there's only so many days in the year. There were a lot of things. Sony Classics decided for the movie, Warner Bros. for the record, and that's just the way it goes. They talk to each other, they support each other, but one week it works, the next week it doesn't work. It's the wheel of fortune. But first of all, there has to be a reason to do something. There's got to be something to do that makes you say, "That will be cool. That will be cinematic. That will work."
Demme: It starts with acknowledging that what's happening on that stage is tremendously cinematic, and that there's no risk involved; there's nothing experimental about trying to do a film that gets inside that whole experience and winds up being a movie. We almost shot this in New York, because we almost had the financing, and then we thought, "Oh, Detroit!" And as it happened, we finally got all our money, and the date that presented itself was the last date of this tour, and it was the venue where he had his triumphant, local-boy-makes-good concert at Massey Hall [in 1971], and because the songs were so autobiographical, it became totally obvious to us that we should go to Omemee and drive in to Toronto. Neil loves cars, he loves old cars, and we didn't realize that by choosing an old car as a vehicle that it was going to become a metaphor for a beautiful old car that is very at home in this small town, in the past, and the closer we got to the freeways, the big city, the more freakish that car is going to start to look, and the weirder, frankly, that he's going to start to look. He's like this country boy, and as he drives to the big city in this old car, is he going to make it?
Young: [Laughs.]
Demme: Or is he going to get gobbled up by the traffic? So stuff happens, when you trust in the situation, and letting reality be created for you.
Why not use the car you invented? The Lincvolt?
Young: That's already …
Demme: He's already got a whole movie for the Lincvolt. We've been shooting it for three, four years.
Young: We're on the fifth year this September.
Demme: It's going to be amazing. He's written music for this film that he's been shooting.
Young: I don't want to put it out until it's finished. These things take a long time. It's a long, winding road on this one.
Some of the stories you tell about your childhood are really cute, like eating tar when you thought it would taste like chocolate …
Demme: I know! Isn't that so sweet? I get it, though. Have you ever smelled warm tar? There's something going on there.
Young: It's good, the oil stuff. Petrol-Man. I could have been a Marvel hero.
Demme: Maybe that's why you're so dexterous with your guitar playing.
Young: I could have come around and polluted things. Petrol-Man. [Makes a scorching sound.]   
That sounds more than a villain. Perhaps a villain for the Evil League of Evil.
Young: Wow. Yeah. I'll tell Joss Whedon. Maybe I can be in the sequel. I had nothing else to do this summer. [Laughs.] "Introducing … Petrol-Man!" [Practices an evil laugh.] See if you can catch him. But I'll be on tour in August, just for a week or so, and then October and November for two months.
Demme: That could be a film. It's another possible one.
But before that, you're working on a couple of other films. You've got one about time travel and JFK's assassination from the Stephen King book 11/12/63 …
Demme: I'm working on that screenplay right now. And I just finished shooting a picture with André Gregory and Wallace Shawn, Wally and André Shoot Ibsen …
The My Dinner With André series …
Demme: It's Wally's translation and adaptation of Ibsen's Master Builder, and it turned out really well. We're editing that now. And I'm executive producing Song One, which will be produced by Anne Hathaway, and there's a strong possibility that Annie might actually be in the cast, which would be great. I'm just a grizzled old guardian angel on that one, you know. A relationship develops between her, her hopefully not mortally injured brother, who has been hit by a car and in a coma — and here's hoping he comes out of it! — and the musician who inspired him. He's a troubadour of sorts, a really strong songwriter who is a wonderful singer and has a cult following, and the brother was, is one of the followers. It all takes place against a backdrop of Brooklyn and the Lower East Side. A lot of people are submitting songs for that one.
Any Neil Young songs? It seems like the point of your new album is that any song can be a good song, it just depends on the arrangement …
Young: I think it can. It depends on what you want to do with them. I started this in about 1964, when I did the first five of the songs, and I was in a band back then, the Squires — before I even met Stills — and we did a lot of these kinds of songs. Never recorded them. And then I got together with Crazy Horse to make a record, and I just finished writing about that time with that band with this book that I'm writing, which is very random — part diary, part projection, part memoir, equal time for past, present, and future, all jumbled together. It comes and goes. So then I got back and went into the studio with Crazy Horse, and I didn't have any songs of my own. So I said, "Why don't we do these? I got a bunch of songs in my head, and we can just play them." So we played them, and we had a great time.
Demme: It's great, all those old songs. The most recent one is "Get a Job." 
Because of the economy?
Demme: You think? [Laughs.] I heard somebody say the other day, "Why did you do that one? It's not a folk song."
Young: Yeah, right. [Laughs.]
Demme: Yo! Get a job! He should have called it "Get a Job Job Job." That's what they all say today. "It's about jobs, jobs, jobs."
Young: That's right. [Sings.] "Get a job, job, job."
Demme: That's not funny, man. [Laughs.]
Young: No, it's not. But, you know, it's hilarious, kind of.
Demme: You laugh instead of cry on that one.
Young: I know. Jesus.
Have you heard about the Hannibal TV show? With Mads Mikkelsen as Hannibal Lector? What do you think about the casting?
Demme: I didn't hear about this! Mads is a wonderful actor, but to me, Hannibal Lector is Anthony Hopkins.
Young: When did this come out? This month? Figures, because in the last two weeks, we've had a lot of cannibals. Suddenly they've got a big idea. That's how it works.
Demme: A computer had a big idea.
Young: Google search! [Makes computer noises.]
Demme: All I know is I want a piece of that. There wouldn't be a TV show if it weren't for Silence of the Lambs. Is it mercenary to think like that?