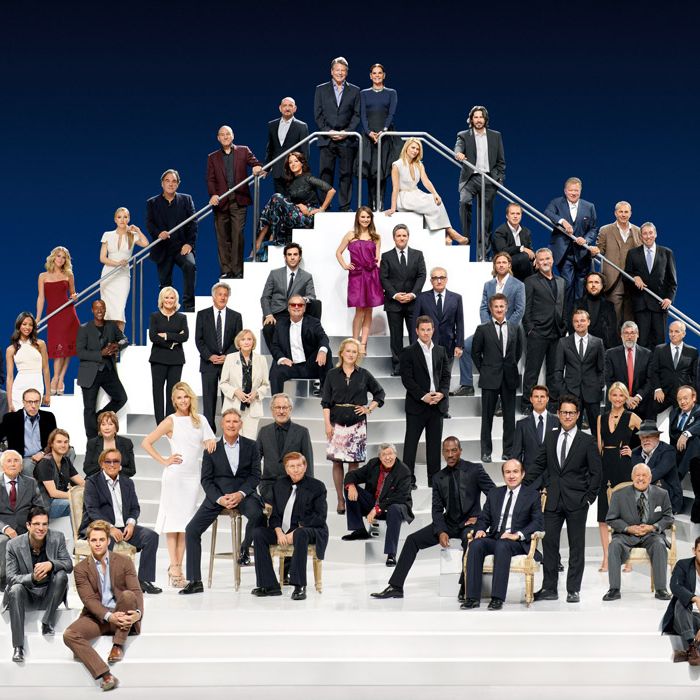 We love a celebrity-filled class photo here at Vulture, and the new issue of Vanity Fair has got a doozy: Shot by Art Streiber, it assembles 116 of the greatest talents ever to work at Paramount Pictures. (At least ten of these principals include everyone from the current remake of Star Trek, plus Rosie Huntington-Whiteley.) As always, the best thing about these class photos is the seating chart, and in this particular picture, we couldn't help but notice how many intriguingly oddball threesomes were put together by proximity. Paramount, we suggest you option your very own photo and mine from it these nine movie casts, with each trio comprising its very own love triangle. Choose your favorite and start picking your team!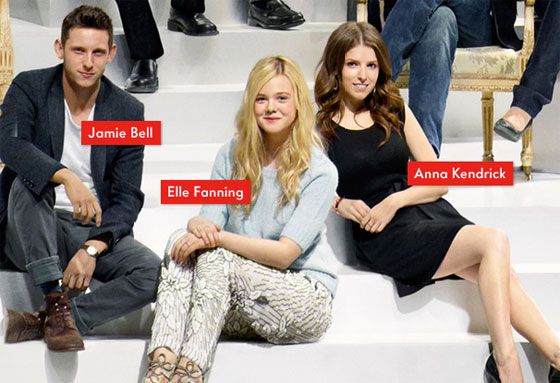 Jamie Bell, Elle Fanning, and Anna Kendrick
Siblings? Lovers? Do a Bertolucci movie, and they could be both!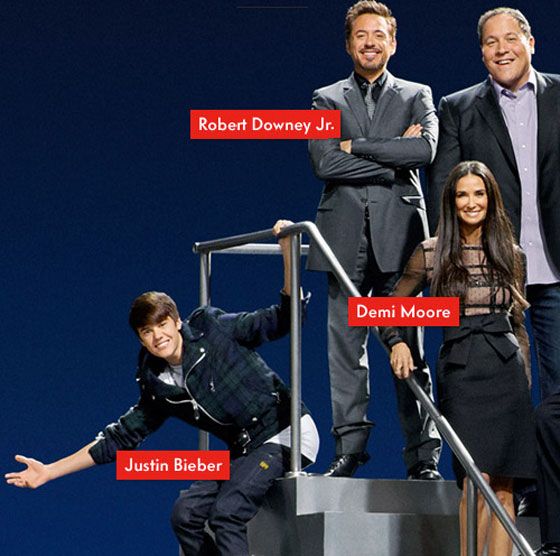 Justin Bieber, Robert Downey Jr, and Demi Moore
In Promises, Promises, two heavily rehabbed movie stars vie for the affections of an up-and-coming twink singer. The twist: Demi plays the twink, using the latest advances in motion capture and facial blurring. (Jon Favreau directs.)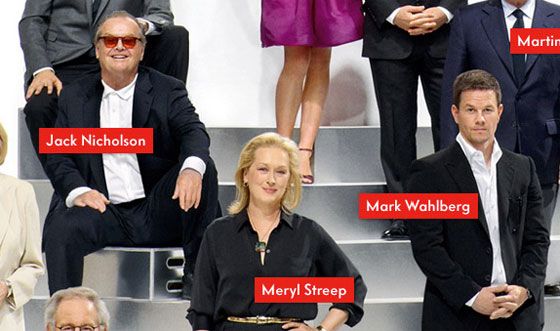 Jack Nicholson, Meryl Streep, and Mark Wahlberg
"Hey Mark, say hi to your mother for me. Because in our new movie, I'm banging her."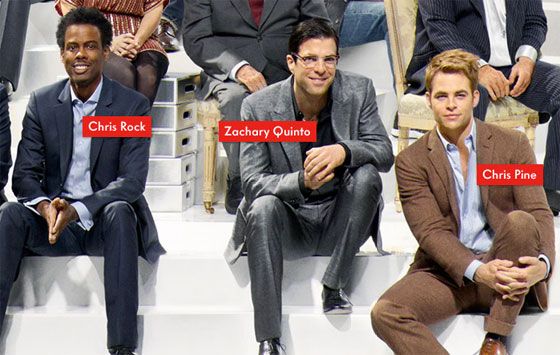 Chris Rock, Zachary Quinto, and Chris Pine
Admit it, you're intrigued.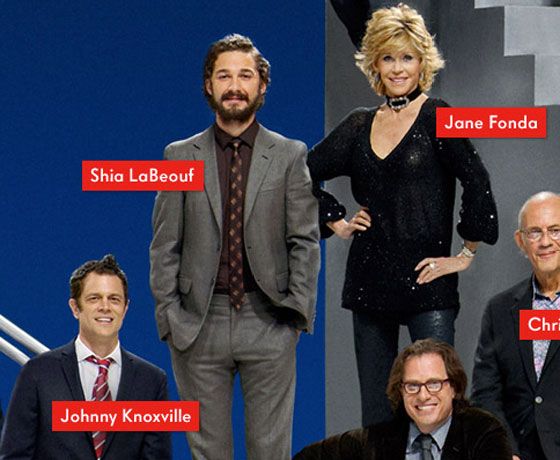 Johnny Knoxville, Shia LaBeouf, and Jane Fonda
Which movie should these three stars remake: Bringing Up Baby or Reds?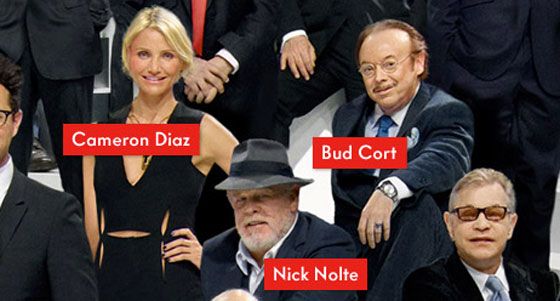 Cameron Diaz, Nick Nolte, and Bud Cort
Look, not all love triangles can be happy ones.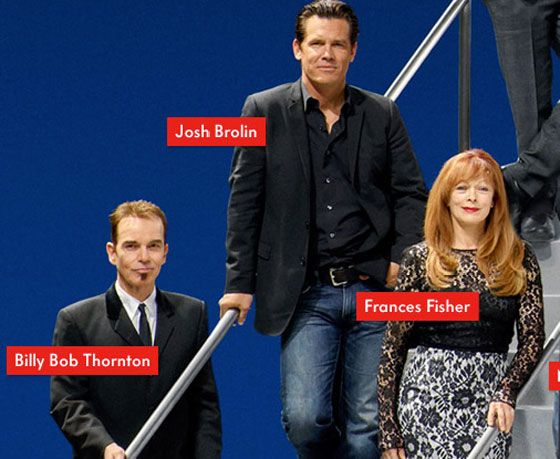 Billy Bob Thornton, Josh Brolin, and Frances Fisher
"We've got a western with love story elements, see, and what we need is three squinty-eyed stars of totally indeterminate age. Are they 40? 50? 60? You'll never be able to guess accurately until you check Wikipedia!"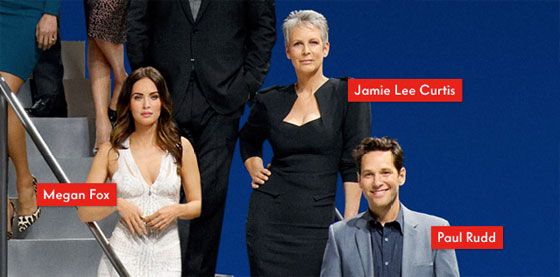 Megan Fox, Jamie Lee Curtis, and Paul Rudd
Cast these stars, and you've already got yourself half a Nancy Meyers movie. (Side note: HOW DARE Paramount put together this class photo without pairing Alicia Silverstone and Paul Rudd from one of the studio's top comedies Clueless. We'll just assume that Alicia was busy that day. We'll just assume!)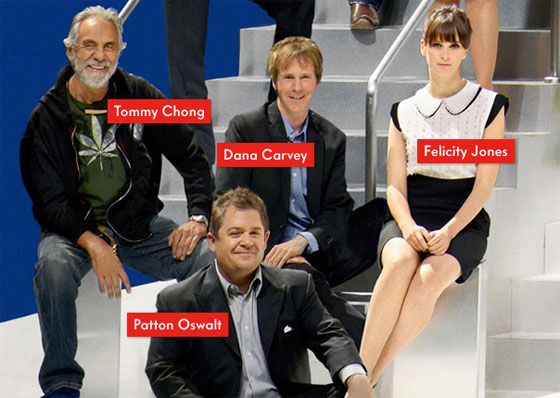 Tommy Chong, Dana Carvey, Felicity Jones, and Patton Oswalt
If a movie is announced comprising a love triangle starring any three people in this picture, we pledge that at Vulture, we will cover said movie every day from inception to release date.