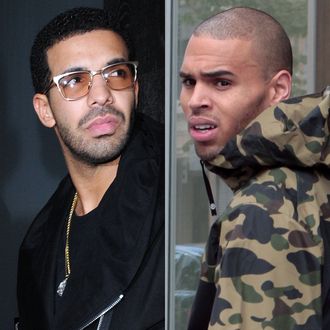 Yesterday, the New York Post claimed that the NYPD was poised to arrest rapper (and alleged rabble-rouser) Drake over the all-out bar brawl that erupted in the pre-dawn Thursday morning at Soho's W.i.P. club (since closed for "numerous" violations.) According to the Post's sources, Drake either had to agree to turn himself in by early next week or cops would show up at his Jones Beach show and haul him away in handcuffs. But TMZ heard it differently from its own law enforcement sources, who said no arrest was imminent and that Drake isn't even an official suspect. In the end, though a beefed-up police presence was evident, Drake performed his set last night unmolested.
At least five people were injured in the club fight, including rival Rihanna ex Chris Brown, who suffered a gash on his chin, and one of Brown's bodyguards, who was hospitalized with a head injury. What sparked the fight: a note Drake sent Brown alluding to his bedroom romps with Rihanna. Last night, Drake did drop a not-too-veiled allusion to Brown, remembering how a certain someone "in the corner is standing there looking funny. You bump elbows with him on the way to the bathroom." As Drake's lawyer tells it, though, Drake was on his way out of the bar at the time of the altercation.
For the moment, at least, police are still firmly in investigation mode. There's the eyewitness that, according to the Post, confirmed to police that Drake threw a "projectile" (read: bottle) during the melee but likely didn't hit anyone. There's the concerns raised by Drake's lawyers and the police that Brown's entourage included members of the Crips gang, which would be a violation of his Rihanna-bashing probation. There's the new victim, a woman, who left the club with a gash on her arm requiring twelve stitches; she is considering suing the shuttered club and possibly either of the two singers. And there's the mysterious gunshot, heard in the club that night.